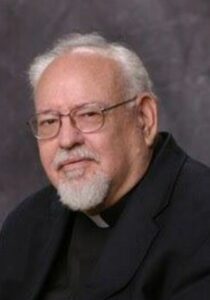 Father Myron Effing, a son of St. Joseph Parish in Vanderburgh County and graduate of Mater Dei High School and the University of Evansville, celebrated the 50th anniversary of his priestly ordination on May 27.
In 1991, Father Myron accepted an invitation to become the pastor of Most Holy Mother of God Catholic Church in Vladivostok, Russia. Since then, he has founded or reopened 10 other parishes in neighboring Russian cities. Father Myron also founded the Mary Mother of God Mission Society in 1992.
He has been featured in The Message when he has returned home for visits. This year, he will celebrate Mass at St. Joseph, Vanderburgh County at 10:30 a.m. CDT on Oct. 9 in honor of his 50th anniversary. A meal and reception for Father Myron will follow in the St. Joseph School cafeteria. To make meal reservations, please call Father Myron's sister, Marilyn (Effing) Wassmer at 812-985-3261 or 812-205-8715 by Sept. 28. All are welcome.