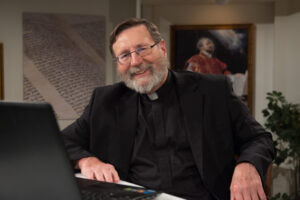 Special to The Message
Jesuit Father Mitch Pacwa, well known to EWTN viewers and listeners, will be the featured guest and speaker at the 7th Anniversary Celebration for WTJW Catholic Radio in Jasper. The event is set for Oct. 8 at the St. Joseph Parish Activity Center, 1029 Kundek St., Jasper, IN 47546. Doors open at 5 p.m. EDT, with dinner catered by Tim Flick at 6 p.m.
Father Mitch's talk will be "Father Mitch meets Sister Angelia" and "The Eucharist." He hosts two programs on EWTN TV and is a regular guest on EWTN Radio's "Open Line" program, which WTJW radio carries as an EWTN Radio affiliate.
Tickets are $30 per person and include dinner. To order, make your check payable to Tri-State Catholic Radio and mail it to Tri-State Catholic Radio, 218 West 13th St., Jasper, IN 47546. Please include your return address. If you have questions or need more information, please call 812-556-0552.
About Tri-State Catholic Radio and WTJW
WTJW took to the air at 93.1 FM in October 2015. Then-Bishop Charles C. Thompson of Evansville, now Archbishop of Indianapolis, granted the station status as a Catholic media outlet for five years by decree. Bishop Joseph M. Siegel has renewed that status for another five years. The station broadcasts 24/7, and its signal reaches the vast majority of homes in Dubois County and slightly beyond. WTJW is licensed by the Federal Communications Commission as a Low Power FM station.
WTJW is totally listener supported. It is a 501-C-3 nonprofit and, as such, does not broadcast or solicit paid advertising or other commercial income.
Steve Leugers of Jasper serves as president of WTJW 93.1, and Ralph Turpen of Newburgh in Warrick County is vice-president/engineer of the station. Linda Leugers and Julie Stone serve as administrative coordinators.
In addition to EWTN Radio programming, the station offers live broadcasts of special local events through the year. Local guests appear on a regular basis to update listeners on organizations' activities and needs. WTJW also broadcasts public service announcements for local Catholic events and ministries.
For more information on WTJW 97.3, visit https://www.wtjwradio.com/.