BY TIM LILLEY
The Message editor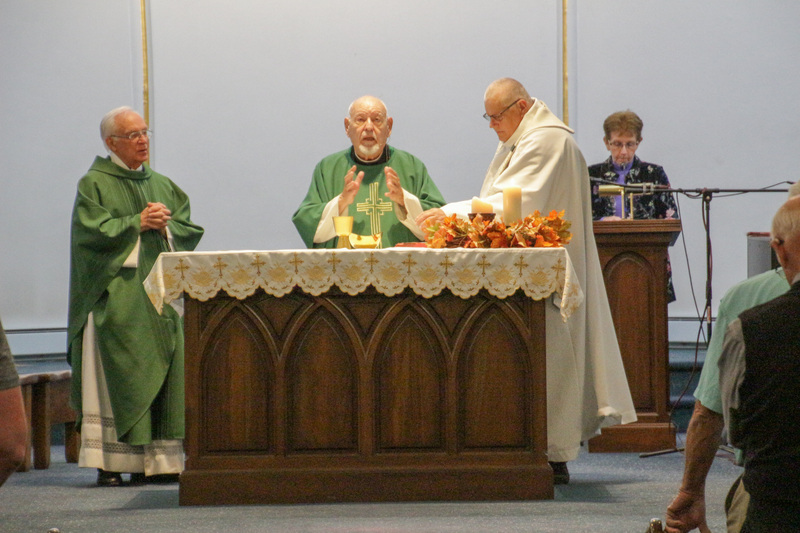 Father Myron Effing, a son of St. Joseph Parish in Vanderburgh County, beamed from the altar of the church during an Oct. 9 Mass in honor of the 50th anniversary of his priestly ordination. He told the people who filled the sanctuary to near capacity that he knew he wanted to "come home" to celebrate a Mass for his ordination anniversary, which was May 27.
Concelebrating was another son of St. Joseph Parish, Diocese of Evansville Senior Priest Father Lowell Will, and pastor Father Gene Schroeder. Father Gene said, "We are so happy to have Father Myron with us, and to join him in celebrating his anniversary."
Father Myron graduated from Mater Dei High School in 1959 and went on to earn an undergraduate degree in mathematics and physics from the University of Evansville. During his time at UE, Father Myron became convinced that God was calling him to consecrated religious life. He applied to the Canons Regular of the Order of Holy Cross, and entered the order as a clerical novice in 1963. He professed solemn perpetual vows in 1968 and was ordained a priest May 27, 1972.
He later took a leave of absence from his community and accepted a teaching position at a Catholic high school in Guam. It was there that Father Myron learned of the critical need for priests in Russia following the fall of the Soviet Union. Father Myron arranged a meeting with Bishop Joseph Werth, then Apostolic Administrator of the Asian Part of Russia. Bishop Werth's territory comprised 8.5 percent of all the land in the world — and he had only three priests to serve!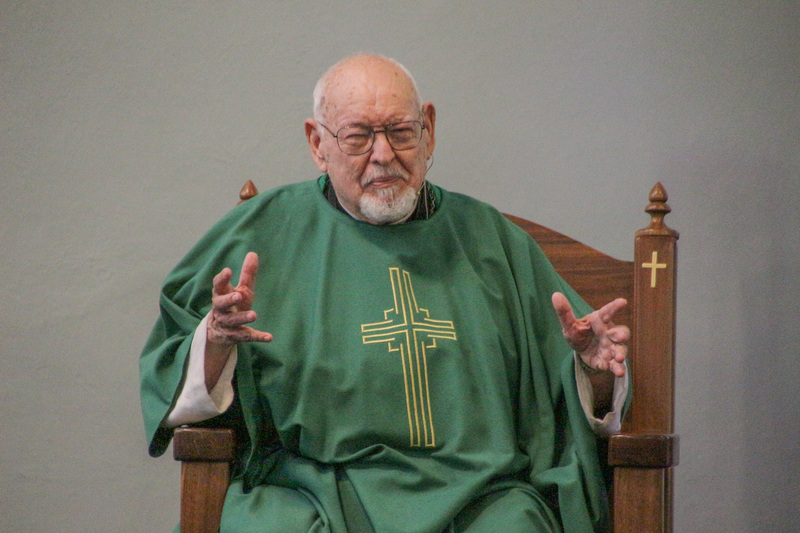 Bishop Werth welcomed Father Myron's interest in serving the church in far eastern Russia and named him pastor of the Catholic Parish of Vladivostok in 1991.
During the Oct. 9 Mass at St. Joseph Parish, Father Myron said, "The most important Mass I have ever celebrated occurred in public, on the steps in front of the former Cathedral of the Most Holy Mother of God in Vladivostok. The government had converted it to a building housing archives, and we were not permitted to celebrate that first Mass inside. That was the first Mass celebrated in Vladivostok in 60 years."
Father Myron has reestablished parishes, formed new ones and cultivated vocations throughout eastern Asia with the generous support of people back home and across the country. He said, "Thanks for your support, your help and your prayers."