By Tim Lilley
The Message editor
Listeners of WTJW-FM, the Catholic radio station broadcasting on 93.1 mHz and serving Dubois and north Spencer counties, turned out in big numbers Oct. 8 to help the station celebrate its seventh anniversary and welcome special guest Father Mitch Pacwa, well-known EWTN Radio and TV host. St. Joseph Parish in Jasper hosted the event.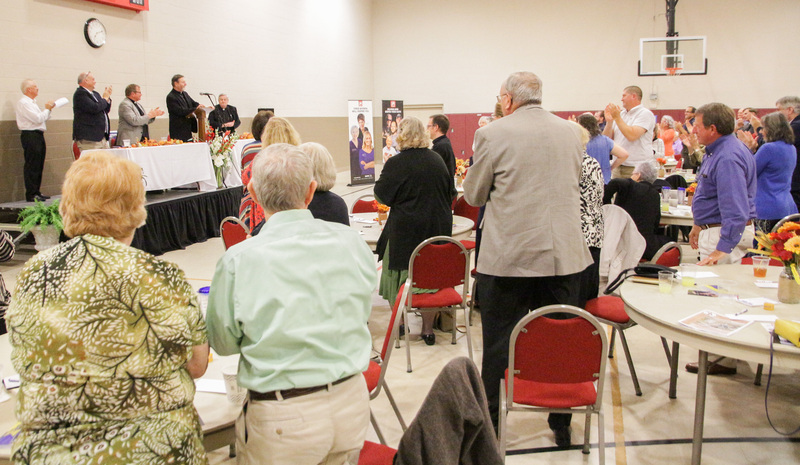 Steve Leugers, president of Tri State Catholic Radio, the nonprofit that operates WTJW, thanked those in attendance for their support and talked a little about the station, which began broadcasting in October 2015 as an affiliate of the EWTN Radio Network. 
He explained that, in 2019, workers repositioned WTJW's antenna to improve coverage to the south. Steve said, "We now serve Dubois County and the northern portion of Spencer County over the air. And people anywhere with an internet connection can listen to the station live by visiting wtjwradio.com."
In discussing the goals for the station and its content, Steve said, "We are all pilgrims on our way to heaven. Jesus told us he was going to prepare a place for us. So we do the best we can, take as many family members as we can with us, and go on to eternal life with Him."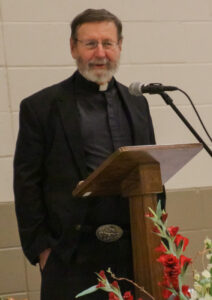 Father Mitch has worked with EWTN since 1983 and, in addition to his television work for the network, hosts "Open Line" and "EWTN Live" on EWTN Radio. During his keynote talk, he spoke on the Eucharist and its place as the source and summit of our Catholic faith.
He said, "In the late 1950s, 85 percent of Catholics went to Mass weekly. We all know that attendance has dropped dramatically, and I believe that is strongly connected to a loss of faith in Catholic teaching on the Eucharist. 
"Jesus is not in the Eucharist; He is the Eucharist."
Father Mitch said the task at hand for all of us is to evangelize everyone – Catholics and non-Catholics – about the Eucharist. He said, "We have to know our Catholic faith, and we have to leave people with the words of Jesus Christ. At the Last Supper, he was emphatic: 'This IS My Body; this IS My Blood.' 
"The same Jesus who spoke in the gospel is in the tabernacle today. When we receive Him in the Eucharist, He transforms us to be more and more like Him.
"Come to Jesus. Come to receive life that will last forever."
For more information on WTJW-FM and it's programming, visit https://www.wtjwradio.com/.