By Megan Erbacher
The Message assistant editor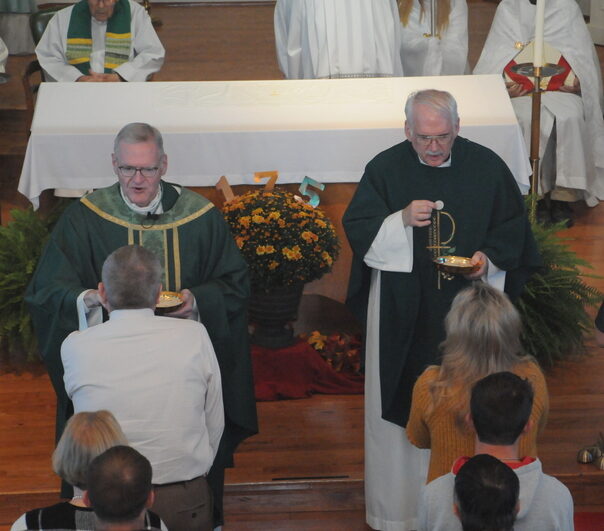 Sts. Peter and Paul Parish in Petersburg, the only Catholic Church in Pike County, is celebrating 175 years of evangelization.
"I think (the parish) has been a positive witness to the people of Pike County," pastor Father Frank Renner said. "The parish has made great strides in breaking down a lot of religious prejudices in the town and county. It has given an excellent witness to the person of Jesus Christ, whom we follow and emulate. Many Pike Countians and parishioners have wonderful memories of past dedicated pastors and parishioners."
Bishop Joseph M. Siegel celebrated Mass Oct. 9 at Sts. Peter and Paul Parish to commemorate the monumental anniversary. Father Frank, as well as senior priests of the diocese Father Ray Brenner and Father Donald Dilger, concelebrated Mass with Bishop Siegel. Deacon Gary Keepes assisted during Mass, and Matt Miller, diocesan director of worship, served as Master of Ceremonies.
Following Mass, the celebration continued with a luncheon and open house in the parish hall.
During his homily, Bishop Siegel gave Sthanks and praise to God for the past 175 years in which Sts. Peter and Paul Parish has provided a community of worship, evangelization and service in Pike County. Looking back, Bishop Siegel said we're reminded God works in and through ordinary people like us. Amid our daily lives, he said God gives us the graces we need to fulfill the vocation to which he is calling us. 
Bishop Siegel told parishioners as they celebrate the anniversary, they have the opportunity to see where they are now and where God is leading them.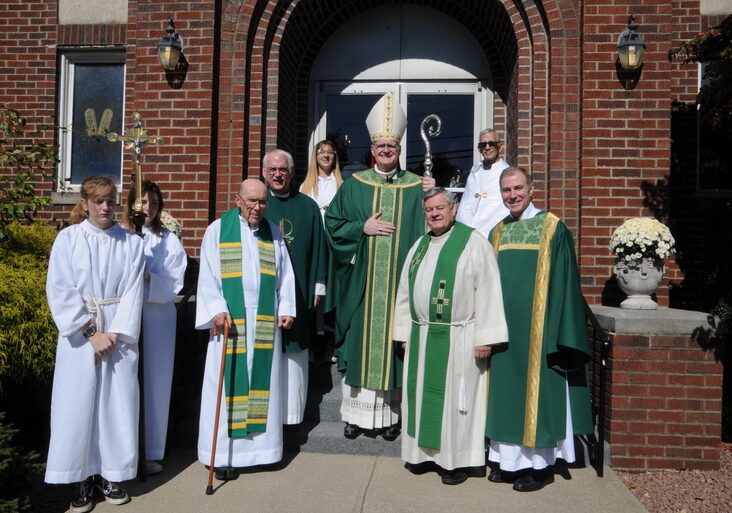 Sts. Peter and Paul, founded in 1847, is located in the West Deanery. Father Frank was named pastor of the parish, as well as Blessed Sacrament Parish in Oakland City, in July 2015. Since Father Michael Wolf, the first resident pastor, the parish has had 17 pastors. Deacon Don Haag also served as a Pastoral Life Coordinator.
Sts. Peter and Paul Parish has about 99 registered families with around 182 parishioners.
Father Frank explained, as he understands, there have been three churches in the parish's 175-year history. He said the first church, a log cabin, was near where the Wabash and Erie Canal crossed the White River. The second church was near the train depot, Father Frank said, which flooded often and resulted in parishioners having to shovel mud out of the church. The third church is the current facility, built in 1924, on the corner of 8th and Sycamore streets in Petersburg.
Father Frank wants strangers to know that Sts. Peter and Paul is a welcoming parish.
"People here accept people for who they are without judging them," he said. "We make newcomers feel welcome here. Parishioners treat others as they want to be treated."