Special to The Message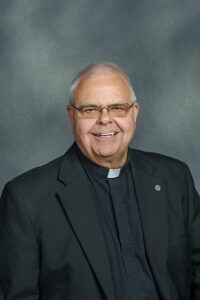 Father Tim Tenbarge, senior priest of the Diocese of Evansville, will celebrate his 50th Anniversary of Ordination with a Mass of Thanksgiving at 1 p.m. EDT May 28 at Divine Mercy Parish's Saint Anthony Church (4444 Ohio St., Saint Anthony, IN 47575), followed by an open-house reception in the Divine Mercy Parish Center from 2:30-4:30 p.m. EDT.
Father Tim was born Nov. 4, 1947, to Edmund and Jean (Pauli) Tenbarge in Evansville. He is the oldest of three children; he has a sister, Becky (Joe) Ellinger, and a brother, Bill (Angela). 
Feeling called to the priesthood even before he entered grade school, he left home at the young age of 14 to begin his studies at Saint Meinrad Seminary High School in St Meinrad. 
In 1967, while a sophomore at Saint Meinrad Seminary College, Father Tim's family moved to Cullman, Alabama. He spent summers in Cullman working in a nursing home as an orderly, where he remembers entertaining the thought of pursuing a career in health-care or nursing, rather than priesthood.   
Father Tim graduated from college in 1969 with a B.S. degree in biology, and then from Saint Meinrad Seminary School of Theology in 1973, having earned a Master of Divinity degree.  After being ordained a transitional deacon on March 25, 1972, in Saint Benedict Church, Evansville, and completing service as a transitional deacon at Holy Spirit Parish in Evansville, Father Tim was ordained a priest in Holy Spirit Church on May 26, 1973, by Bishop Francis Shea. On May 27, 1973, Father Tim celebrated his first Mass in Saint Mary Church in Evansville, where both he and his mother had been baptized. The following weekend, he traveled to Alabama and celebrated a Mass of Thanksgiving in Sacred Heart of Jesus Church in Cullman.
Father Tim's first pastoral appointment was as Associate Pastor at Holy Spirit Parish in Evansville.  Later that same year (1973), he was assigned to serve as Associate Pastor of Sacred Heart Parish in Vincennes, with full-time teaching duties at Rivet High School. In 1975, while continuing to teach full-time, Father Tim's residence was moved to Saint Vincent de Paul Parish in Vincennes where, in 1976, he became the parish administrator. 
It was during his early years of priestly service at Saint Vincent de Paul that Father Tim faced one of the toughest moments of his life. Ordained just a little more than two years, he returned to Sacred Heart Parish in Cullman to preside at the funeral of his mother, who died of cancer on Dec.15, 1975. 
In 1982, he was assigned to St. Joseph Parish in Jasper as an Associate Pastor. In 1990, Father Tim accepted his first pastorate at Saint Philip Neri Parish in Bicknell, where he served for almost seven years. On July 1, 1997, he was installed as pastor of Saint Anthony Parish, with Sacred Heart Parish in Schnellville added to his assignment in 2005 when the two parishes were clustered. He remained pastor of Saint Anthony and Sacred Heart until December 2013, when he retired from pastoral service and joined the ranks of senior priests. Father Tim returned to Divine Mercy Parish to serve as sacramental minister from June 2019 to July 2021.
Notable accomplishments after his ordination include a complete remodel of the church building at Saint Vincent de Paul Parish in Vincennes, designing it to be a church "in-the-round."  When assigned to Saint Joseph, Jasper, having been specifically chosen for his expertise in liturgy, he was entrusted with overseeing all aspects of worship. As pastor of St. Philip Neri in Bicknell, he restructured the parish-council system and completely reorganized the parish's religious-education program. 
At his last assignment with the Saint Anthony/Sacred Heart cluster, Father Tim established policy/direction for the two parishes working together under the leadership of a single pastor; implemented the RCIA process; and established a common yearbook, church bulletin and newsletter for the cluster. He introduced Christ Renews His Parish and served as a member of the Strategic Planning Core Group for the Jasper Deanery as plans were being made for greater collaboration among parishes. In addition, under his pastorship, Saint Anthony Church was renovated and the interior of Sacred Heart Church was repainted and re-carpeted.
Outside the parish, Father Tim served the Diocese of Evansville on the Priest's Personnel Board for one term; was a Diocesan Master of Ceremonies for over 20 years; held multiple terms on the Diocesan Liturgy Commission and served on the Diocesan RCIA Committee for many years. He also served as a member of both the Palliative Care Board and Mission Committee at Memorial Hospital in Jasper. 
He continues to keep busy helping his brother priests by serving in parishes throughout the diocese, celebrating weekday and weekend Masses; administering the sacrament of the sick; baptizing; assisting with marriages; and serving as a confessor for individuals and for penance services with school children and adults. Father Tim currently serves on the Divine Mercy parish RCIA committee. 
In 2013, Father Tim purchased a house on highway 164 near Celestine. His favorite part of owning his own home is being able just to spend time outdoors mowing his yard and caring for his flowers. 
Please consider joining Father Tim on May 28 to help him celebrate his 50th Anniversary of Ordination. All are welcome.