By Megan Erbacher
The Message assistant editor
Mater Dei High School junior Laura Shockley said the annual interfaith observance of the National Day of Prayer is important because it "shows everybody how we can be united together."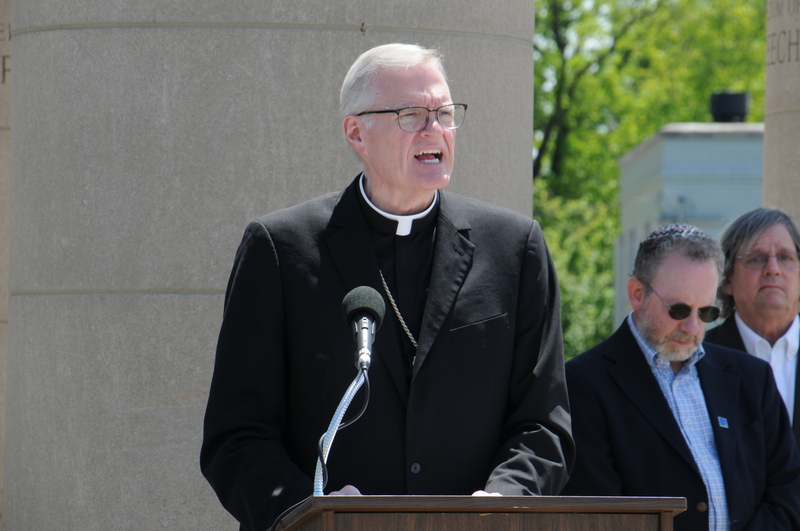 Shockley, 17, was part of Mater Dei's concert choir, which opened and closed the May 4 interfaith observance of the National Day of Prayer at the Four Freedoms Monument on Evansville's Riverfront. Shockley, a Holy Redeemer parishioner, said her Catholic faith "keeps her focused on God in her everyday life."
Catholic Diocese of Evansville Bishop Joseph M. Siegel and eight representatives from faith traditions with homes in greater Evansville offered short prayers or reflections, while Evansville Mayor Lloyd Winnecke read a proclamation from the City of Evansville, which declared May 4, 2023, National Day of Prayer Day for the city.
The interfaith observance takes place annually on the first Thursday in May as a way to celebrate the city's unity through diversity. Evansville has hosted this interfaith observance for decades. The national theme of this year's observance was "Pray fervently in righteousness and avail much," based on James 5:16.
Local religious leaders were able to observe the day outdoors with about 60 people who gathered to pray together. Last year's observance was canceled because of inclement weather.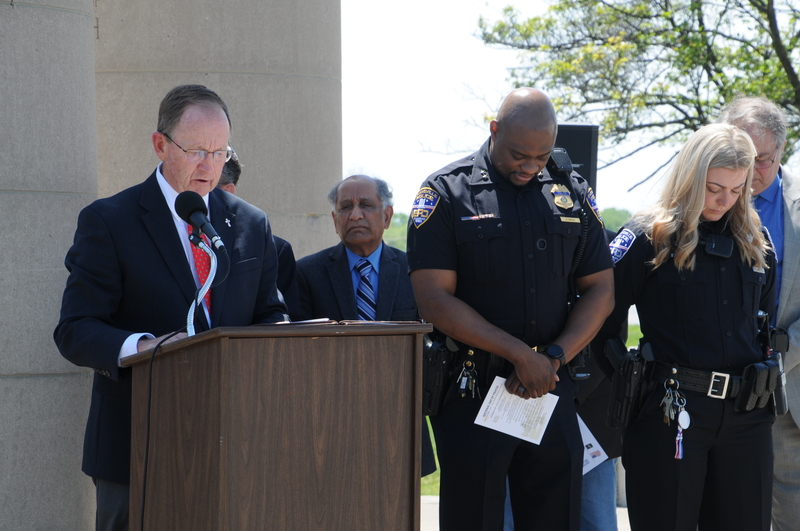 Meghan Carter, Mater Dei concert choir director, believes the observance is important, "especially for our youth, to be exposed to different religions and see what we all have in common; what binds us together. … (and) respect differences."
Mayor Winnecke said it was a glorious day to celebrate.
"After 12 years in this office, I have seen our citizens practice their respective faiths, and it's been quite a sight and quite a journey for me," he said. "It's a blessing to know that our community uplifts each other and other organizations in prayer and celebration."
Part of Mayor Winnecke's proclamation stated: "Whereas, the National Day of Prayer provides residents the opportunity to give thanks for the many blessings our country has received and to recognize the need for a renewal of moral values and heavenly guidance for community leaders."
Bishop Siegel offered a summary and closing prayer. He said if we live each day in constant prayer, may we truly be one nation under God, drawn together in peace, truth and unity. He offered blessings on everyone present, for the city of Evansville and for the United States. 
In addition to Bishop Siegel, religious leaders who offered prayers this year – each in their own faith tradition – included:
Diocese of Evansville Deacon David Rice, who serves as chaplain of the Evansville Fire Department, prayed for all first responders, while Evansville Police Department Assistant Chief Phil Smith and EPD Officer Taylor Merriss represented first responders and all men and women in uniform who serve and protect us at home and around the world. Diocese of Evansville Deacon Tom Goebel, who serves as a chaplain for the Vanderburgh County Jail, represented the Vanderburgh County Sheriff's Department

Rev. Veltri Taylor, First Ebenezer Baptist Church

Dr. Mohammad Hussain, Evansville Area Islamic Society

Rabbi Gary Mazo, Temple Adath B'Nai Israel

Tom Moor, Unitarian Universalist Church

Chad Monroe, Church of Jesus Christ of Latter Day Saints

Rev. Bob Walker, Christ Church, United Church of Christ

Rev. William E. Moody, Sr., Spirit Life Worship Center