By Megan Erbacher
The Message assistant editor
Kaela Huber stood proudly behind the table displaying the RoseCraft 3D-printed mini rose flowers in a gold vase she created and packaged in a white box, ready to be gifted for the upcoming Mother's Day holiday.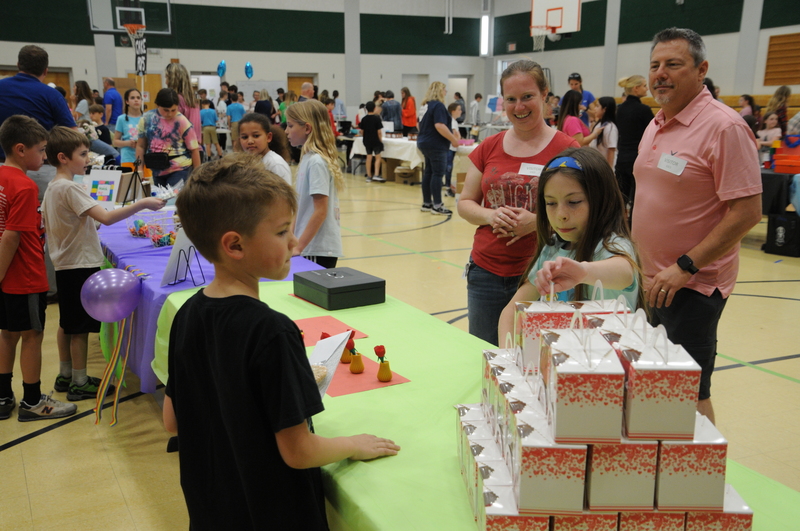 Huber, 10, was one of about 60 Good Shepherd School students in grades 4-8 who showcased their entrepreneurial spirits during the 2nd Annual Entrepreneur Fair May 5 in the school's gymnasium. Customers flooded the gym to browse products or services the young entrepreneurs displayed and sold during the May 5 opening day.
Huber sold her 3D-printed RoseCraft creations for $5. 
"My dad loves 3D printing, and I think it's fun, too," she said. "He 3D prints a lot, so I decided that was perfect."
She learned that "being an entrepreneur is nerve-wracking."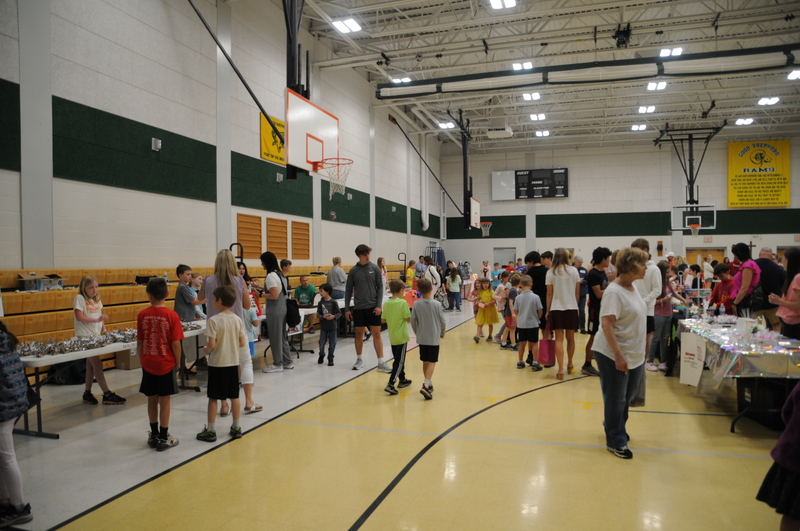 Last year, Good Shepherd School started an after-school Entrepreneur Club for students in grades 4-8. Chad Schnarr, dad to Davis, 7th grade, and Greyson, 5th grade, who helped establish the club last year, explained students met four times during the school year to learn what it means to be an entrepreneur, develop and create products to sell at the fair. Schnarr said they also had to develop a business plan, including marketing, customer service, profit and loss data, and give an "elevator pitch" in preparation for the fair.
"We wanted an opportunity for kids to have another outlet and to really teach some basic business fundamentals," Schnarr said. "Statistics for people who become entrepreneurs in the future are staggering, so we thought why not teach the basics now, see where it goes and foster that creativity."
Schnarr said there was a core group of parents who established the club, including his wife, Brandee Schnarr, Brad Elpers and Ben Joergens.
"We want it to be fun," Schnarr said. "We want (students) to participate and have an enjoyable experience. But, ultimately, we want them to learn some basic business acumen, understand terms and how things work."
Students developed products that ranged from various baked goods, fancy pet name tags, keychains, snack mixes, pencil toppers, dog treats and meat seasoning.
Fifth-grader Carleigh VanMeter established Shine Bright bracelets about a year-and-a-half ago. VanMeter, 10, enjoys watching YouTube videos about businesses, so her mom bought her a bracelet kit and Shine Bright was born.
"I like that I get to make money but also love making bracelets at the same time," she said. "I've learned that you have to make sure you know your profit and loss because you could buy something and sell it cheaper than you should or more than you should."
The Entrepreneur Fair was also open May 6 in the cafeteria after Good Shepherd Parish's Mass.