BY KAREN ADAMS
Special to The Message
Author's note: Kelli Reutman was excited about her future, including a career in advertising. But once she graduated from college, Kelli discovered God had a different plan. Kelli's story is one of grace, struggle, surrender, and trust. It's a step-by-step journey; one that's just beginning.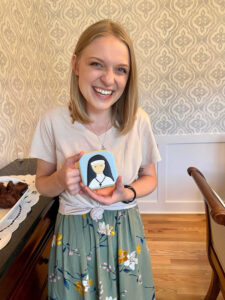 Kelli Reutman grew up in northeast Dubois County with her parents, Ann and Jeff, and older brother Alex. She was baptized at Holy Family Parish in Jasper, and she received First Communion and Confirmation at St. Isidore the Farmer Parish in Celestine. Kelli described her family, like many others, as "culturally Catholic." Preparing for Confirmation, however, Kelli learned that there was more to her faith.
The catechists at St. Isidore Parish changed her life. Kelli recalls Tammy Mehringer showing the class videos of Eucharistic Miracles. Kelli thought, "Even science has proven the true presence of Christ in the Eucharist; why do I only care about my faith on Sunday mornings?"
Later, Kelli attended a Teens Encounter Christ Retreat before her first year at Ball State University. In college, Kelli "experienced a whole world of Catholics" engaged in prayer, Adoration, daily Mass and frequent Confession at Ball State. It was during her time with the Newman Center and St. Francis of Assisi Church that she had firsthand experiences with religious Sisters. The Sisters of St. Francis of Perpetual Adoration from Mishawaka, Indiana, visited several times a year. Their witness also touched her life.
After graduation, Kelli moved to New Albany, Indiana, excited about pursuing a career in advertising. She felt some gentle tugs at her heart for religious life but had been adamant about taking a secular job – knowing, and feeling strongly, that secular jobs need good, holy people. However, her first position in advertising didn't work out, which was both difficult and disappointing. It was then that Kelli heard Holy Spirit ask, "Would you consider religious life?"
A spiritual director helped Kelli as her journey continued through twists and turns that she never expected. She visited a religious community. Ultimately, it did not feel right for her. During this time, Kelli accepted a position at Holy Family Parish in New Albany as communications director. Kelli loved the job and working within a parish. Could God be calling her in some other way of service?
She continued to discern and found the Handmaids of the Heart of Jesus, whose apostolate is diocesan and parish work. She knew after visiting the Handmaids during a come-and-see that she had found her home.
Excited, Kelli was planning to join them in the fall of 2021. But one month before Kelli was to leave for Handmaids, she was notified that they wanted her to wait another year. It was unexpected. Kelli had already given up her apartment and job, and had said goodbye to everyone. By the grace of God, Kelli was able to find a place to live, and her pastor found a way to keep Kelli on staff as she waited and continued discerning. Amazingly, the position he created included active ministry within the parish, just as she would experience with Handmaids of the Heart of Jesus.
Kelli said she experienced tremendous growth, healing, and a great sense of freedom that year of waiting and continued discernment. Kelli began the next step of her journey on Aug. 21, when she joined the Handmaids of the Heart of Jesus in New Ulm, Minnesota. She continues this spiritual journey knowing that nothing is in stone. It will continue to be a step-by-step and day-by-day spiritual journey. It's a time of total surrender and trust in the will of God!
When asked what advice she would give others who are discerning, Kelli said, "The timing has to be right; you can't force it. The Lord will invite you." To the parents of those discerning, she said, "Talk about it, and let them know it is an option. Take time to learn more about the communities – just like you would want to know more about a boyfriend."
Kelli is beginning her initial formation and discernment. Many young women find the Lord is not calling them after they spend time with their community. Many also find it to be the very thing for which they were made. Please pray for Kelli, for the Handmaids, and for all discerning religious life!