BY FATHER TYLER TENBARGE
Special to The Message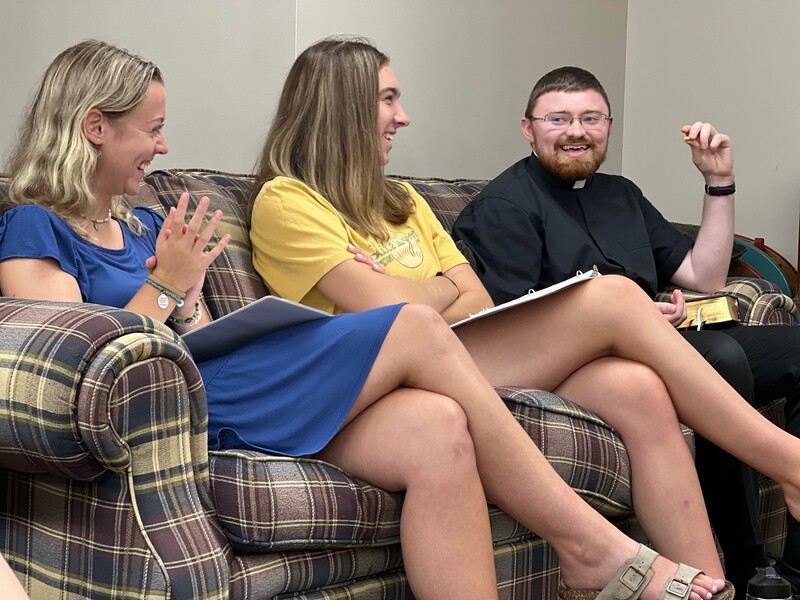 Diocese of Evansville Seminarian Nick Biever visits with Morgan Wilmes, left and Abby Thompson in a summer discernment group during its July 26 meeting at Saint Philp Parish in Posey County. Six women met all summer at St. Philip for their discernment. Nick spent the second half of the summer at St. Philip for a parish internship.
What a summer it has been! So many good things have happened in building and fostering a culture of vocations in our diocese. Following are some highlights.
Most of our seminarians spent their summers in parishes. Two of our men, Philip Rogier and Caleb Scherzinger, ministered in hospitals in Louisville and Indianapolis learning how to pray with the sick; to comfort the suffering; and to bring hope to the family of the dead. Tyler Underhill, Bradley Gehlhausen, Keith Hart, Aaron Herrenbruck, and Nathan Folz each are finishing up their parish assignments in Evansville, Vincennes, Daylight, Dale and Jasper. Nick Biever enjoyed six weeks studying in Rome before a parish assignment in Posey County, and Chase Reicker and Jacob Schneider moved back into the House of Discernment for the summer while working in the Evansville area.
Our seminarian cohort is growing 60% this fall! We have six new seminarians added to our 10 who were in formation in May 2022. Thank you, parents and parishioners, for encouraging your sons and fellow parishioners to discern their vocations. The names and parishes of these men will be published in The Message as the fall semester unfolds, and you will see their photos on posters in your parishes and schools.
Our Savio community continues to attract and form young men as disciples. In June, Savio guys celebrated the anniversary of the death of Servant of God Bishop Simon Bruté with a visit and Mass at his tomb at St. Francis Xavier Parish in Vincennes. An afternoon of ice skating on during the heat of the day June 26 followed – indoors! More than 40 Savio guys, seminarians and House of Discernment residents attended.
Earlier in June, several pairs of Sisters from the Dominican Motherhouse of St. Cecilia in Nashville, Tennessee, assisted with Bible schools at parishes across the diocese. On June 14, 11 of them gathered with their superior, Mother Anna Grace, OP, at Oak Meadow Country Club to meet more than 100 of the faithful and priests from the Diocese. The presence of the Sisters was warmly welcomed by all!
A group of six young adult women formed a discernment group this summer. Maria Lasher and Abby Thompson lead the group, who met weekly to pray, talk, watch discernment videos and to help one another find where the Lord is calling each of them. As part of their community, they traveled to visit the Nashville Dominican Sisters, the community where Maria Lasher of Good Shepherd Parish has been accepted for August 2022. Kelli Reutman from St. Isidore the Farmer Parish in Celestine is also following her vocation with the Handmaids of the Heart of Jesus in New Ulm, Minnesota, as of August. Let us pray for these young women!
July hosted several events for vocations. First, on July 19-21, 20 young men gathered for the second-annual "St. John Berchmans Master of Ceremonies Training Camp" at the House of Discernment. House residents and seminarians facilitated the formation of these parish servers from all over the diocese. Matt Miller, Director of the Diocesan Office of Worship, Father Andrew Thomas and Benedictine Father Anthony Vinson also gave presentations. Attendees received a red cassock – like the one worn by the patron of altar servers, Saint John Berchmans – to take home and wear as they MC and serve parish and diocesan Masses in the coming years.
The second big event in July was the second annual Cleric Cup volleyball tournament. According to one attendee's count, more than 300 people attended. The evening of July 24 started at Sts. Peter & Paul Parish in Haubstadt with Mass, and the tourney followed. After an opening set of games pitting Savio guys against Siena girls, four teams competed for the title: priests, seminarians, current and former House residents, and Savio guys. After six hard-fought games, the House team prevailed over the Savio team in the championship at the Haubstadt Old Gym.
A third gathering for vocations included our young women. "Siena" is a new community of faith formation and discernment for our high school and middle-school girls. Modeled after the diocesan "Savio" brotherhood, the 25 girls gathered for prayer, formation and community at the Parish Life Center at Sts. Peter and Paul before the Cleric Cup Mass and tourney. More information can be obtained by signing up for email updates at EvansvilleVocations.org/siena.
Savio Nights for the new school year also began July 31. A record-high total of 100 high school and junior high guys attended, enjoying pizza and sports before a faith formation talk by House Director Father Tyler Tenbarge about the life of Saint Dominic Savio. Night Prayer concluded the evening inside Sacred Heart Church. To register for a Savio night, visit EvansvilleVocations.org/savio.
Please continue to join us for our regular Holy Hour and Mass for Vocations – Monday nights at St. Boniface Parish's Sacred Heart Church in Evansville. Adoration and Confession starts at 6:30 p.m. Central Time. Mass follows at 7:30 p.m. Central Time. If you know of someone interested in the House or discernment, please contact Director of Vocations Father Tyler Tenbarge by visiting www.EvansvilleVocations.org.
Father Tyler serves as Diocesan Director of Vocations, and Chaplain and Director of the Father Deydier House of Discernment.