BY JIM SCHROEDER
REFLECTION
St. Nicholas Church, Santa Claus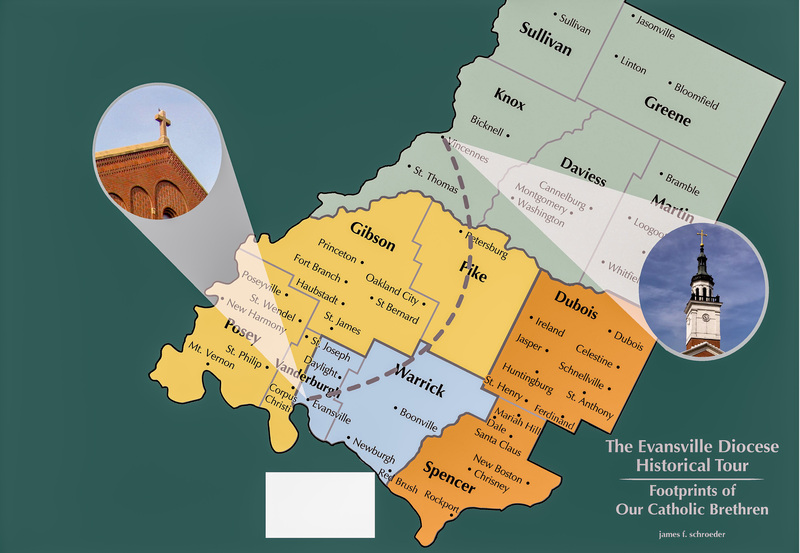 Our spirit was on the move.
The alarm went off. It was 5:40 AM. Although it was Saturday morning, 50 miles on two wheels had been calling me from early in the week as I looked toward prepping for my annual push toward a century ride. It was a mild 50-degree morning with not a breath of wind as I stepped out onto the roadway. I had planned a hilly route that would take me by our previous stops of St. Philip in Posey County and St. Joseph in Vanderburgh County. With the exception of one lone biker and a singular wild turkey, the road was wide open. I had to be back by 8:30 for the second day of the conference Amy was attending, and the kids' final track meet was scheduled for 10. But for those 150 minutes, my thoughts wandered like the meandering roads that I went up and down.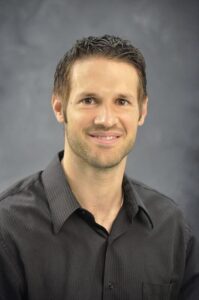 Hours later, the kids and I joined my Dad and Amy at Central Stadium in what had quickly turned out to be a balmy, early-summer day. Spirits were high as the Holy Redeemer track team contended for its first title in more years than anyone could remember. I watched Emma surge ahead for the win in the 50 meter hurdles and the 800, and witnessed Zach as part of the victorious 4X100 meter relay team while shaving eight seconds off his previous mile best. Having sat through a number of events with quite the opposite outcome, it was a special treat – especially when the kids arrived home with Dad to announce that Holy Redeemer was, in fact, victorious as hoped. But like the early-morning ride, it was the movement of it all that, well, moved me so much as our lives motored steadily forward.
A couple of hours later, with our newborn, Samuel Augustine, in tow, we took off toward Santa Claus, Indiana, where the newest parish in the diocese, St. Nicholas, had been formed. What had started off as a historical journey at St. Francis Xavier, which began in 1748, would now reach its chronological end at St. Nicholas, formed in 1990 – now part of of St. Francis of Assisi with St. Joseph in Dale and Mary, Help of Christians, in Mariah Hill. Joined only by our most faithful travelers, Larry and Cathy Osborne, we had traversed 242 years of diocese history with only the finale of the Cathedral remaining.
The gospel this day was from the book of John. Jesus told his Apostles that he would prepare a place for them and take them himself. However, Thomas remained confused about just where this place was and just how they would see the Father. But Jesus said to him, "I am the way and the truth and the life. No one comes to the Father except through me."
As the Tour wound down to its final stop, it was easy to say that our family was on the move just as new life had once-again begun. But I must admit – I wondered, at times like these, just when we could settle into the family we had without wondering if more were on the way. The evening wailing had never been my favorite time, even though little Samuel was amazing to behold – and so cute, as his siblings declared. Just as the journey was coming to a close, so I was ready for the journey of new life to retire so we could focus on all that was already moving along.
But as St. Nick was always full of surprises, so I knew our life was, too. I knew what sounded nice now, and what seemed most sensible to come. But I knew his way—his truth—his life might seem as windy and undulating as the roads that I had traversed that morning. Sometimes, our lives seemed quite tiring; sometimes, quite uncertain; but never lacking for a liveliness that was getting ready to take us to the Cathedral doors in celebration of new life in the Church and a journey just begun.
This reflection is from Jim Schroeder's book "The Evansville Diocese Historical Tour: Footprints of Our Catholic Brethren." Jim, his wife, Amy, and their kids live in Evansville. They are parishioners at Holy Redeemer Parish. Jim is a pediatric psychologist and Vice President of the psychology department at Easterseals Rehabilitation Center. "The full story, including illustrations, is available on Amazon or with his other books and articles at www.james-schroeder.com."