Special to The Message
The Rotary Club of Evansville recently awarded Classroom Enrichment grants to 18 Diocese of Evansville Catholic School educators.
The 2023-2024 Rotary Foundation of Evansville and Liberty Federal Credit Union Classroom Enrichment Grants funded 44 projects totaling over $32,000 across 19 private schools and 25 public schools and programs, according to organizers.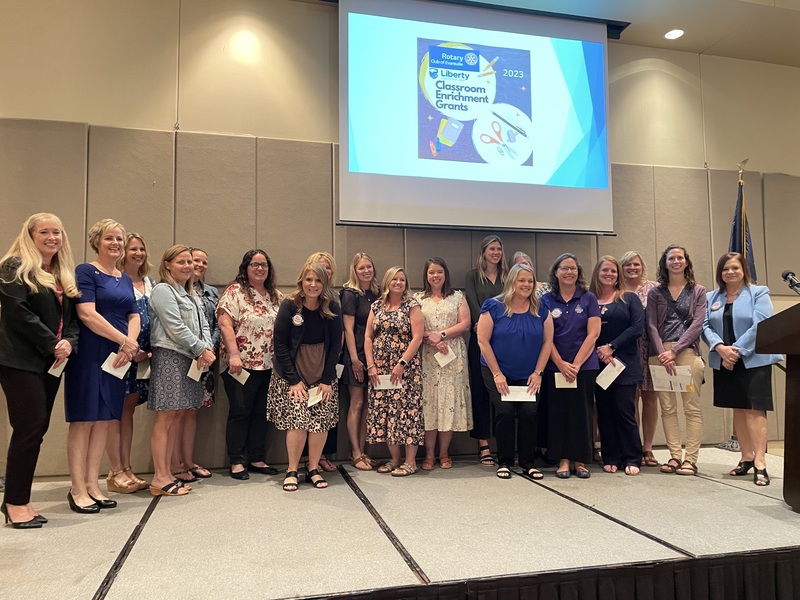 Teachers at the following Diocese of Evansville Catholic Schools received grants: Annunciation School Holy Spirit Campus in Evansville, two educators at Corpus Christi School in Evansville, Good Shepherd School in Evansville, Holy Rosary School in Evansville, two educators at Holy Trinity School in Jasper, three educators at Resurrection School in Evansville, Westside Catholic School in Evansville, two educators at St. James School in Haubstadt, three educators at St. John the Baptist School in Newburgh, St. Joseph School in Vanderburgh County and St. Wendel School in St. Wendel.
The 2023–2024 Classroom Enrichment Grants were chaired by Christy Walker, along with co-chairs Beth Clark, private/parochial school chair, and Scott Hurt, public school chair.
Since the Classroom Enrichment Grant program was founded in 1987, organizers reported the Rotary Foundation of Evansville and other partners have awarded grants to more than 1,299 recipients totaling more than $975,331 to fund local education projects. 
The Rotary Foundation was excited to have Liberty Federal Credit Union as the exclusive sponsor for the second annual year. Organizers said it's been a great partnership to be able to fund projects that teachers may not be able to do otherwise.
Kati Hagerty, kindergarten teacher at Resurrection School, said in a statement: "I am so excited about this opportunity. I have already started implementing some of my ideas, and they have been wildly successful!"
Diocese of Evansville Catholic School grant recipients are:
Cynthia Barfield, St. John the Baptist School, Flipping Out in the Art Room! 

Shelley Bealmear, St. James School, Project Lead the Way-Engineering, Medical and Space

Leslie Blume, Holy Trinity School, Geneasian's Sound and Lightning Project 

Dawn Bunner, Corpus Christi School, Speedy Sums 

Megan Campbell, St. James School - Haubstadt, Tinker Work Weather Stations with Circuits 

Kacie Gambrel, St. Joseph School, Adding More Choices in Kindergarten 

Kati Hagerty, Resurrection School, Giving PROPS to Phonics 

Amy Hart, Good Shepard School, Multisensory Reading Success

Amy Hassler, Resurrection School, Revving up Engagement and Racing to the Checkered Flag of Learning!

Dana Howard, Holy Trinity School, Discovering with Dolls

Elizabeth Mohr, St. John the Baptist School, MultiSensory Phonemic Fun 

Abbigail Moudret, Corpus Christi School, Rhythm Drum Fit 

Robyn Page, Annunciation at Holy Spirit School, Happy Me

Mary Schmitt, Resurrection School, A "novel" effect to reading comprehension

Carrie Schuler, St. Wendel School, Camp Read a Lot 

Trisha Hannon Smith, Holy Rosary School, Producing the Perfect Playbill 

Katie Whetstine, St. John the Baptist School, Walking in a Wago

Jessica Zavala, Westside Catholic School, Career and Readiness through 3D Printing