Special to The Message
Franciscan Sister Judith Ann Bell, a native of Jasper, is celebrating her 60th Jubilee as a Franciscan Sister of Mary, her religious congregation located in St. Louis, Missouri.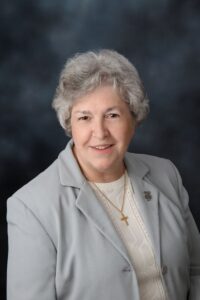 Sister Judith graduated from Jasper High School in 1958 and was honored as a distinguished alumna in 1997.  
She entered her religious congregation on Aug. 28, 1960, and professed final vows on Sept. 8, 1968. She graduated from St. Louis University in 1965 with a bachelor's degree in Nursing; from Indiana University-Purdue University of Indianapolis in 1973 with a Master of Science in Nursing Administration; and from Arizona State University, Tempe, Arizona, in 1996 with a post-master's certificate as a family nurse practitioner.  
Her ministry has included service in the Appalachian region of Kentucky as staff nurse, nursing supervisor, hospital educator, vice-president of nursing services, and family nurse practitioner. She was elected vice-president of her congregation for six years in 2001 and again for four years in 2015. She currently serves as president of her congregation, having been elected in 2019.
Her parents, Dennis and Genevieve "Jenny" Bell, and her brother, Kenneth, are deceased. Her sister-in-law, Jane Sermersheim Bell, lives in Jasper. Two nephews, Tim and Tom, and their families live in Jasper; and another nephew, Mike, and his family live in Evansville. Other nieces and nephews live in Indianapolis and Lafayette, Indiana. 
Because of COVID-19, no congregational or family celebrations will be held this year.