By Megan Erbacher
The Message assistant editor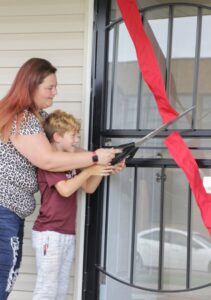 As Clara-Donna T. accepted the keys to her new Habitat for Humanity Evansville home, she raised her fist in the air in celebration with her 9-year-old son, Koltyn, standing next to her on the porch.
Clara-Donna's home was dedicated Oct. 14 in the 700 block of Wedeking Avenue on Evansville's Northside. It's the eighth completed house in St. Theresa Place, a 14-home Habitat for Humanity subdivision located in the Diamond-Stringtown neighborhood.
Ground was broken for St. Theresa Place in August 2020. The subdivision shares the land formerly occupied by St. Theresa Parish with the new home of Catholic Charities.
Currently, Clara-Donna and Koltyn live in a rented two-bedroom house with their dog Lucky and Clara-Donna's mom, but there's a hole in the roof, which makes the upstairs unlivable. 
Koltyn is excited to choose his room in the new house, to have outdoor space and a basketball goal. Clara-Donna looks forward to hosting family events. She thanked everyone for their help and for celebrating their special day.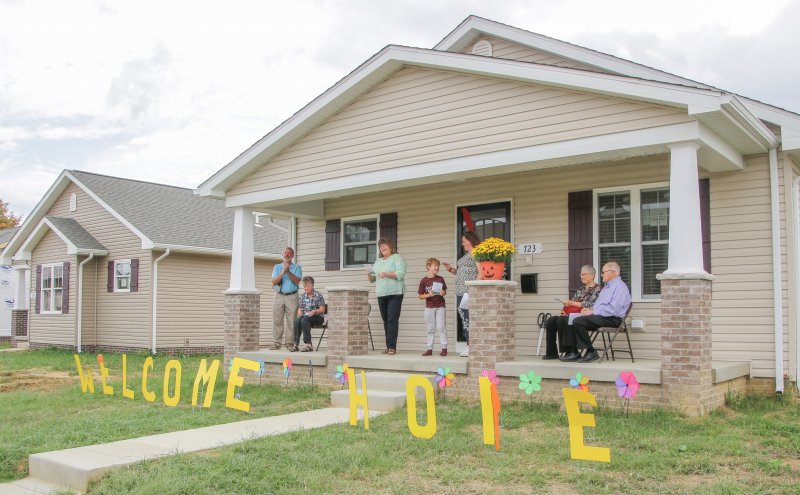 "Part of the reason I'm doing this is to show my son that you have to work for the good things in life," she said. "I can talk to him about what I'm doing to get us a home, and he will see the end result of all of my hard work, our Habitat house. … (This home) will celebrate a new life that I'm forever grateful for."
Beth Folz, executive director of Habitat Evansville, said a word that best describes Clara-Donna is determination because she kept pushing forward despite the setbacks from COVID-19.
Diocese of Evansville retired Deacon Dave Cook and his wife Ginny, who are part of the St. Theresa Place Advisory Council, sponsored the home. Deacon Dave served St. Benedict Cathedral for 16 years. This is the fourth Habitat home the couple has sponsored.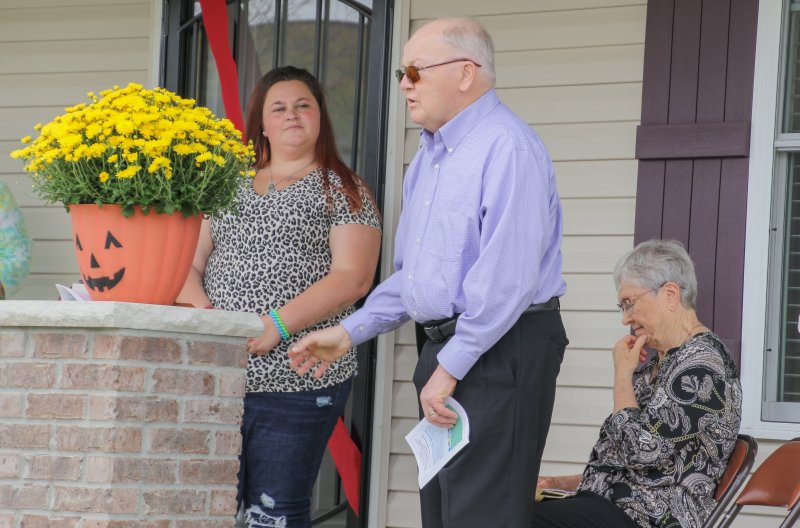 Deacon Dave gave thanks to the Lord for the blessings he has bestowed upon his family.
"My wife and I grew up in Wisconsin, and I have never forgotten my roots," he said. "I'm so impressed with the work that (Clara-Donna) has done, and being an old farm boy, I understand the value of working those hours."
"We give to many charities because we feel that whatever we have is not ours," Ginny said. "Everything that has been given to us is actually God's. We're just the stewards here. Whatever great cause comes, and there are many, we give."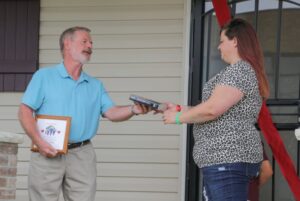 Greg Head, who represented the St. Theresa Place Advisory Council, said the parish was more than a building and more than a church. It was a community and family who shared their love, joy and happiness. Head said his hope is the community will become a place Clara-Donna and Koltyn can share their love, form friendships with neighbors and live in their faith.
Clara-Donna works as a lead teacher at a local daycare and cares for infants. She said life has been "very busy and a struggle" working toward the required 300 hours of sweat equity at construction sites, the ReStore and taking homeownership classes.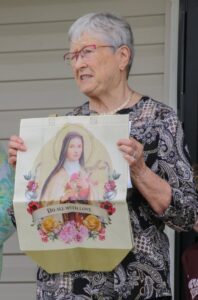 Ginny said she had no brothers and a father who had very poor eyesight, so "this farm girl knows sweat equity."
"This is not a program for the weak," Clara-Donna said. "I'm a parent. I work. I go to school. It has been a very interesting process thus far. Every sweat equity hour counts! It may be hard right now, but you have to remember what the end outcome will be."
Clara-Donna's home is the 545th home built by Habitat for Humanity of Evansville in Vanderburgh and Posey counties.