By Megan Erbacher
The Message assistant editor
Johnté H. stood inside the door of his new Habitat for Humanity Evansville home, surrounded by friends and family, as it was dedicated Aug. 12 in the 700 block of Herndon Drive in Evansville. It's the fifth completed house in St. Theresa Place, a 14-home Habitat for Humanity subdivision located in the Diamond-Stringtown neighborhood.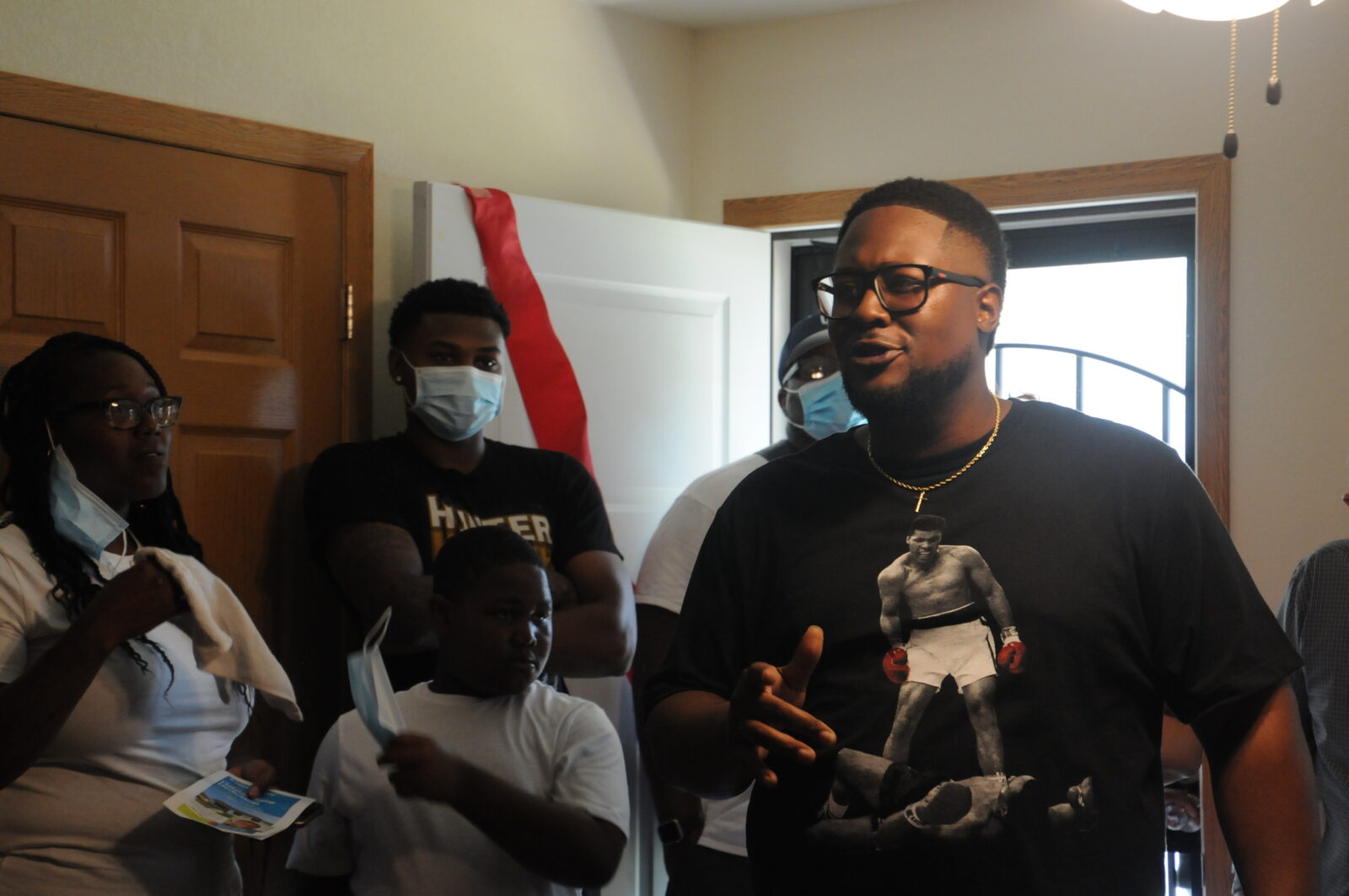 Ground was broken for St. Theresa Place in August 2020. The subdivision shares the land formerly occupied by St. Theresa Parish with the new home of Catholic Charities.
New homeowner Johnté learned about Habitat's homeownership program through his aunt, who is a Homeowner Advocate. He thanked everyone who helped him along the way, including his mother, who recently passed away.
"This Habitat house will allow me to have my own space," he said. "It's something that I can call my own and something I can give to my kids down the way. This home is going to allow me to move forward with my life."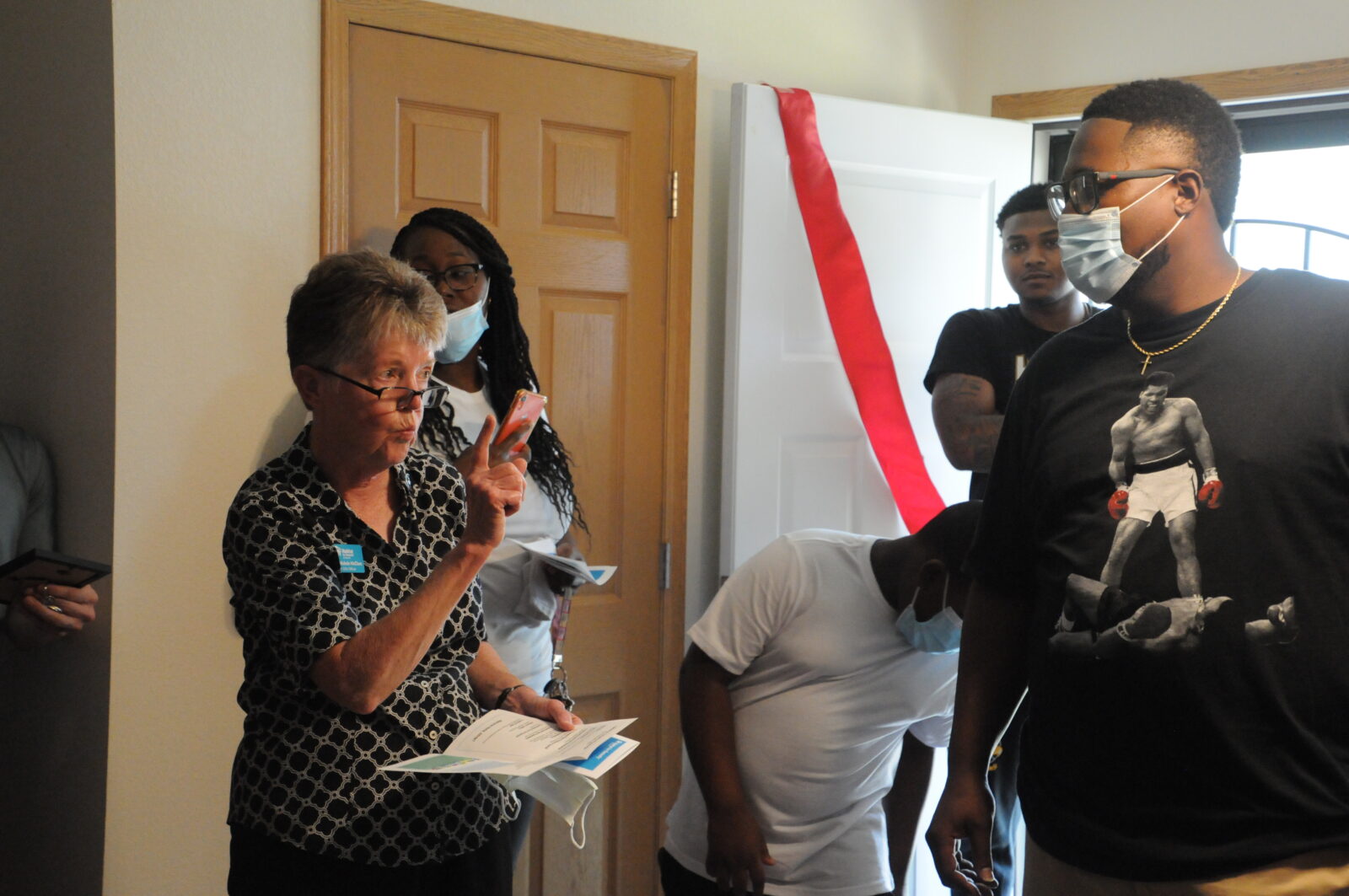 Johnté's Habitat home was sponsored by a group of St. Theresa Parish families. Sister Jane Michele McClure, Habitat's Major Gifts Officer, said more than 140 individual donors contributed to his house.
"To me, this is but one more incredible indication of the amazing spirit of the St. Theresa community — a spirit which lives on," Sister Jane Michele said.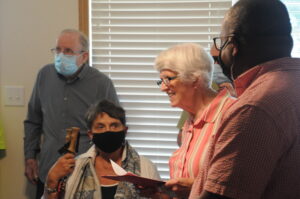 Ann Lampkins, who represented the St. Theresa Place Advisory Council, offered comments about St. Theresa parishioners during the dedication. Lampkins said their founding fathers and mothers would be very proud of the St. Theresa families for sponsoring the home.
Johnté is a community-oriented individual. He works at the Evansville Rescue Mission Youth Care Center as a lead behavior technician, where he said he works to rehabilitate kids to help them get their life on track. He also works at Bosse High School as the assistant coach on the football and basketball teams.
Johnté's house is the 541st Habitat home built in Vanderburgh and Posey counties.
"The perception of Habitat is very misunderstood," he said. "People think that they just give you a house, but once I got into the program, I saw what it really takes – 300 hours of sweat equity, volunteering at the ReStore, homeowner classes and paying back an affordable mortgage. It can be overwhelming, especially with all of my own struggles and with everything I have going on with work. However, the people at Habitat really care. Everyone is so upbeat and encouraging. It has rubbed off on me! I've found myself more caring, and I've become more involved. It's God at work."