By Megan Erbacher
The Message assistant editor
Steve Titzer admitted he wasn't sure what his late cousin, Father Joseph Ziliak, would say at the dedication of the Habitat for Humanity of Evansville home he sponsored, but he said Father Joe wouldn't need notes.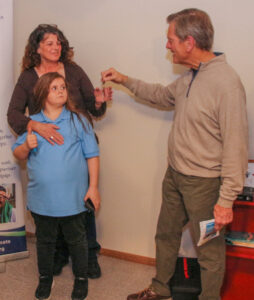 "He always spoke freely from his heart," Titzer said. "He was a very genuine and engaging person. I think he would be thankful that he received the opportunity to make this donation and sponsor this home. He's not with us physically, but I believe he is here in spirit."
On Dec. 7, new Habitat homeowner Amelia B. and her granddaughter, Nevaeh, both smiled with excitement as their new home, sponsored by the late Father Joe, was blessed and dedicated in the 1200 block of Harriet Street. It's the 568th home built by Habitat-Evansville in Vanderburgh and Posey counties.
Father Joe, senior priest of the Diocese of Evansville who served as the founding editor of The Message, died Feb. 8 at age 85. Father Joe was known and loved across the diocese and the region because of his media and pastoral ministries, and his work as leader of pilgrimages and tours across the world.
"If Father Joe was here, he would say, you're all my family," Titzer said. "That's just the way he thought about things."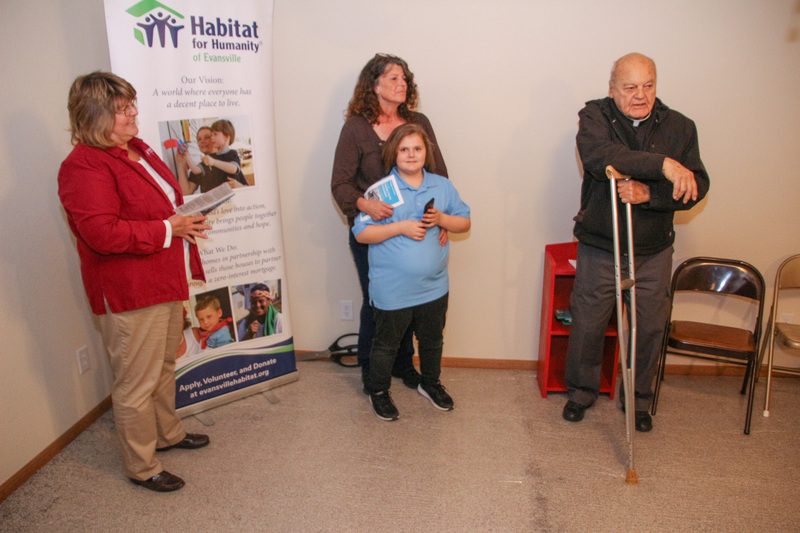 Father Bernie Lutz, senior priest of the Diocese of Evansville and cousin of the late Father Joe, led the opening and closing prayers for the ceremony. During his blessing, Father Bernie said Father Joe's siblings are all thrilled about the home sponsorship, and he believes Father Joe's parents would be proud of their son. Father Bernie prayed that the Lord continue to pour out his love upon Amelia and her family.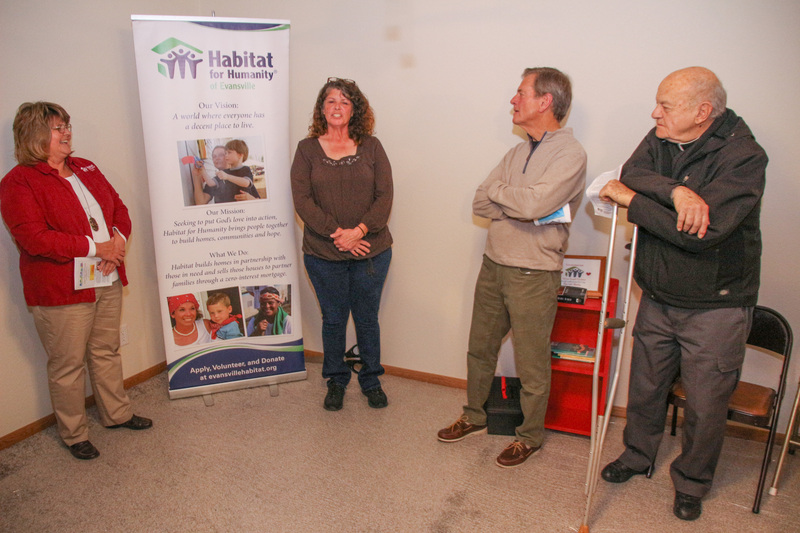 Amelia thanked everyone who made her new home possible. She has two grandchildren, which she has adopted. Shy, her grandson, is 16-years-old, and her granddaughter Nevaeh is 9.
Amelia said it was a long journey and more of a struggle than she thought it would be, but she kept pushing even when things got difficult. It was a great learning experience, she said, and now everyone will have their own bedroom.
"I would like to thank everyone for their support," she said. "This has been a long journey, but I'm really happy that my grandkids and I have a nice, new home to enjoy together."
"I thank you all for coming here," Nevaeh added. "I thank you all for helping us out so much. And have a great time."
Beth Folz, executive director of Habitat Evansville, has a tradition of choosing a word to describe new homeowners. Folz said Amelia is "adaptable. Whatever life throws at you, whatever it may be, you adapt, you go for it, you move on and you achieve what you have to; and you certainly have done that through the Habitat program."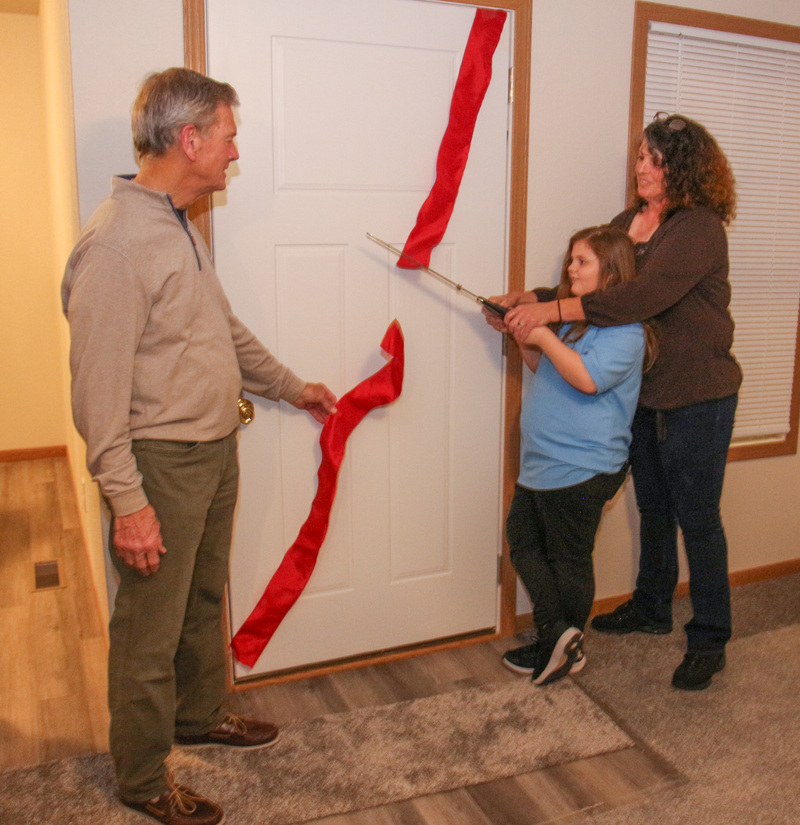 Folz said Father Joe made provisions to sponsor a home while he was in good health. 
"What a genuinely good man he was," she said. "He was entertaining, engaging, a great conversationalist, just a wonderful man."
Habitat board members Teri Hollander and Sheila Huff presented gifts to Amelia.
Hollander, a cousin of Father Joe's, said the Habitat home is a "great example of his compassion and generosity. We hope, from the Holy Lord, that you feel it as a place of peace, a place of faith and a place of joy."
Huff told Amelia that she believes the most important thing in your home is the holy Bible. 
"If you read it, keep it close to you and believe in it even during the tough times, you'll make it through," Huff said. "There's nobody better to depend on."
Lynda Provence, who attended the dedication with her husband and daughter, worked with Father Joe for more than 20 years. "He may have left this earth, but he hasn't left any of our hearts."