Seminarian James Wassmer
Seminary, Class: House of Discernment in Evansville, Propaedeutic year
Home Parish: Resurrection Parish, Evansville
Birthday: Feb. 9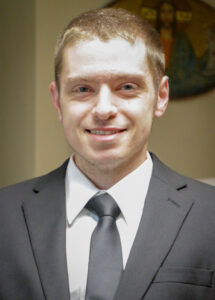 I feel such a strong way about the Eucharist. 
Seeing Jesus either in the monstrance or in the priests' hands, it's just so attractive to me. For a priest to be able to do that, it's just really special. 
I went on a retreat last year called Seek. At adoration, it really hit me. The incense and the priest walking around with the monstrance really was a life-changing experience for me. I have never felt that way before during adoration. It is sad to see that so many Catholics don't believe in the real presence of the Eucharist. 
If I become a priest, I will make it a duty of mine to foster belief in the real presence because that should be a given for Catholics, but it isn't. Watching the priest at Mass, acting in Persona Christi, which means acting in the person of Christ, is so awe-inspiring and something that I want to do.
The Eucharist is the source and summit of the Christian life. So, that should be the source and summit of our duty, as a priest, to foster belief in the real presence, and to explain, teach and share that with everyone. That is something that I would strive to do, which is to help people understand this central teaching of our faith.
My understanding and knowledge of the Eucharist, which has deepened and grown, has helped my vocation-call to the priesthood. The Eucharist and reconciliation are two of the sacraments I'm most drawn to, and I would love to do someday.