By Megan Erbacher
The Message assistant editor
Christmas came early for Latisha H. and her two sons, Christian, 11, and Julius, 3. Latisha fought back tears as she stood in the living room of her new Habitat for Humanity Evansville home and thanked everyone who helped her achieve homeownership.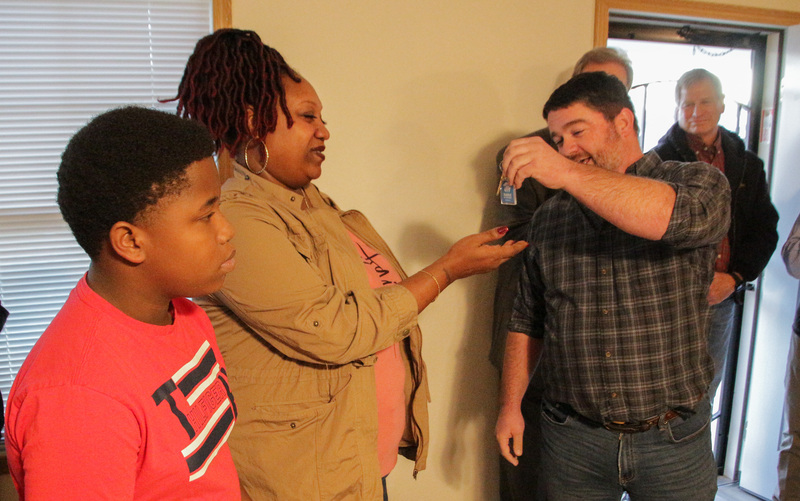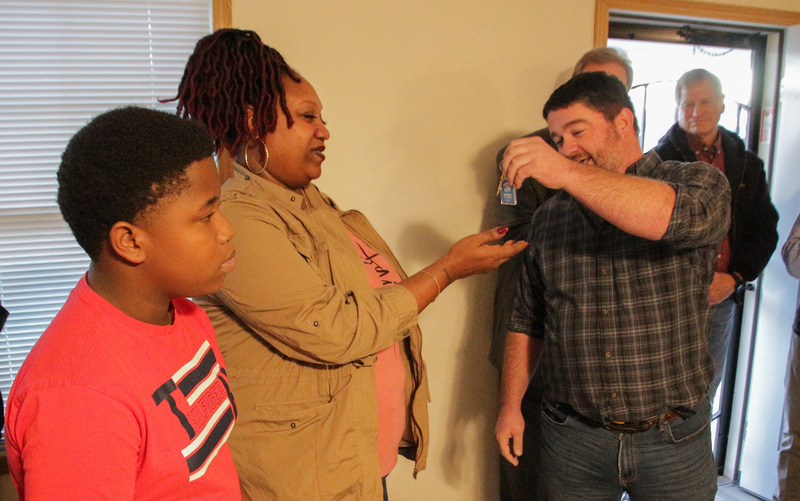 Latisha's home was dedicated Dec. 13 in the 700 block of Herndon Drive on Evansville's Northside. It's the 12th completed house in St. Theresa Place, a 14-home Habitat for Humanity subdivision located in the Diamond-Stringtown neighborhood.
Ground was broken for St. Theresa Place in August 2020. The subdivision shares the land formerly occupied by St. Theresa Parish with the new home of Catholic Charities.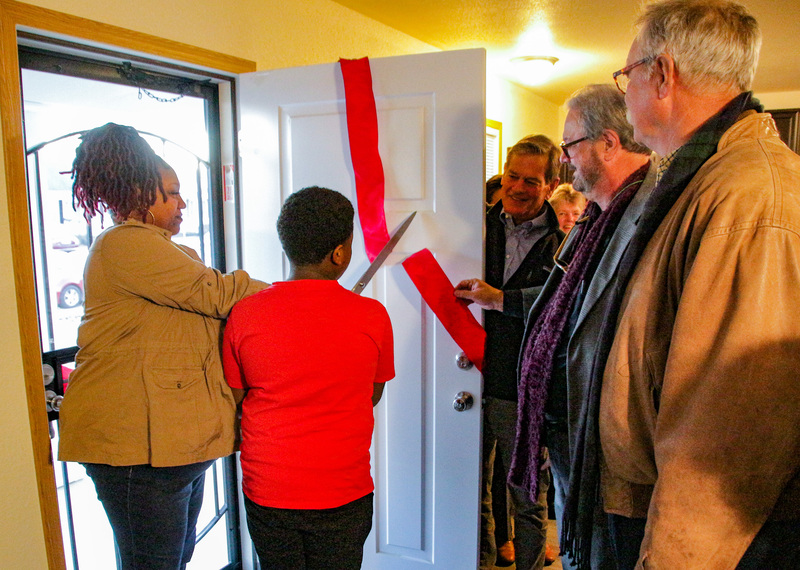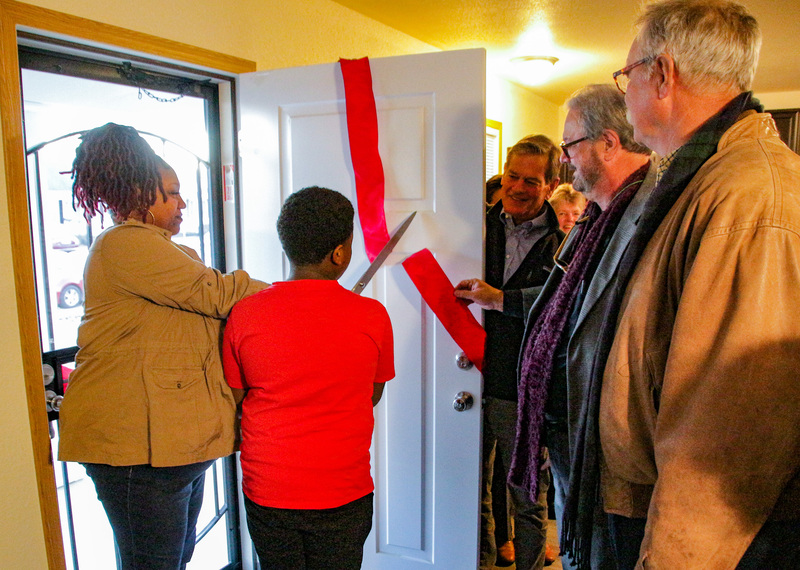 Currently, the family lives in a two-bedroom apartment, but Latisha said they need more space. Latisha's mother, Benita, has been a Habitat homeowner for more than 20 years. Latisha recalled her mom completing the homeownership program, so it was always a possibility for her.
"(Our apartment) is overcrowded," Latisha said. "My younger son sleeps in my room, and there are toys all over the place. This Habitat house will mean stability. It will give us something to work toward maintaining. It will be ours. (And) to have everything brand new, it's a blessing."
Beth Folz, executive director of Habitat Evansville, said a few words that best describe Latisha are resilient and committed because of her work to build a home for her family.
The Rex Mundi Mighty Monarchs sponsored Latisha's home. Rex Mundi High School was open from 1958-1972, and St. Theresa School was a primary feeder school for the high school.
"Without people like you, Habitat can't do this," Latisha said to her sponsors. "Thank you very much. … I'm really amazed by the people who donate their time and skills to help somebody else achieve a dream."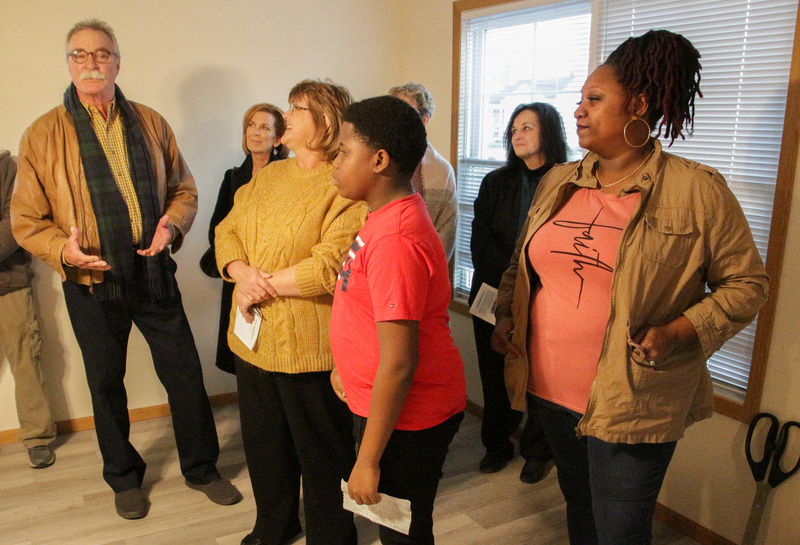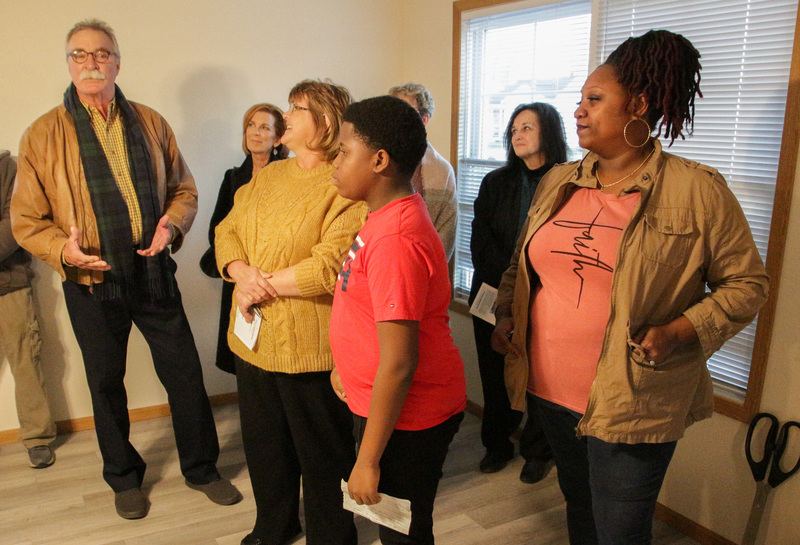 Randy Mattingly spoke on behalf of the sponsors, the Rex Mundi Mighty Monarchs. Mattingly congratulated Latisha for her efforts to finish her home, and he said she has 14 years' worth of people supporting her.
"I only have good memories from here. … I want to selfishly thank you for preserving my memories," Mattingly said. "We have nothing but blessings for you, your family and your home."
Dan DiLegge, who represented the St. Theresa Place Advisory Council, said his parents joined St. Theresa Parish in 1951, just before he was born. DiLegge reflected on his memories, including the "best summer socials." He said Latisha's home sits on the southeast corner of what used to be the playground.
"What a great day," DiLegge said. "We're so happy for (Latisha). … Each home here sits on a special place: classrooms, the playground, the church, the football practice field. St. Theresa and this house are special to us because this was the bridge to Rex Mundi, and it led us to Rex Mundi and our future."
Latisha's home is the 549th home built by Habitat for Humanity of Evansville in Vanderburgh and Posey counties.
After the dedication, Habitat hosted a reception for the Rex Mundi donors and alumni at Ivy Tech Community College Evansville.