By Megan Erbacher
The Message assistant editor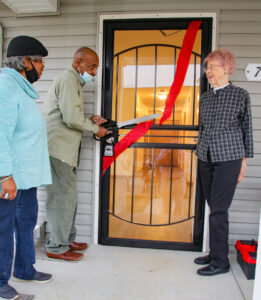 Clifton H. stood inside his new Habitat for Humanity of Evansville home with a smile and said to never give up because your dreams can come true no matter your age.
"It is never too late," he said.
Clifton and Dorothy's home was dedicated Nov. 10 in the 700 block of Wedeking Avenue on Evansville's Northside. It's the ninth completed house in St. Theresa Place, a 14-home Habitat for Humanity subdivision located in the Diamond-Stringtown neighborhood.
Ground was broken for St. Theresa Place in August 2020. The subdivision shares the land formerly occupied by St. Theresa Parish with the new home of Catholic Charities.
Clifton and Dorothy dreamed of one day owning a home. While shopping in the Habitat ReStore, the couple saw information about Habitat's homeownership program and called to learn more.
"The Habitat family has been good to us and blessed us in many ways, and so has God," Clifton said. "We appreciate it. … (The home) is wonderful. I'm proud of myself. This is not for me, this is for my grandchildren, my great-grandchildren, to leave them something."
Birdie Harrison, Family Services Director of Habitat Evansville, said a word that best describes Clifton is steadfast because he didn't let anything get in his way while going through the program.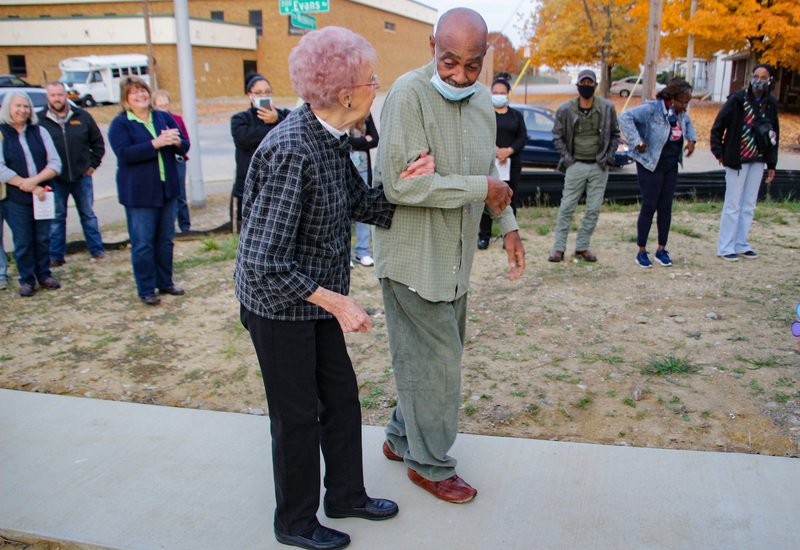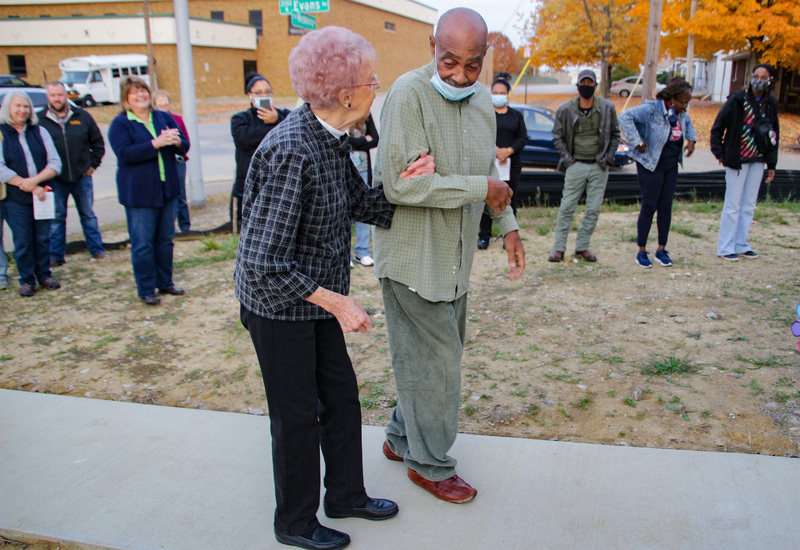 Clifton's Habitat home was sponsored by the family of Henry and Josephine Steckler. Henry and Josephine raised 16 children on a farm in St. James, Indiana, before moving to Herndon Drive, where they walked hand-in-hand to daily Mass at St. Theresa. The couple's 99th wedding anniversary would have been Nov. 12.
Pat Jackson, a daughter of Henry and Josephine Steckler, spoke on behalf of the family. Jackson said it's been a pleasure for the family to be able to sponsor the home.
"On behalf of the Steckler family, it's a privilege and an honor to be here today to make this special dedication in honor of my mom and dad," she said. "I think they would be very happy."
Ruth Becker, who represented the St. Theresa Place Advisory Council, was the last parish secretary for St. Theresa. Becker said it's the place she met her husband and where they raised their kids.
"St. Theresa parishioners were always known for their work ethic and outreach to others," Becker said. "There was always a sense of helping one another, and this is why I'm so happy of the evolution of this property, this hallowed ground, and all of the good that flows from it continues today. With the building of these homes through Habitat, St. Theresa is continuing its legacy of community and love."
Clifton and Dorothy enjoy the simpler things in life, like spending afternoons in the park, staying home and watching movies, and listening to music. They're excited to settle into their new home and invite family over.
Clifton's home is the 546th home built by Habitat for Humanity of Evansville in Vanderburgh and Posey counties.