Special to The Message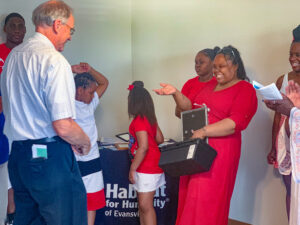 On June 24, Habitat for Humanity Evansville dedicated the second home in St. Theresa Place, a 14-home Habitat for Humanity subdivision located in the Diamond-Stringtown neighborhood. Ground was broken for St. Theresa Place in August 2020. The subdivision shares the land formerly occupied by St. Theresa Parish with the new home of Catholic Charities. 
New homeowner Neakeba took the microphone during the dedication to address the crowd and thank the many folks involved in funding and building her new home. She emphasized that above all else, this home would be a safe, secure place for her four kids to grow up in. "This is for you," she said tearfully, turning toward her children. 
Shortly after her speech, with few dry eyes left in the room, Neakeba recevied the keys to her new home from Core Crew member Dick Yeager, then cut the ribbon on her door alongside Diocese of Evansville Senior Priest Father Ted Tempel, who served as pastor of St Theresa Parish. St. Theresa Place is located on a part of the former parish. former pastor of St. Theresa Place. Construction of Neakeba's home was funded by an anonymous sponsor in honor of Father Ted and Robert A. Thompson (1930-2012).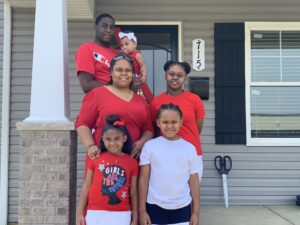 Neakeba later paused the dedication to make a gift to Habitat. She presented a framed $100 bill and explained that her family wanted to give back to Habitat as a thank you for "blessing [them] with [their] home."
It was a special day for Neakeba – one that had been a long time coming. She's worked hard to get to this point since she joined the Habitat homeownership program about a year ago. Habitat Future Homeowners are required to put in 300 hours of sweat equity, building, taking financial-literacy classes and being involved in the community to complete the program – Neakeba has accumulated over 400 hours of sweat equity. 
Throughout the program, she has been driven by her desire to take her family away from their current living situation to a safer, more stable area. Their new home will allow each of her kids to have their own bedroom, and they will have a yard to play in.
Neakeba's home is the 538th completed by Habitat Evansville and the second finished house in the St. Theresa Place subdivision. She will be neighbors to homeowner Brooke and Brooke's three daughters, whose home was dedicated June 16. The lot on Neakeba's other side will be occupied by James, another Habitat homeowner whose kids are all grown up. James' dedication will be oopen the public and begins at Noon CDT June 30 at 719 Wedeking. Ave. in Evansville.