By Megan Erbacher
The Message assistant editor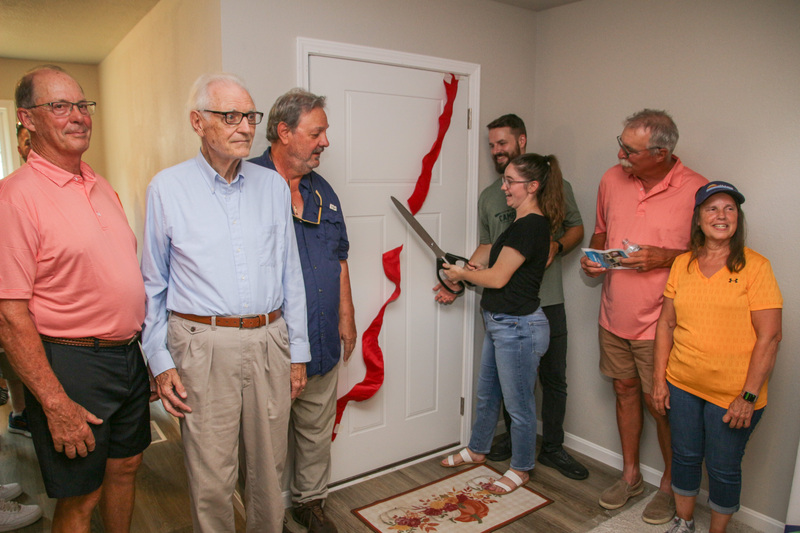 Alyssa Hershey always wanted to return to and live in Jacobsville as an adult. It's the neighborhood where she grew up. That dream became a reality as she proudly stood with her husband, Zach, in the living room of their new Habitat for Humanity of Evansville home located in Jacobsville.
On Aug. 23, Alyssa and Zach's new Habitat home, sponsored by the Rex Mundi Mighty Monarchs, was dedicated in the 700 block of East Iowa Street in Evansville. It's the 582 home built by Habitat-Evansville in Vanderburgh and Posey counties, and it's the second home sponsored by Rex Mundi High School alumni and friends.
The home was generously sponsored in honor of Pat Horrall Welsh, beloved teacher, mentor and friend. Pat taught at Rex Mundi from 1961-1972. After its closure, she taught at Mater Dei High School for 20 years until her retirement in 1993. Pat passed away in October 2020. Her husband, Al Welsh, was present for the home dedication.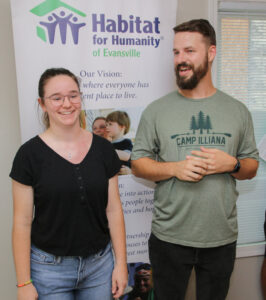 Zach and Alyssa met through their church, and they've been married for about two years. Zach is a youth minister, and Alyssa is a full-time student and is also involved with the Dream Center in Evansville.
Currently, the couple live in a small house, which their church helps them rent, but there isn't enough space to help students in their ministry who are in difficult situations and might need a place to stay. Their new Habitat home will provide a safe haven for those students, as well as space to host youth groups from church.
"Thank you is not enough," the Hershey's said. "Habitat is a tangible feeling of God's love."
Beth Folz, executive director of Habitat-Evansville, has a tradition of choosing a word to describe new homeowners. Folz said a word that best describes the couple is "selfless."
"They wanted to stay in Jacobsville to be an outreach to God's children who live in this neighborhood," Folz said. "We could not be more thrilled to have them as neighbors in this neighborhood because I know you will be a light and a beacon."
Rex Mundi High School was open from 1958-1972. It was located at 3501 N. First Avenue in Evansville, which is now the location of Ivy Tech Community College.
Benedictine Sister Jane Michele McClure, Habitat-Evansville major gifts officer, introduced some of the Rex Mundi alumni present at the dedication.
"Pat was a good friend of mine," she said. "She was one in a million. Pat was the funniest, wittiest person I think I've ever known in my life."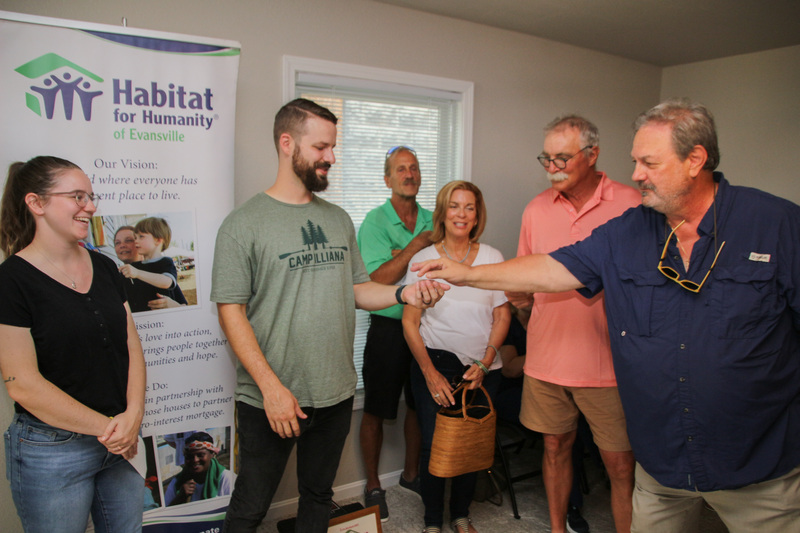 Rex Mundi alumnus Dan DiLegge spoke on behalf of the sponsors, the Rex Mundi Mighty Monarchs, before he presented the keys to Alyssa and Zach.
"This is a beautiful house, and I know you will make it a beautiful home," he said.
Before Habitat, Zach and Alyssa had given up on the dream of owning a home. Zach said it felt impossible until a friend from church encouraged them to apply for Habitat.
"It's been a full-on investment on our side," the couple said. "It's been overwhelming how much support and help we have received and how much people love us. … It wouldn't have been possible without everybody encouraging us the whole time."
They thanked everyone for their love and labor, which helped them achieve homeownership.
"Gratitude is the only word that can really encapsulate it all into one thing," Zach said.
Following the dedication, Rex Mundi alumni, family and friends of Pat Welsh gathered at Turoni's to share food, fellowship and their favorite Pat memories.