By Tim Lilley
The Message editor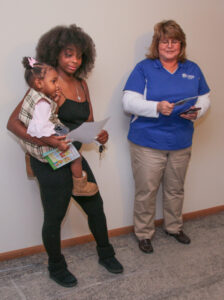 Beth Folz, executive director of Habitat for Humanity of Evansville, has a tradition of using one word to describe new homeowners during the dedication ceremonies for their homes. On Nov. 14, Beth smiled at the latest Habitat homeowner, Ashley, and called her "resilient. Ashley has faced some obstacles on the way to this day, but she proved to be so resilient."
Then, looking at Ashley, Beth said, "You just keep picking yourself up and moving forward. That is what being resilient is about. You are the hero of your story."
Ashley opened the next chapter of her life when she cut the ribbon adorning the front door of her new home at the conclusion of the blessing and dedication ceremony. Her home is Habitat-Evansville's 566th home, and the 17th completed by Catholics for Habitat.
A few minutes earlier, fighting back tears – and not always winning – Ashley talked about the significance of becoming a homeowner. She said, "My sister Courtney is a Habitat homeowner, so I was very familiar with it; and when I entered the program, I was excited. There were some challenges along the way, but I learned to stay strong. My daughter will grow up knowing that I did this for her."
Ashley added, "I want to thank the core crew and all the volunteers who helped build my new home. Thank you for making this home possible. You have changed my life, and I will always be grateful."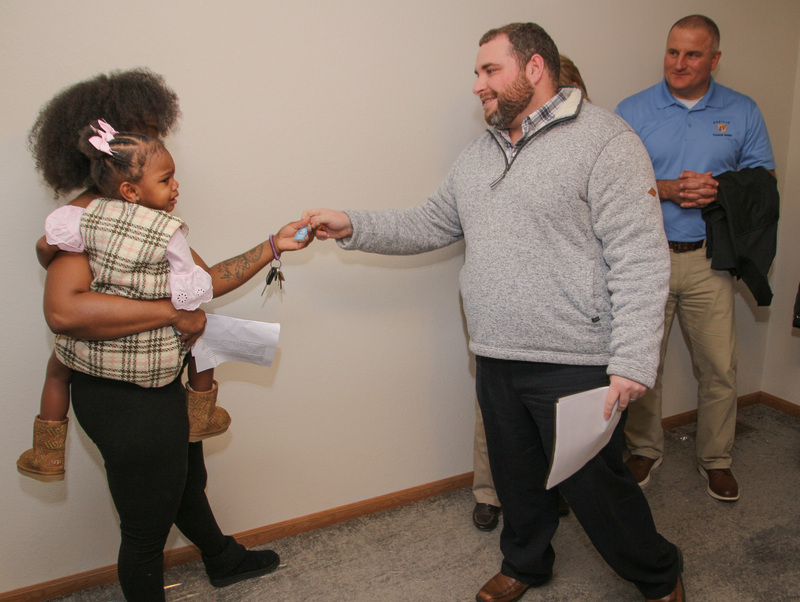 After Beth opened the ceremony, Pastor Connie Baltzell of St. James Baptist Church in Evansville prayed in thanksgiving for the efforts of all who contributed to Ashley becoming a homeowner, and he asked God's blessing over Ashely, her daughter Isla May, and their hew home.
Habitat board member Andy Niemeier presented Ashley with a bible and art for her home, and Craig Blessinger of Catholics for Habitat presented Ashley with a crucifix and a wreath. He said, "This crucifix represents the one constant in life – Jesus Christ. And the wreath symbolizes peace and love. We are thrilled to be a part of your new home."
Birdie Harrison of Habitat-Evansville presented Ashley with a toolkit donated by longtime Habitat supporter Dottie Schauss, who sees that each new homeowner receives a toolbox loaded with the necessities for basic home repairs.
Benedictine Sister Jane Michele McClure, who serves as Habitat-Evansville's Major Gifts Officer, thanked Toyota for its ongoing generous support of Habitat for Humanity in Evansville, and she let Ashley know that, next spring, Toyota will plant a Japanese Maple tree in her new yard. Beth then talked about the red bookcase – complete with an engraved nameplate for Isla May – provided by Youth United. She also introduced local Knight of Columbus Paul Watzlavik, who heads up the local efforts of Sleep in Heavenly Peace, a Utah-based organization that builds and donates beds for children who need them. Paul and his son were on hand to deliver and set up Isla May's new bed, courtesy of Sleep in Heavenly Peace.
Just before cutting the ribbon on her new home, Ashley received the keys from Catholics for Habitat Chair Luke Nordine. As she introduced Luke, Beth said that Catholics for Habitat's 17 homes represented $1 million in support for Habitat and its homeowners.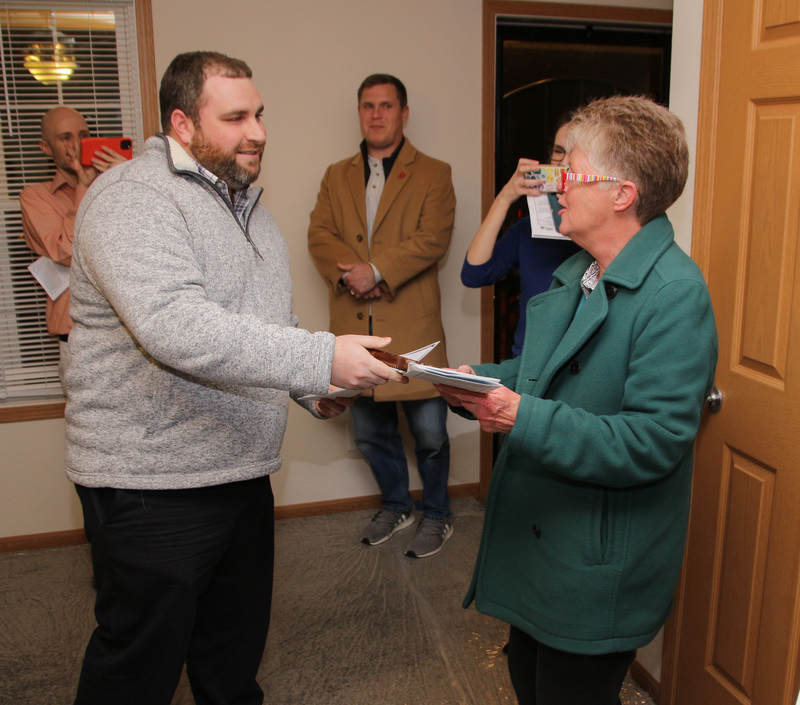 Surprising Sister Jane Michele
During his remarks, Nordine also surprised Sister Jane Michele; he announced her as the 2022 recipient of Catholics for Habitat's Susan Louise Weis Service Award, which recognizes outstanding contributions to Habitat-Evansville and honors the late Susan Weis, who impacted countless families during her service as Habitat-Evansville's mortgage specialist, as chair of Catholics for Habitat and service as a member of Habitat's Family Selection Committee.