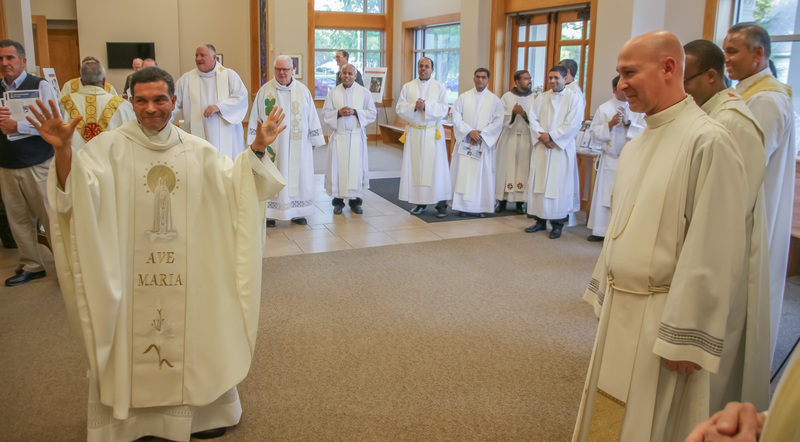 By Tim Lilley
The Message editor
Father Benn Alikandayil Chacko, pastor of Evansville's Annunciation Parish, celebrated the 25th anniversary of his priestly ordination April 23 with a Mass and dinner/reception at the parish, on the city's east side.
Bishop Joseph M. Siegel joined 29 of Father Benny's brother priests to concelebrate Mass and mark the milestone – including 11 priests of Indian descent who traveled from the Archdiocese of Indianapolis and the Diocese of Owensboro to honor Father Benny. Several other Indian priests who are serving in the Diocese of Evansville also concelebrated.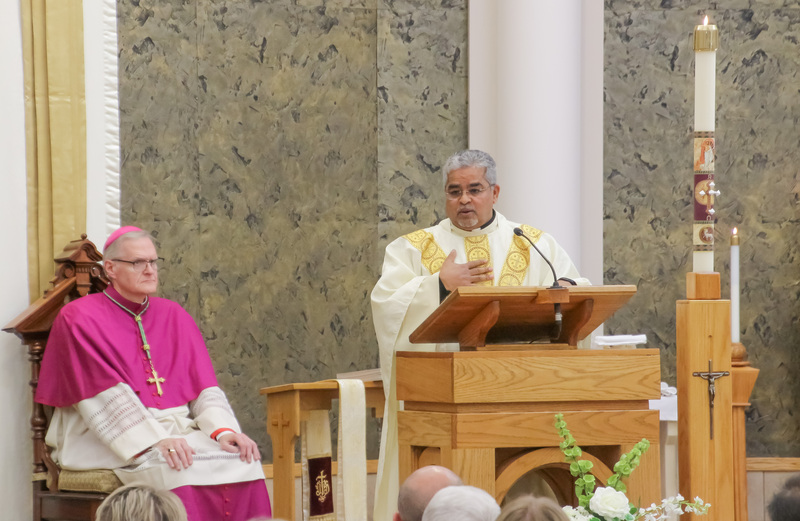 Father Varghese Maliakkal, who serves at St. Thomas Aquinas Parish in Indianapolis and, like Father Benny, was ordained in the Archdiocese of Imphal, India, served as homilist. He said that, as he began work on his remarks, he called Sister Rose, a religious sister who also is Father Benny's biological sister, to seek her input. Sister Rose called her and Father Benny's mother to get her thoughts.
Father Varghese said, "She had the best answer. She said, 'Tell them that he is a happy priest!'" He added that joy has defined Father Benny's priestly ministry.
He explained, "Joy is the most infallible sign of the presence of God. A joyful priest brings a sense of God's grace at work. Every vocation, at its most fundamental level, is a love story. We are all created to find the look of love in Christ, and you see that in Father Benny's eyes. Being a priest means that you love people, and you want to bring Christ to them."
Father Varghese shared a story about Father Benny coming to visit him with a heavy heart – feeling as though he was unable to find God at that time. "Every day, we struggle to recognize God," he said. "As he was driving, Father Benny found his answer by simply looking out the side window and into his driver's side mirror. It has a message: 'Objects may be closer than they appear.'"
He added, "Let us pray and give thanks for the love that brought God into our lives – and for the love that brought Father Benny here to continue his love story."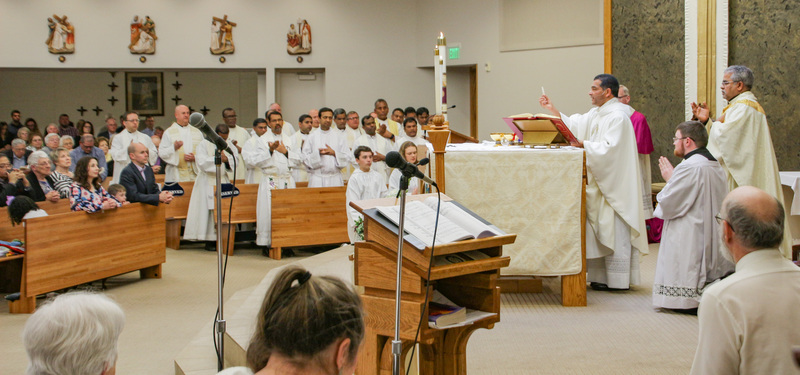 At the conclusion of Mass, before the final blessing and dismissal, Father Benny thanked those who attended and filled the Christ the King Church sanctuary to standing-room-only.
He said, "On this day, with Mother Mary, I want to sing my own Magnificat: 'My soul proclaims the greatness of the Lord; my spirit rejoices in God my Savior' (Luke 1: 46-47)."
Father Benny talked about leaving his home in southern India, in June 1986, for a three-day journey to the northeastern region to begin seminary. He recounted receiving a blessing from his parish priest and bidding farewell to his family. The memories are still very emotional for him.
He added, "The night before my ordination, I prayed – asking God to help keep me faithful to his call. I can honestly say that God has carried me in the palm of His hand." Father Benny was ordained a priest April 29, 1998 in the Archdiocese of Imphal, where he served 17 years in pastoral ministry before answering a call to become a mission priest in America – specifically, in the Diocese of Evansville.
He thanked then-Bishop Charles C. Thompson, now Archbishop of Indianapolis, and then-Vicar General Father Bernie Etienne, Pastor of Evansville's Holy Rosary Parish, for everything they did for him when he arrived here in 2015, adding, "I am now blessed to have Bishop Siegel as my bishop."
Father Benny first served as Associate Pastor at Evansville's Good Shepherd Parish, then at St. Francis Xavier Parish in Vincennes. He said, "the people of Good Shepherd stepped up, stood by me and helped me; and I gained more confidence during my time in Vincennes. I am forever grateful to those parish communities."
He was then named Administrator of Sts. Mary and John Parish in downtown Evansville. He said, "The administrative staff and the parish council always stood by me. The people there are very kind, gentle and supporting."
In June 2021, Father Benny was incardinated as a priest of the Diocese of Evansville. He subsequently was named Pastor of Annunciation Parish.
Of his time at Annunciation, Father Benny said, "I enjoy every minute of my stay here. Thank you for accepting me as your own."
In conclusion, he said, "God has placed special people in my life. They have been very special, and they have played special roles in my ministry. I am grateful to them all."