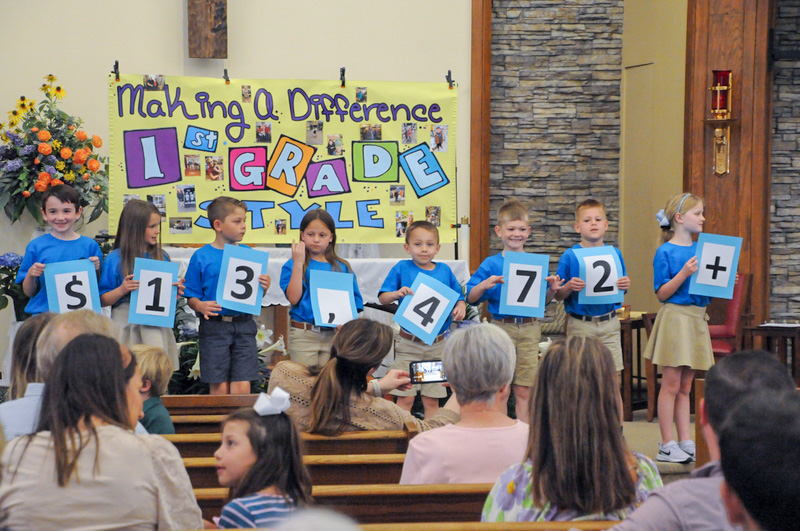 By Megan Erbacher
The Message assistant editor
After a March 3 EF1 tornado ripped the roof off of St. Joseph Church in Vanderburgh County, Jackson Nguyen wanted to help. A first-grader at Resurrection School, Nguyen focused his "Make a Difference – First Grade Style" project on benefitting the parish.
"It is going to cost a lot of money to fix the roof," he said.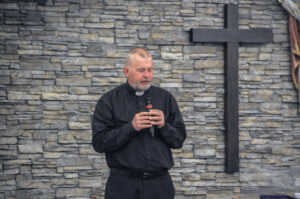 Resurrection first-grade teachers Jennifer Meyer and Jennifer Schmitz gave their 37 students $5 each and challenged them to "make a difference in their world" by raising money, items or donating time to benefit a charity, nonprofit or person of their choice.
The teachers tell their students, "There are many worthy causes in our local community and the world at large, and it's impossible to support them all. However, we are challenging the first-graders to help as many people as they can."
First-graders presented their projects and what they learned to an audience of parents, grandparents and friends on April 20 at Resurrection Catholic Church.
For Nguyen's "Make a Difference" project, he drew pictures to sell for donations to raise money for St. Joseph Parish's new roof. Nguyen said the company his dad works for agreed to match what he raised, so he donated $1,750 to the parish. As a thank you, the parish gifted Nguyen with a wooden cross made from scraps of the old roof.
"I think God has taught me that helping people in our community is important," he said.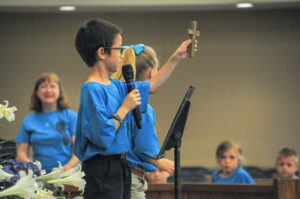 This year, students raised more than $13,472. There was a plus-sign at the end of the total because some students didn't report their earnings, and others used the money to donate supplies or materials, Schmitz explained.
Every year, Schmitz is amazed by the different projects students come up with to make a difference in their community and world.
"They do simple things like paying for somebody behind them in line at McDonald's, to raising money, and every little bit helps," she said. "They're all so proud of themselves when they do it."
Taytum Frame's great-grandma volunteers at the St. Vincent de Paul Food Pantry on Tuesdays, and she learned the pantry helps feed the community. So, with the help of her family, Frame raised $330 to donate to the St. Vincent de Paul Food Pantry for her project.
"I think God is trying to teach me to be like Jesus and do what is right by helping others," Frame said.
Rhett Carnahan's great-grandfathers served in the army and World War II. So, he decided to make a difference for veterans through the Honor Flight of Southern Indiana. Carnahan's mom posted a video of him on Facebook explaining his project and seeking donations, and his "grammy" made crafts to sell, which helped him turn the $5 into $1,750.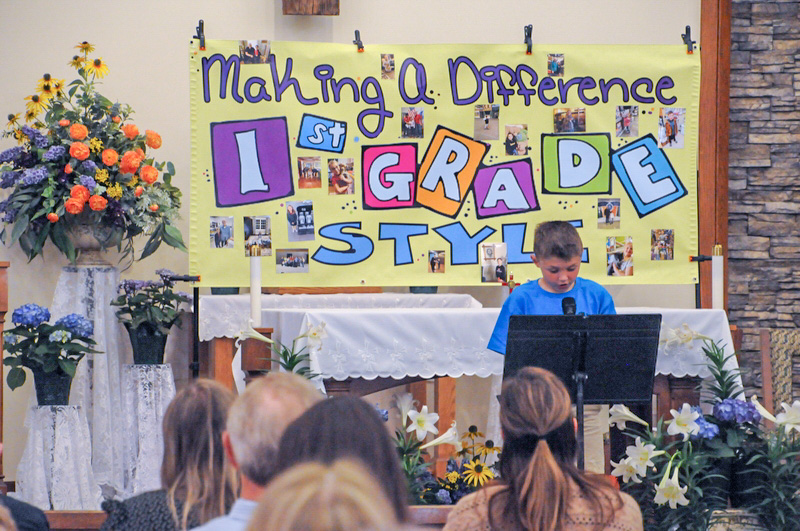 Carnahan's donation will sponsor three veterans to go on the Honor Flight.
"God is trying to teach me to help others and how good that can make my heart feel while making other people happy as well," Carnahan said. "I have met some really nice people along the way. I would like every year to try and help Honor Flight or other community projects to help others."
Since Schmitz established the "Make a Difference – First Grade Style" project in 2011, she estimated students had given back more than $132,000 to the community.
"It's amazing to me because (students) have thought of places I've never even heard of," she said. "Every day, we spend time praying and learning how to be a good Christian. I want them to apply what they're learning, to be compassionate toward others, not only to identify there is a need but (they) can actually do something about it."