Special to The Message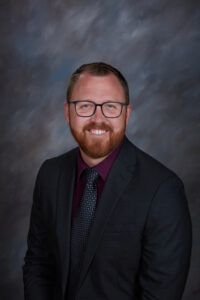 Father Gary Kaiser, pastor of Holy Cross Parish in Fort Branch, has announced the appointment of Nathan Winstead as principal for the 2023-2024 school year. Nathan will be moving from St. Joseph School in Vanderburgh County, where he has served as principal for the past five years.
Father Gary said, "Having a son of our parish return to serve as Principal is a blessing. I look forward to working with him and Mr. Hollis as we begin a transition. It was an honor to celebrate Nathan's and Kaycie's wedding. I look forward to reconnect with them and their children, as Nathan and I work to serve our Holy Cross School families and our Parish. 
Father Gene said, "Nathan blessed our parish community and our school for the past five years. During that time, he provided excellent leadership for our school. Nathan has not only been a trusted colleague to work with but a good friend as well. From a purely selfish point of view, I would have preferred for Nathan to continue in his role and would have looked forward to many more years together. However, I understand the strong attachment Nathan feels for the community of Holy Cross. They are fortunate to have him as their principal."
Nathan is a graduate of the University of Evansville, where he earned a Bachelor's Degree in music education, and the University of Southern Indiana, where he earned a graduate degree in Education School Administration and Leadership.
Nathan said, "I am blessed to be named the new principal at Holy Cross School.   During the past five years, I have been fully supported by the St. Joseph community and Father Gene. I look forward to applying what I have developed at St. Joe, and working with the parish and community of Holy Cross church and school to build upon the solid foundation that has been established."
Before joining the staff at St. Joseph, Vanderburgh County, Nathan taught music at three Gibson County Catholic schools – Holy Cross, St. Joseph in Princeton and Sts. Peter and Paul in 
Nathan grew up in Gibson County. He lives in Haubstadt with his wife Kaycie and their twin daughters, Lyla and Zoey. They are parishioners at Sts. Peter and Paul Parish.