By Megan Erbacher
The Message assistant editor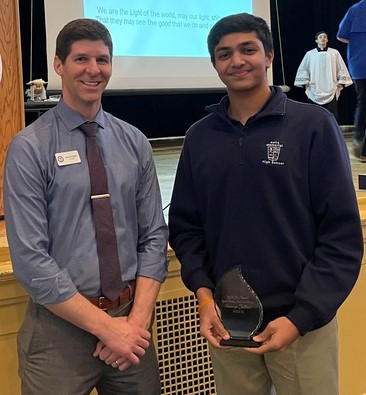 In March 2020, Shaurya Jadhav, then a freshman at Reitz Memorial High School, was "comfortably quarantined at home" during the height of the coronavirus pandemic. While continuing school through virtual classes, Jadhav also wanted to help others.
Jadhav recalled watching the news with his family and seeing COVID-19 case numbers rise, while frontline workers – anyone from medical professionals to grocery store employees – couldn't quarantine at home and were helping civilians.
"I felt bad," he said. "I felt like I could do something, too."
Jadhav read an article about a team in Seattle using a 3D printer to make personal protective equipment (PPE) for local hospitals. So, as a high school freshman, he used his savings from his part-time job as a tutor at the Kumon Learning Center to buy an Ender Pro 3D printer. He didn't know how to use it, but through research and online resources, he taught himself how to operate the 3D printer so he could create PPE to donate to first responders in need.
"I learned a lot during that experience," he said. "I even designed my own prototype because a local dentist wasn't able to use regular face shields."
For his work, Jadhav is one of 11 students from across the country awarded the National Catholic Educational Association's Youth Virtue, Valor and Vision award for 2022-23. The award recognizes students in elementary and secondary Catholic schools who are changing the world through selfless service, determination, innovation and ideals while bearing witness to their faith.
Putting others first is the heart of Catholic schools, Reitz Memorial Principal Aaron Schmitt said, and "that's what Jadhav does."
"What 15-year-old kid is printing out PPE on their own and putting their own savings toward a 3D printer so they can help others," Schmitt asked. "He looked for a way to be productive with his time during the shutdown. He looked for a way to have the biggest impact on the most people and have a positive impact. That's a rare student, a rare person in the world, who does that."
Jadhav, now a Reitz Memorial senior, was nominated for the NCEA award by his college and career counselor, and he was in "complete shock" when he found out he won. He said the award is an "incredible honor," and he was grateful for the opportunity to help others with the PPE donations.
"More than the award, I think it represents how nice it is to help others and the importance of helping others," Jadhav said. "At Memorial, the faculty and staff have taught all of the students that we should use our talents to serve others."
In 2020, Jadhav spent countless hours between completing his online classes printing PPE, repairing 3D printers, preparing shipments and ordering materials. He used his savings and donations to purchase materials and for shipping costs. He wasn't old enough to drive at the time, so he credits his parents for driving him to deliver PPE in the Tri-State and to the post office to ship to locations in Illinois, Michigan, Ohio, Boston and New York.
Jadhav produced and donated more than 1,500 PPEs, which included more than 1,000 surgical mask ear savers, 500 face shields and about 20 masks with filtering technology.
As part of the NCEA award, Jadhav received a trophy and a computer. He gave the computer to his parents, Dr. Pushkaraj Jadhav and Vrishali, as a "thank you" for everything they've done for him.
"They were very helpful throughout the entire process. … There are so many kids who don't have the opportunities I've been given, like a great family at home and such a great education at Memorial," he said. "It's a responsibility to use what we have to give back to others."
Schmitt admitted it's difficult to find the right words to describe Jadhav.
"He truly is a once-in-a-generation type of student," Schmitt said. "I've never met anybody with his intellectual capability, his humility, his selflessness, his desire to have nothing but a positive impact on the world.
"I think he's very much a testament to his mom and dad, the way they've raised him, the understanding of your place in this world, your obligation, and the responsibilities you carry. … You understand where the humility comes from when you meet his mom and dad."
After graduation, Jadhav plans to attend college to study computer science and political science. He said education is a path he would like to pursue.
"I think the end goal is to help reform American education," he said. "I think there are a lot of places where we can improve overall. We can solve so many world problems if we have an educated population."