Special to The Message
The Holy Cross Association of Alumni and Friends presented its 2019 Distinguished Alumni Award to John Hollis on September 15 as part of Holy Cross Parish's Annual Celebration Weekend, which is always the closest weekend to the Sept. 14 Feast of the Exaltation of the Holy Cross.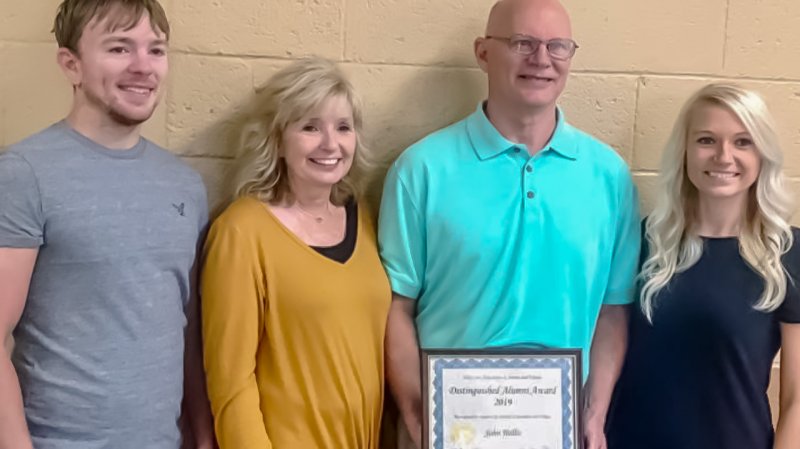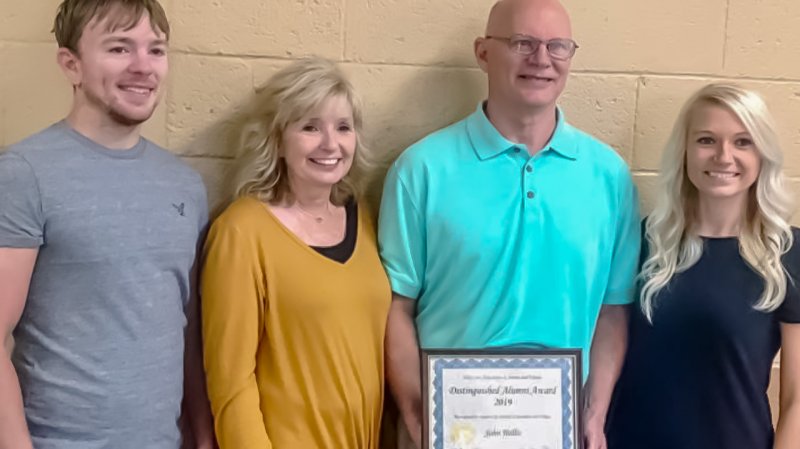 The Award is given to a Holy Cross School graduate who has been recognized by parishioners as living exemplary Catholic lives. It has been presented since 1997 in an effort to provide inspiration to others and to give thanks to God for the Catholic Faith as represented by the life of the individual.
To be considered, a person must have been graduated from high school for at least 15 years, demonstrated support for Catholic education, live according to the teachings of the Catholic Church and be a positive influence in the community.
Hollis attended Holy Cross, Fort Branch Community School and Gibson Southern High School. In high school, he ran cross country, played basketball and baseball.
After high school, he went to Indiana State University Evansville and Oakland City College on baseball scholarships. He has great knowledge and love of baseball. He has coached Fort Branch minor league, little league and Babe Ruth. He has been the assistant coach at Gibson Southern and head coach at Oakland City College.
At Holy Cross, Hollis has worked at the Turkey Shoots; set-up for chicken dinners; called Bingo at Casino nights; served on the School Board; and made hundreds of turtles. He also ushers, cleans the church and prays the rosary before Mass. He is a very active member of the Fort Branch Alumni Association.
While getting his degree in Education and principal's license, his dream was to come back to his alma mater and be principal. That became possible in 2011 when he was named principal of Holy Cross School. He has been a huge asset to the school. He loves all the students and looks forward to greeting them daily. He takes great pride in the school and making sure every student is successful. He always strives to make the school the best it can be.
He enjoys cleaning the school in the summer with his custodial staff of Joey Vessels, Nick Sellers and Isaac Sellers.
He is the son of Jack and Mary Hollis. He has two older sisters, Jackie and Judy. He married Stephanie Stephens in August of 1986. They have two children, Andy and Abby; daughter-in-law Maegan, and soon-to-be son-in-law Mark Seibert.
He is a very patient, kind, generous and humble man. He loves his family, Holy Cross Church and School, and his community.
One nominee wrote of Hollis, "He is a disciple and serves with humility. When I think of the sparkle in my grandchildren's eyes when they met him, I think of Christ's command, 'Bring the little children unto me.' Our community is a better place because of him."
Hollis received a framed certificate and special crucifix from the association. Members of the parish congratulated him at a reception following Mass in the cafeteria.  His name is engraved on the Holy Cross Distinguished Alumni Plaque displayed at the front entrance of Holy Cross School.