Special to The Message
IRVING, Texas – The National Football Foundation & College Hall of Fame has announced the recipients of the 2019 NFF Chapter Leadership Awards. Among them is Newburgh resident Mike Skvara, who is a member of Evansville's Holy Rosary Parish.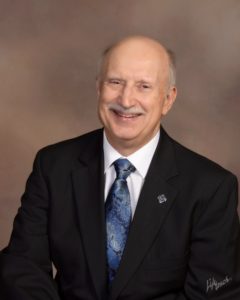 The NFF Chapter Leadership Awards, first presented in 1988, annually recognize five individuals, one from each region of the country, for their commitment, generosity and leadership at the local level in fulfilling the NFF's mission of preserving, promoting and protecting the game of football. Each winner will be honored during festivities surrounding the 62nd NFF Annual Awards Dinner, scheduled for Dec. 10 in New York City.
"Each of these individuals has embraced the mission of the NFF and promoting the good in the game," said NFF President and CEO Steve Hatchell. "Their dedication and passion create a powerful presence for the NFF in their communities, making an impact and inspiring excellence on and off the field. We are excited to honor their exceptional commitment and sincere desire to give back."
The 2019 honorees include:
Nick Fitzgerald– Capital District (New York) Chapter, representing the Northeast Region
Mike Gonce– Mountain Empire (Tennessee) Chapter, representing the South Region
Steve McKay– Orange County (California) Chapter, representing the West Region
Fred Roselli – Bill Denny/Rutgers Football Letterwinners (New Jersey) Chapter, representing the East Region
Skvara– Southern Indiana Chapter, representing the Midwest Region
Skvara is the co-founder and president of the NFF Southern Indiana Chapter. He played football at Whiting High School in Indiana for four years and graduated in 1966. He would go on to attend Indiana University where he was a manager for the football team during the 1968 and 1969 seasons. He graduated from the IU School of Education in 1970.
Skvara taught at Lowell High School in Indiana from 1970-76, and he coached football and baseball. While teaching, he completed his master's degree from Purdue University in educational administration in 1974. Since 1976, he has worked in sales – first as a real estate broker and since 1982 mainly in the insurance industry.
Skvara began his freelance career in sports media in 1972, working as a writer and radio and TV broadcaster with a concentration on Indiana high school and college football and basketball. He has also served as a media coordinator for the Indiana High School Athletic Association football and basketball state finals since 1984.
In 2018, he received the Indiana Football Digest Griddy's Excellence in Media Award, which honors a media representative who has helped promote high school football in Indiana. In April 2019, Skvara received the Indiana Sportswriters and Sportscasters Association Bob Williams Helping Hand Award, which is given to a media member who demonstrates strong leadership and helping-hand characteristics in support of the Indiana sports media industry.
Skvara co-founded the NFF Southern Indiana Chapter in 2013 with Indiana High School Football Hall of Fame inductee and Division I assistant football coach Ted Huber. He has served as president and chairman of the annual Scholar-Athlete Banquet since the chapter began. He is also a member of the selection committee for the State of Indiana NFF Scholar-Athlete Award.
Skvara currently broadcasts high school football on ESPN WREF 97.7FM with Dan Egierski, who is a member of St. John the Baptist Parish in Newburgh.
"A few decades ago, I realized that the Lord put me on this earth to help other people," Skvara said. "Football has not only been a positive influence on my life, but also being part of the National Football Foundation has allowed me to help give back to people in the sport of football, which has helped and given so much to me."
Skvara and his wife, Ann, and his late wife, Sue, have four married children and three grandchildren. In his free time, he likes to focus on his faith and his family. His other passions include sales, sports, media, education and community involvement.
With 120 chapters and more than 12,000 members, the NFF Chapter Network impacts more than 500,000 student-athletes at 5,000 high schools in 47 states each year. NFF chapters stage more than 300 annual events, celebrating the game and its unique ability to teach the values of leadership, teamwork and the drive to compete. Events include coaching clinics, leadership conferences, college nights, media days and local awards banquets that recognize more than 3,500 scholar-athletes and distribute more than $1 million in annual scholarships.