The Message assistant editor
Jim Muehlbauer told Holy Redeemer Catholic School students that the world today is crying out for leaders with solid moral values, and the Catholic school they attend is instilling those values.
Muehlbauer, vice chairman of Evansville's Koch Enterprises, Inc. and vice president of the Koch Foundation, believes that leadership skills can be added to that solid foundation.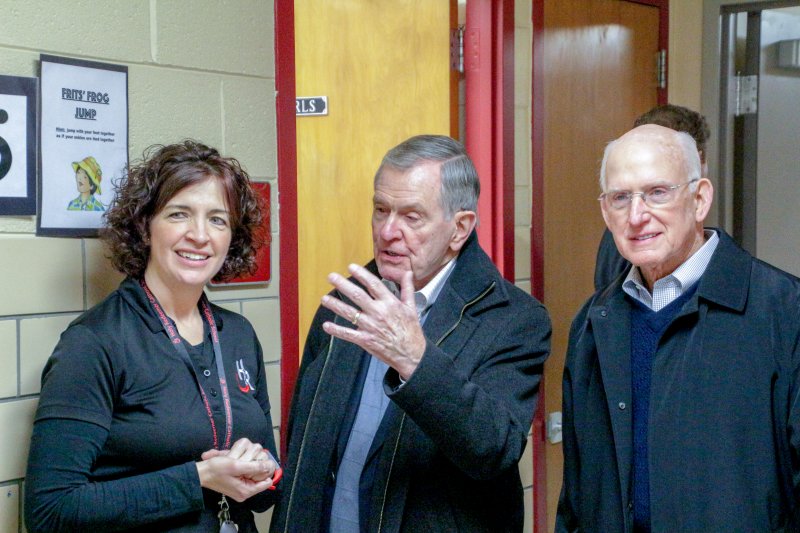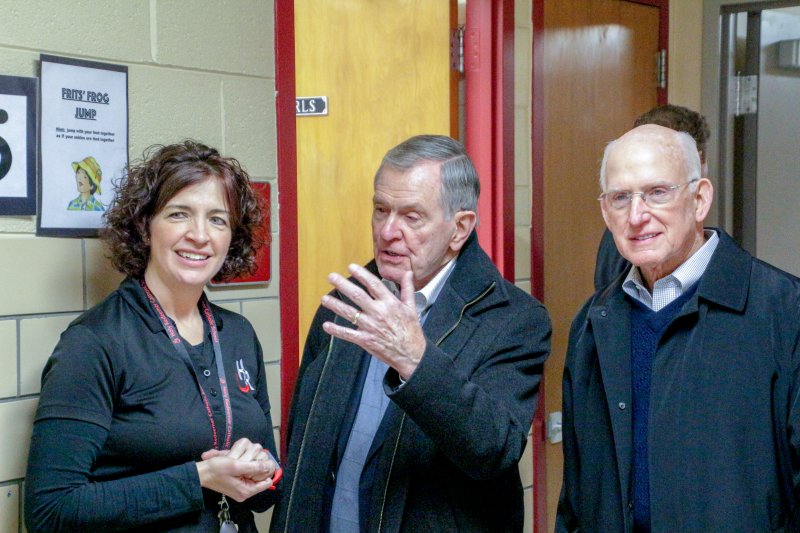 "I think many times we have false conceptions about leadership," he said. "We think leaders are the special people … but you know leaders are each and every one of us."
After Mass on Jan. 30, Holy Redeemer Principal Andrea Dickel announced to students and staff that the school will implement the Leader in Me program for the 2020-2021 school year thanks to a generous Koch Foundation Excellence Grant of more than $30,000. Teachers will begin training in the spring and summer, while students can expect to see the program in the fall.
Holy Redeemer is the 14th Diocese of Evansville Catholic school to implement the nationally-recognized Leader in Me program because of the continued generosity of the Koch Foundation.
"At Holy Redeemer, we feel very blessed to begin this process with our school community," Dickel said. "And we could not be more thankful to the Koch family for giving us the gift that will allow us to do it."
The program focuses on the 7 Habits of Highly Effective People:
Be proactive (You're in charge)
Begin with the end in mind (Have a plan)
Put first things first (Work first, then plan)
Think win-win (Everyone can win)
Seek first to understand, then to be understood (Listen before you talk)
Synergize (Together is better)
Sharpen the Saw (Balance feels best)
"The Leader in Me program is a nationally-recognized program that unites students, staff and families around a common goal to help prepare them to be well-rounded, productive citizens of the 21st century," Dickel said. "It instills skills such as critical thinking, creativity, teamwork, problem-solving and self-discipline, among many others."
Muehlbauer said a couple of years ago, Koch Foundation leaders decided they wanted to help diocesan elementary schools improve the culture of excellence. He said with help from Diocesan Superintendent of Schools Dr. Daryl Hagan and the principals, they chose the Leader in Me program as the best option to accomplish that goal.
"It's a way of improving the culture of excellence in all areas: principals, teachers and most importantly students," Muehlbauer said. "I think it can help increase our level of spiritual, academic, emotional and physical leadership or, as it's sometimes called, whole-person leadership."
The Leader in Me program focuses on educating the whole child with a belief that all students have "genius and everyone can be a leader."
Muehlbauer said many times people witness a situation where something could, or should, be done differently, and he said we have a moral "obligation to speak up and lead" when we witness these situations. He said the program will give students the confidence and strength to realize their responsibility is to speak up and lead.
"We all have leadership skills within us," he said. "We need to step-up and use those leadership skills. … It doesn't matter if you're the appointed leader or not, when you see the need, find the courage to speak up."
Father Jason Gries, pastor of Holy Redeemer Parish, echoed the many thanks to the Koch Foundation and asked students to offer a standing ovation to Koch Enterprises, Inc. Chairman Bob Koch and Muehlbauer.
Following the announcement, Father Jason, Dickel and Hagan gave a tour of the school to Koch and Muehlbauer.
"We're very excited about this venture and look forward to getting started very soon," Dickel said.