By Tim Lilley
The Message editor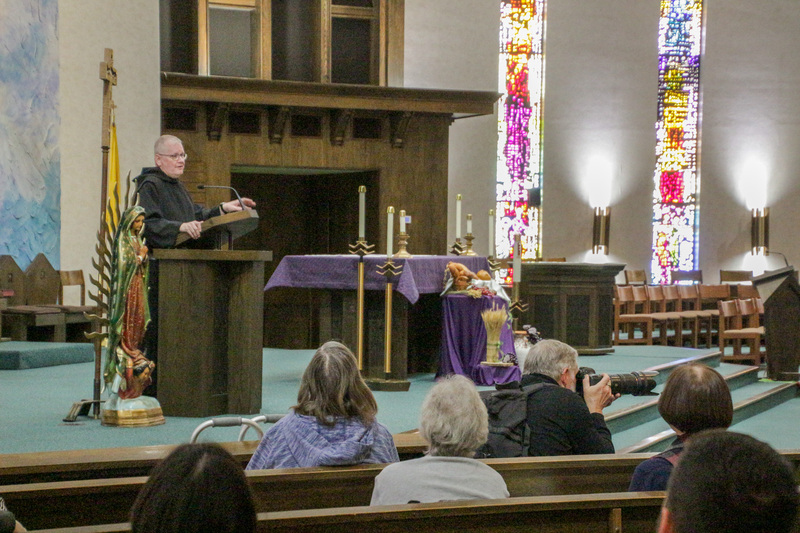 Evansville's Holy Rosary Parish welcomed 200 people to its 2023 Faith Day, held March 18 at the parish. The afternoon event opened with Pastor Father Bernie Etienne leading prayers that focused on the mysteries of the Gospel: presence, belonging, giftedness, companionship and service.
The prayers concluded with, "Jesus, teach us to reach out with a heartfelt compassion for the needs of one another. May we learn to serve as you have served – without discrimination and without harsh judgment."
Benedictine Father Godfrey Mullen then gave the first of three Faith Day presentations. His topic was "The Eucharistic Mystery: Living What We Celebrate, Celebrating What We Believe." Father Godfrey, former rector of St. Benedict Cathedral in Evansville, now serves as rector of the Cathedral of St. Peter in Belleville, Illinois. He included discussion of the late Pope Benedict XVI's apostolic exhortation "Sacramentum Caritatis" on the Eucharist as the source and summit of the Church's life and mission.
Father Bernie gave the second presentation, "A Walk Through the Mass." Father Martin Estrada, Parochial Vicar at Holy Rosary, gave the final presentation, "Eucharistic Adoration, Dwelling in the Presence of the Holy."
Faith Day concluded with Mass.
Parishioners baked and donated a variety of breads, and many attendees brought non-perishable items for the parish's Nativity Food Pantry.