By Tim Lilley
The Message editor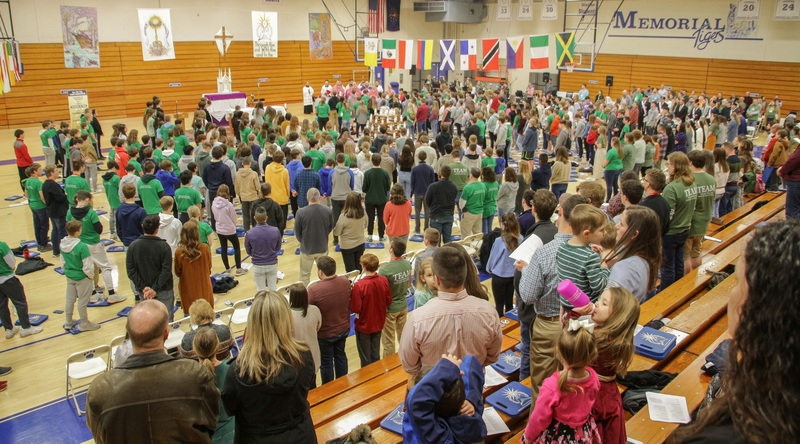 Hundreds of young people from across the Diocese of Evansville spent the weekend of March 17-19 at Reitz Memorial High School for the 2023 Source + Summit Retreat. Dozens of adults attended the one-day adult retreat March 18, which was hosted by Evansville's Annunciation Parish at its Christ the King campus.
Bishop Joseph M. Siegel celebrated Mass for attendees and their families March 19 in the Reitz Memorial gymnasium. Concelebrants included Source + Summit Chaplain Father Sudhakar Bhastati, administrator of St. Peter Parish in Montgomery, Diocesan Director of Vocations Father Tyler Tenbarge, who also serves as Priest Moderator and Sacramental Minister at Evansville's Corpus Christi Parish, and Franciscan Father Giles Barrie, a member of the Franciscan Friars of the Renewal from the Archdiocese of New York.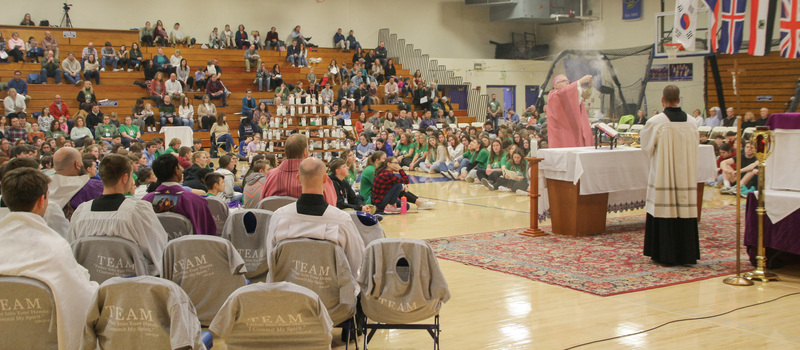 Deacon Stephen McGinnis, who currently attends Saint Meinrad Seminary, and Deacon Mark Theiman of St. John the Baptist Parish in Newburgh, assisted. Matt Miller, director of the Diocesan Office of Worship, served as Master of Ceremonies, and Diocese of Evansville seminarians served the Mass.
Bishop Siegel focused his homily on the day's Gospel, John's account of Jesus' miraculous healing of a man born blind (John 9: 1-41). He began with a reference to "Amazing Grace," which was written by Englishman John Newton, who experienced a conversion after working for some time in the slave trade during the 1840s. The bishop noted that first verse of the all-time-favorite hymn includes, "I once was lost, but now I'm found, was blind but now I see."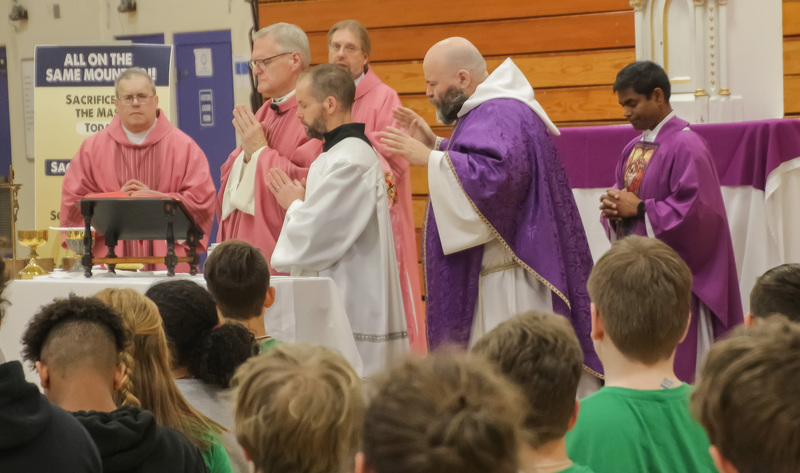 The bishop explained that John tells the Gospel story of Jesus' cure of a blind man, calling it a story of conversion and restoration of spiritual vision. He said that each of us deals with some form of spiritual blindness that keep us from seeing the need for God in our lives.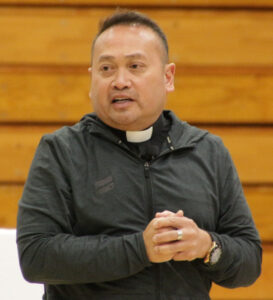 He said that Lent offers a challenge to all of us to open our eyes and ourselves to God's amazing grace, noting that the key is our faith. The bishop noted that, little by little, the amazing grace of God works in our lives. 
He encouraged all in attendance to go forth as missionary disciples to proclaim the good news of Jesus Christ.
The youth retreat included presentations by featured speakers Father Leo Patlinghug and Jackie Francois Angel, talks by priests and seminarians of the diocese of Evansville, Father Giles and Franciscan Brother Damian Novak, Dominican Sisters of St. Cecilia of Nashville and Catholic illusionist Giancarlo Bernini. The youth retreat also included Mass all three days and all-night Eucharistic Adoration Saturday night into Sunday morning.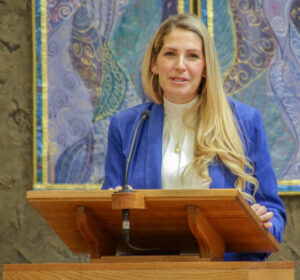 The adult retreat included opportunities for reconciliation and presentations by Jackie; Giancarlo;  Father Leo; Father Giles; Father Bernie Etienne, pastor of Evansville's Holy Rosary Parish; and  Father Chris Forler, pastor of St. John the Evangelist Parish in Daylight and St. Bernard Parish in Snake Run.
Deacon Dan Niemeier of Resurrection Parish served as Master of Ceremonies.