By Ann Nagy
Special to The Message
During this current 2019-2020 school term, Holy Trinity Catholic School in Dubois County submitted two music-grant proposals. God used the kindness of the United Cabinet Foundation to fund both grant proposals, which totaled $21,700. The grant award was given in memory of Stan and Mary Jane Krempp, long time Arts and Catholic Education supporters in Dubois County.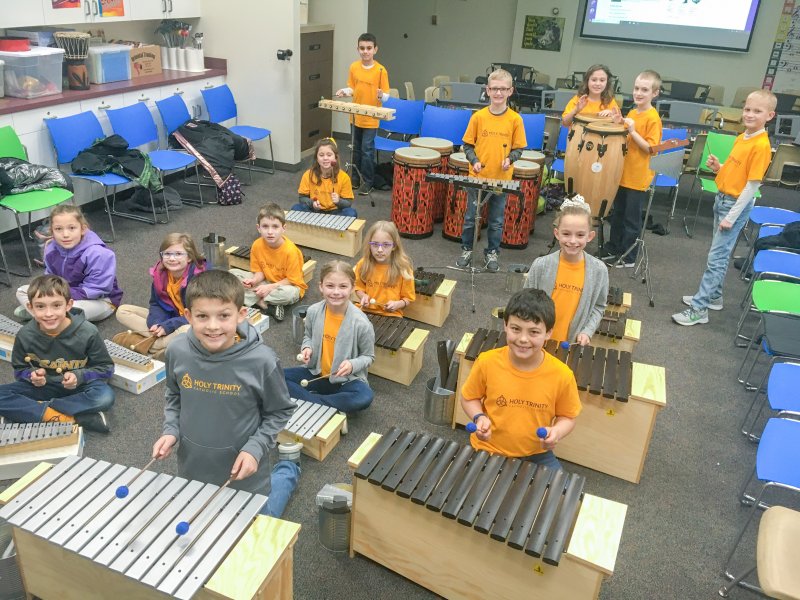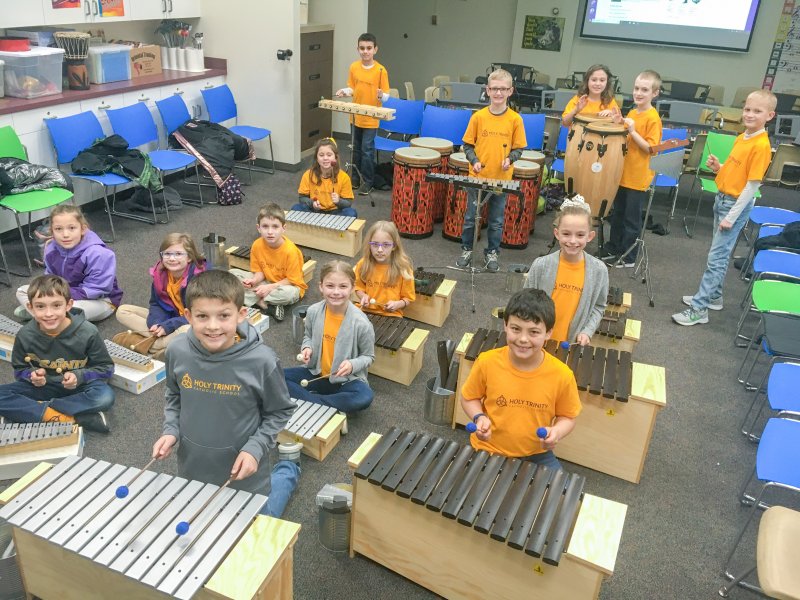 Stan and Mary Jane each played several musical instruments. Music and theater were great bonds between them. Wherever they traveled, they attended concerts or theatrical events – including concerts at the Convent Garden and the Sydney Opera House, and a performance at Shakespeare's home theater. They also valued active involvement in community affairs and provided generous financial support to further Catholic schools.
The Holy Trinity Catholic School Community is grateful for the generosity shown by the Krempp family and this foundation. Students are benefiting greatly from the purchases made with the grant money which include:
One 14 instrument set of Studio 49 Orff instruments consisting of wooden Xylophones, metallophones, metal glockenspiels with mallets, table stands and dust covers
Six Tubanos Remo drums
One set of Conga Drums
One set of wind chimes
One set of Temple Block
One Breedlove electric /acoustic guitar
One Four-octave set of tone chimes
Ten Basic Beat hand drums
One 30-piece classroom set of rhythm band instruments
One Pre-School First Steps Music Curriculum by John Feierabend
Fourteen portable music stands
Several online subscriptions and other educational resources
Each year, Holy Trinity Catholic School music students perform two public concerts at the Jasper Community Arts Center, plus a Grandparents' Day Concert. Having these portable instruments will give students invaluable hands-on opportunities to create and perform music. In addition to using them for in-class learning, students can use them during the four school Masses per week, or by students who perform at local nursing homes.
Music, like sports, has the ability to build character and offers opportunities for students to work as individuals or as part of a team. In Indiana, teachers are being asked to incorporate social and emotional learning into the curriculum. Music has the ability to bridge all aspects of a child's learning: emotional, spiritual, physical, academic and social.
Goethe wrote, "A man should hear a little music, read a little poetry, and see a fine picture every day of his life, in order that worldly cares may not obliterate that which God has implanted in the human soul."
Thanks again to the United Cabinet Foundation, to the late Stan and Mary Jane Krempp and to the Krempp family for their support of arts education of Holy Trinity Catholic School students.
Ann Nagy teaches music in Pre-K through Grade 8 at Holy Trinity Catholic School.