By Father Tyler Tenbarge
Special to The Message
St. Joseph has spent part of this year that honors him blessing the work of many at the Father Deydier House of Discernment.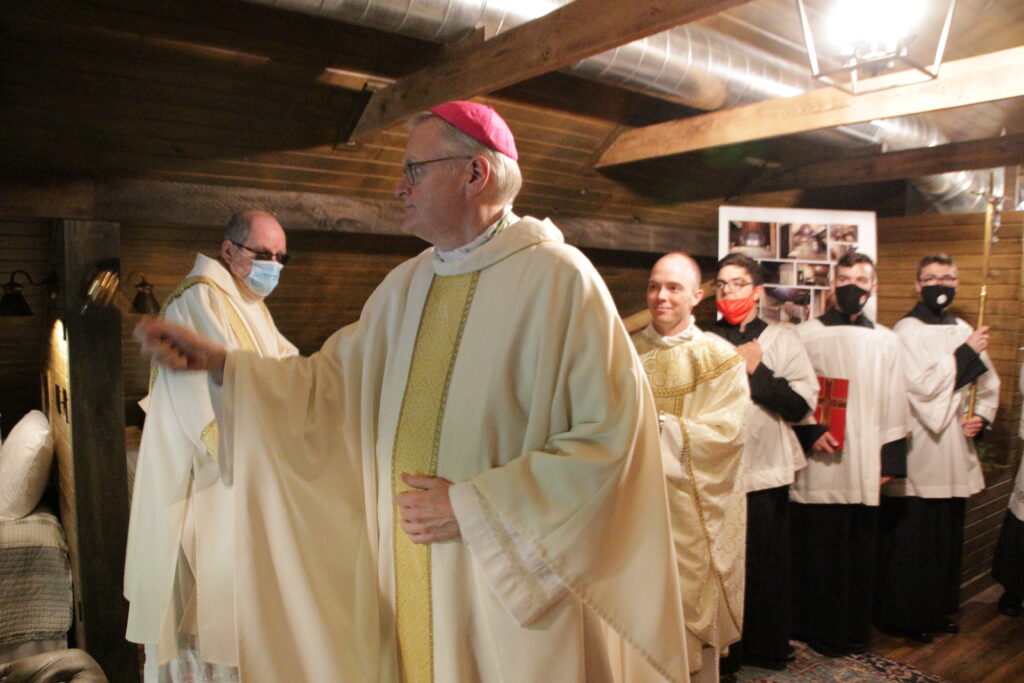 In October 2020, our diocesan seminarians were told that they would be leaving at Thanksgiving for an extended winter break. The pandemic had once again changed normal plans. Upon departing Saint Meinrad and Bishop Bruté seminaries, they would finish classes online for the fall, take their finals virtually, spend Christmas at home, and only then return to their campuses in 2021.
The break would be more than six weeks off. Several of our men asked me whether they could spend their Christmas break at the House of Discernment. Fortunately, the House was at capacity with five residents this year. Unfortunately, a full House meant "no room in the inn."
I called my Confirmation Sponsor, Bill Geodde, from nearly twenty years ago. I asked Bill whether we might be able to put up enough insulation and plywood to make the attic of the House livable for a month and a half. Add a few rugs and beds, and plug in a space heater or two; I asked, "Would that do that trick?" It felt to me like the Holy Spirit was moving us toward making that space work. After all, we had a full house and more guys wanted to stay with us.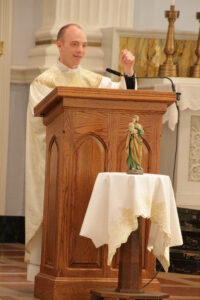 So, Bill brought in a few others to get their thoughts, and the dark, old, totally-untouched attic space seemed to close the doors on our hope for anything resembling "guest rooms." Closed doors seemed to me a sign that perhaps the attic was not in God's Providence right now.
But, this would become the Year of St. Joseph.
By mid-November, a few benefactors had reopened the vision. Donations came in, people from several different parishes began volunteering to help, and with the project fully funded by these special donations and no impact to the Diocesan Budget, Bishop Joseph M. Siegel reviewed and approved the project. It was clear that the Holy Spirit was moving us to expand, and that clarity came through the hands, gifts and prayers of our local Church.
December was spent tearing out the old: walls, doors, ductwork and more. Wives brought in meals and offered their touches to the masculine space. January brought insulation and structural improvements like wiring, plumbing and subfloors. By now, at least a hundred hands had touched the attic in some way.
Each morning, except Sunday, a work crew would show up and wait until 8 a.m. to begin hammering or cutting. They wanted to give our residents time to pray (or sleep), and I usually got my holy hour in before the noise began. While praying in our House chapel, I heard St. Joseph ask for the attic project to be given to him. When I heard that, I realized it made perfect sense.
Pope Francis had declared a "Year of St. Joseph" on Dec. 8, 2020, running to the same date in 2021. The Holy Spirit was already preparing many hearts and hands for that celebratory year. Additionally, husbands and fathers were doing the vast majority of the renovation work in the attic, and St. Joseph is their patron. The style for the space was a rustic wood theme – not unlike a carpenter shop, and the majority of those who will be using the space will just as likely discern biological fatherhood as they will spiritual fatherhood. St. Joseph wants to be their patron either way.
I shared this moment of prayer and request from St. Joseph with Bill and the crew, and we all agreed it was meant to be. Soon thereafter, a priest donated a large statue of Saint Joseph that used to watch over the faithful at St. Patrick in Corning, Indiana. It fit perfectly.
Renovations continued through the spring. More than 65 men and women from more than a dozen parishes measured trim, stained wood, donated storage trunks or in other ways turned this old, dark attic into a warm and cozy retreat space. Sixteen teenagers from our Savio group also pitched in to hammer, paint and clean. An estimated 3,000 hours of labor went into that 1,700 square foot space. While those numbers are impressive, the love and fellowship generated and enjoyed there under St. Joseph's watch cannot be measured.
We had not met my hoped-for deadline of Thanksgiving for our seminarians. It didn't matter; some of them decided to move in and share bedrooms with House residents anyway. And we knew it was the work of the Holy Spirit when May 1 became the natural completion date: the Feast of Saint Joseph the Worker. Bishop Siegel gathered more than 70 of the volunteers and benefactors for Mass at Sacred Heart Church before heading to the renovated space now named, "St. Joseph's Attic" for a blessing. A big celebratory luncheon, also generously donated, followed outside on a perfectly warm and breezy day in May.
As I write this article, St. Joseph's Attic has already seen more than two dozen guests stay in its first month. St. Joseph has hosted seminarians and former residents of the House who wanted to spend time praying together and hanging out with one another. We also recently hosted some of our high school Savio guys for an overnight with sports, meals, prayer, Mass and fellowship. 
The Holy Spirit is alive in our midst, and we can see the Spirit's movements if we take the time to look and to listen. It is clear that the foster father of Jesus Christ longs to be a spiritual father to the young men of our parishes as they discern their vocations and follow Christ's model to virtue and holiness. What else might St. Joseph want to show and give to us? The year honoring him is not yet complete, and I hope you will be paying attention to him with me through Dec. 8.
If you know a young man who might benefit from discerning at the House, please contact House of Discernment Director & Chaplain, Father Tyler at [email protected]. Find more photos of the renovation on the House of Discernment's Facebook Page: Father Deydier House of Discernment.