By Megan Erbacher
The Message assistant editor
It's the people and the relationships John Browning has cultivated over his 45-year professional career that he will miss most.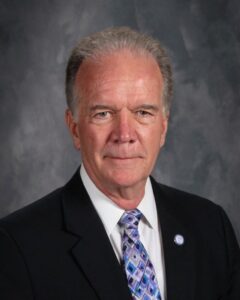 The last five years of Browning's career he's spent serving as president of Reitz Memorial High School. At the end of the 2020-2021 school year, he will retire. His last day is June 30.
Before he became Reitz Memorial's president, Browning spent about 40 years consulting with not-for-profits.
"I've worked with some fabulous people my entire career," he said. "I'm going to miss that interaction with vendors, contractors and other principals."
A 1972 Reitz Memorial graduate, Browning succeeded Brother Lawrence Murphy as the second president in the high school's history.
"Memorial is a special place, but it was nice to see the progress that was made since I attended," he said. "You have knowledge (as an alum) of things that other people wouldn't have."
Running an education system in 2021 is a whole lot different than 1985, according to Browning. 
"The amount of regulations and issues a principal is dealing with doesn't leave them the time to do all of the other stuff for development, fundraising, facility planning – the business side of it," he said. "So that needed separation of duties to allow the principal to take care of the academic programs and the president basically set the table so they're successful."
A president's role is important, Browning said, and he believes he's gone a long way to define the role and to show the value of it in an academic environment.
During his tenure, Browning noted some achievements that he's proud of, including his work to increase the amount of money available for tuition assistance and streamlining the process so "all are welcome at Memorial." As well as the great relationships formed with Reitz Memorial's partner schools, their pastors and principals, he said.
"I've always said that high school is four years, and a parish is forever," he said. "We can't let the kids forget about their parish while they're at Memorial."
Browning plans to spend more time with his wife, Susan, in retirement, as well as their two children and eight grandkids. He also suspects he will now have the time to take care of some "long overdue projects I've ignored at the house," and travel the country.
"I'll be involved in something," he said. "I can't just sit around and do nothing, but I'll take some time to regroup." 
Browning said he's thankful for the support from the diocese, Bishop Joseph M. Siegel and now-Archbishop Charles C. Thompson (of Indianapolis), students, staff, the President's Council, Catholic Education Office, alumni, partner schools and their pastors for giving him the opportunity to serve as Reitz Memorial's president.
"It's been a fun career," he said. "I've met a lot of good people. Memorial is in good shape."