By Megan Erbacher
The Message assistant editor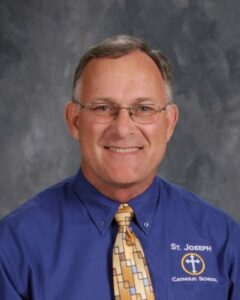 Over the last 44 years, working in education, Dan Gilbert has become accustomed to a certain greeting each morning from students and staff: "Hello, Mr. Gilbert."
At the end of the 2020-2021 schoolyear, and after 13 years of service as principal of St Joseph Catholic School in Princeton, Gilbert will retire. His mornings will no longer start with the familiar welcome from students and staff.
"I will miss that," he said.
Gilbert was named principal of St. Joe in July 2008, after serving four years as principal at Westside Catholic School in Evansville. During Gilbert's time at St. Joe, he's also taught technology for the prekindergarten- through fifth-grade school.
"I've always had a love for using technology since I had my first Apple 2E computer in my fourth-grade classroom as a teacher very early in my career," he said. "Many of the students have been empowered by using technology to improve their learning. This has been very rewarding."
Prior to joining the ranks of Catholic schools in the Diocese of Evansville, Gilbert served 27 years as a teacher, athletic director, coach and administrator in public schools. His teaching career started as a fourth-grade teacher in Switz City, Indiana, where he met his wife, Lou Ann. The couple will celebrate their 41st wedding anniversary June 7.
Gilbert said he's been "blessed" to be the principal at St Joe, an important role in any school because the principal is "the educational leader." However, he noted a school has various moving parts; and there are many other important roles within a school building.
"We have come to a new appreciation of the many moving parts as the challenges of COVID-19 have presented unique problems specific to the pandemic," he said. "Being flexible and resilient was crucial to getting through this year. The St. Joseph faculty and staff have shown the tenacity to do whatever it takes to get the job done."
Gilbert noted many accomplishments during his tenure at St. Joe, including the school achieving an A-accountability grade from the Indiana Department of Education for the past 10 years, a Four Star school designation in 2014 by the Indiana Department of Education, a new archery program and robotics team, as well as numerous advances and upgrades in technology.
In retirement, Gilbert looks forward to spending more time with his wife, children and grandchildren.
He said it's been an honor to work in the "family atmosphere" at St. Joe for the last 13 years.
"It has been my privilege to work with some of the most dedicated and passionate people in the field of education," he said. "Many have helped me professionally and spiritually and have been essential to my well-being. That's what makes my retirement a little scary. … I will truly miss my St. Joe family."