The Message assistant editor
Hundreds of people gathered at the front steps of Reitz Memorial High School on Sept. 24 to pray with Bishop Joseph M. Siegel before they walked to the Weinbach Avenue offices of Planned Parenthood to kick-off the fall campaign of 40 Days for Life.
Many priests and deacons, Catholic Center staff, students of all ages and parents participated in the inaugural and ecumenical event, which was coordinated by the Diocesan Office of Family and Life and Right to Life of Southwest Indiana.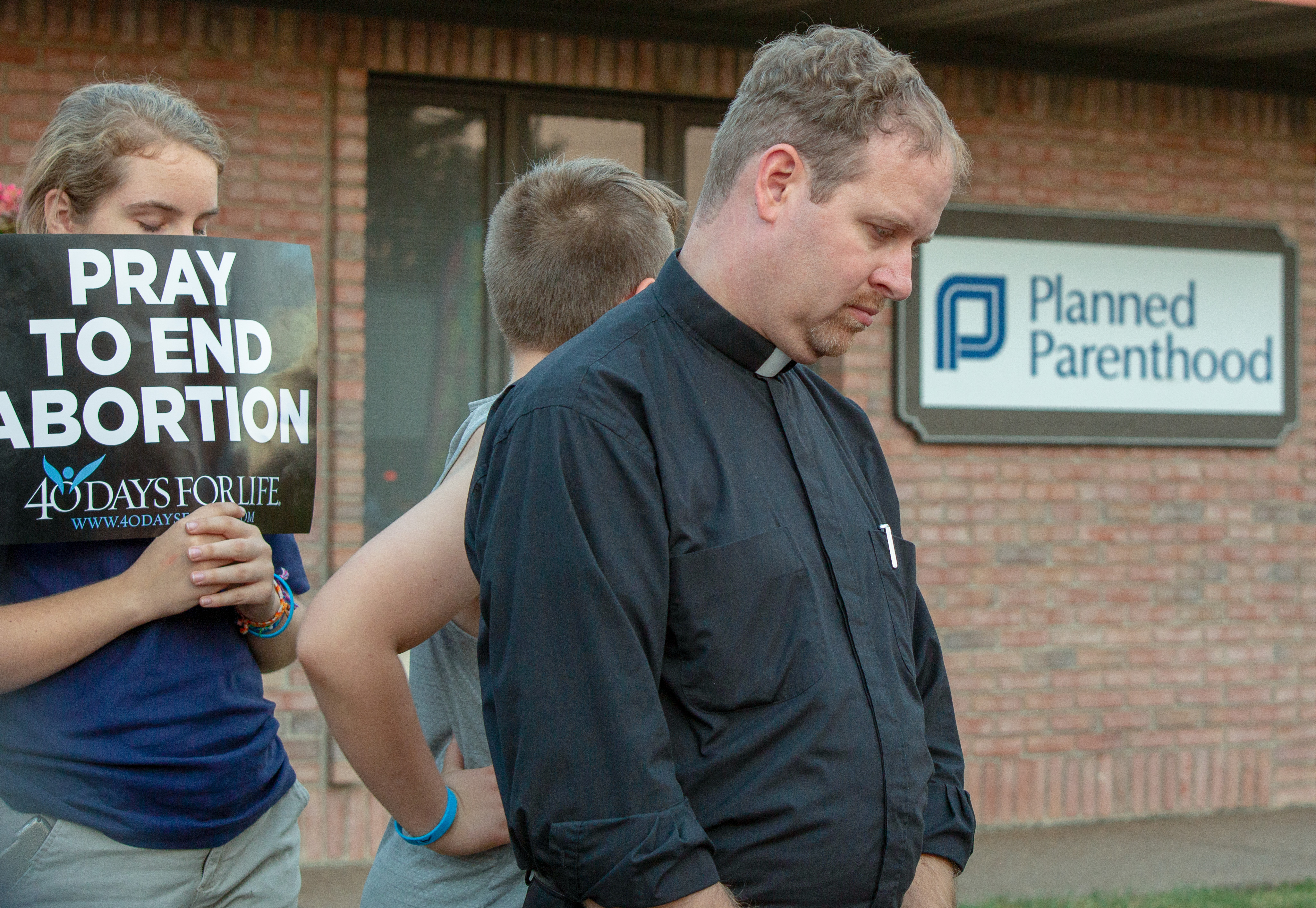 Bishop Siegel prayed the group would have an impact, and asked God for the courage and wisdom to work peacefully and to stand resolutely against forces that threaten life.
As attendees walked the roughly 1-mile route, many held signs that read "Pray to end abortion." Pastor Jamie Kent, of Trinity United Church of Christ in Mount Vernon, concluded the vigil with a prayer in front of Planned Parenthood.
"Especially with issues like this we have to stay on the front page because, if not, it's going to get pushed aside," said Eric Girten, Diocesan Director of Family and Life.
Right to Life of Southwest Indiana Executive Director Mary Ellen Van Dyke explained the 40 Days for Life campaign, through Nov. 3, is an international movement to peacefully end abortion through prayer and fasting, community outreach and an all-day vigil.
October is Respect Life Month, and Girten said it's important to be aware of all life issues, including human trafficking, physician-assisted suicide and capital punishment.
"October shouldn't be a time of awareness, because we're all aware, but it should be a time of everybody coming back together and gathering our strengths so we can go back out throughout the year and do what we need to do as a church and as a community to really address a lot of these issues," Girten said.
The Diocese of Evansville's 2019 Respect Life Celebration is Oct. 17 at Good Shepherd Parish in Evansville. Bishop Siegel will celebrate Mass at 5:30 p.m., with dinner and discussion to follow. Father Tony Ernst, administrator of St. Francis of Xavier Parish in Vincennes and St. Philip Neri Parish in Bicknell, will serve as emcee.
As the keynote speaker, Glenn Tebbe, outgoing Executive Director of the Indiana Catholic Conference, will share his experiences, lessons and trends he sees on the horizon regarding life issues in Indiana.
Adult tickets are $20, and student tickets are $10. Register online at evdio.org/events.html or call Eric Girten at 812-424-5536.