By Megan Erbacher
The Message assistant editor
Indiana University President Pamela Whitten advised Evansville Catholic high school students to take every opportunity possible while attending college.
"Trust me, you can sleep later; try things," Whitten said with a laugh.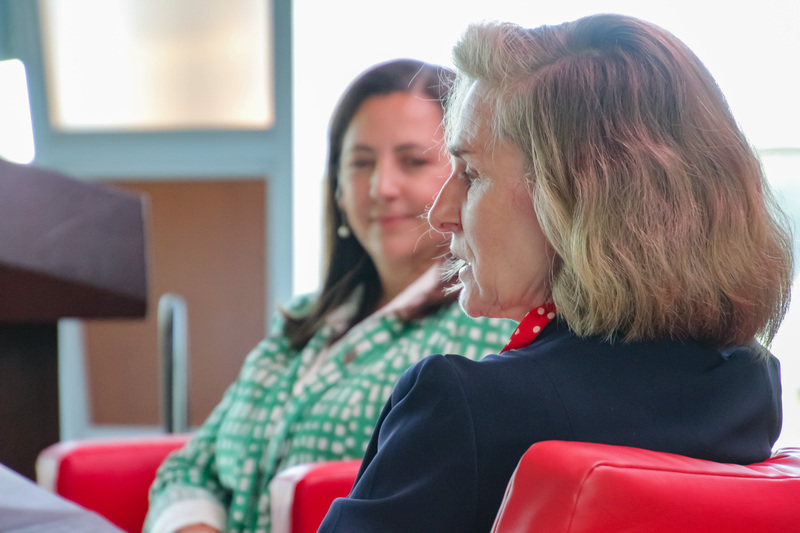 Whitten delivered the keynote address at the 2022 Tomorrow's Work Force luncheon Sept. 27 at Bally's Riverfront Event Center in Evansville. Evansville Catholic high schools sponsored the program, which recognizes the 2022 Leadership Award honorees — 15 each from Reitz Memorial and Mater Dei — selected based on their essay, academics and community service.
Whitten was named the 19th president of IU in July 2021 and became the first woman to lead the university. When making any decision about IU, Whitten said the focus is always on students. 
As a mother of three adult children, who have all been through college, Whitten said students "get it right."
"I think it's very important to trust your students; if you're a parent," she said.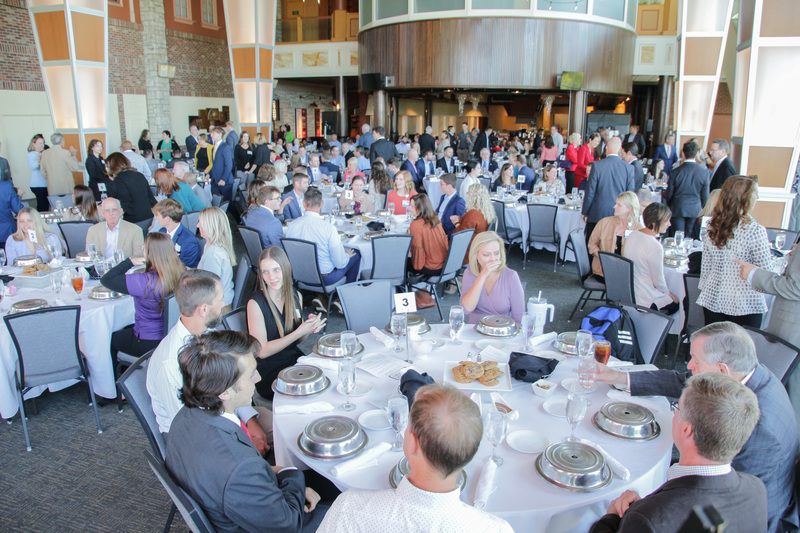 Students know what they want to study and the type of higher education institution they want to attend, Whitten told parents.
"My advice to you, to our students, is to take every opportunity you have to learn and to explore earning your college degree," Whitten said. "Your time in college is really the only time that you'll ever have in your life to have access to world-class faculty members, outstanding libraries, exceptional access to the arts … and a student body of peers who will come from all over the nation and the world."
Bishop Joseph M. Siegel offered the invocation before lunch. Bishop Siegel congratulated students for their hard work and accomplishments. He also thanked business and civic leaders for their support of Evansville Catholic high schools.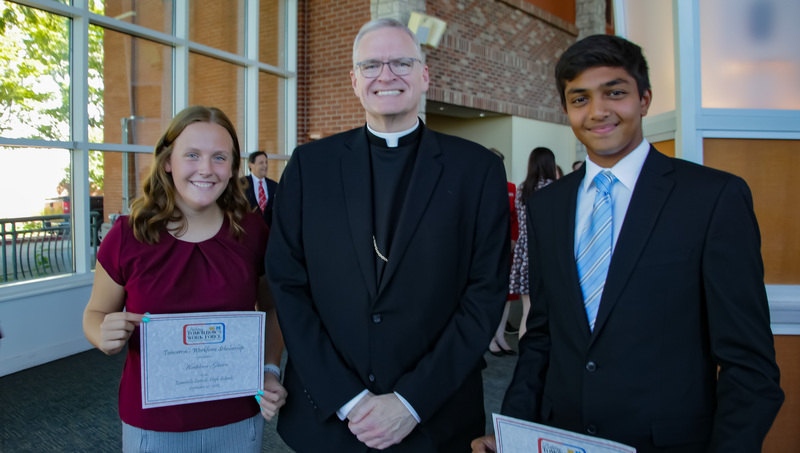 The program awards a $1,000 college scholarship to one student from each high school. Father Christopher Droste, priest-delegate of Mater Dei, and Father Chris Forler, priest-delegate of Reitz Memorial, announced the scholarship recipients. They are Reitz Memorial senior Shaurya Jadhav and Mater Dei senior Kathleen Glaser.
Jadhav maintains a 4.0 grade-point average at Reitz Memorial, serves as captain of the academic super bowl team, president of the STEM club, co-founder of Model UN club, and founder of Incognito Instructors, a free online tutoring program for Reitz Memorial students. He is interested in studying finance or politics.
"A key component to Reitz Memorial High School's mission is fostering a commitment to service," Jadhav wrote in his essay. "This school that I have come to call home has blessed me with a great education; an education that does not simply cease whilst one steps out of the four walls of the school. What we learn at Memorial is far more than what is taught in the classroom. Memorial teaches its students the value of support, compassion and service."
Glaser keeps a 3.98 grade-point average at Mater Dei, serves as the mayor of Mater Dei-ville, is a member of the National Honor Society, volleyball team manager and served as class president her junior year. She plans to pursue oncology or gynecology as a career.
"While attending Mater Dei High School, I have realized the importance of a Catholic school community, an environment in which I am able to learn," Glaser wrote in her essay. "I have been blessed to learn in a faith-filled community each day, and as a result, I am able to use my experience to better serve others."
The 2022 Leadership Award recipients are:
Reitz Memorial – Hannah Bauer, Elias Beardmore, Gretchen Beatty, Josee Gibson, Josey Herr, Shaurya Jadhav, Carac Johnson, Elizabeth Krutchen, Emily Mattingly, Peyton McWilliams, Emma Rusche, Emma Smith, Cameron Smith, Abigail Vollmer and Ethan Wade.
Mater Dei – Liza Beard, Lindsey Boeke, Kurt Denning, Sophia Fehrenbacher, Kathleen Glaser, Levi Kunkler, Isaac Mayer, Austin Mullenix, Jacob Scheller, Molly Schmitt, Anitra Taylor, Kailey Walker, Allison Weber, Katherine Wenger and Patrick Williams.
Since Tomorrow's Work Force started in 2001, sponsors have gifted more than $2 million to support Evansville Catholic high schools.