By The Message staff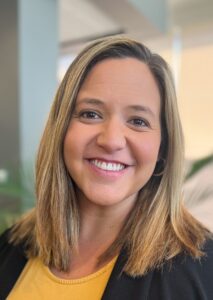 Father Ryan Hilderbrand, pastor of St. Philip Parish, Posey County, has announced the appointment of Evansville native Kellie Kelsey as Principal of St. Philip School.
Kellie has spent the past four years at St. Benedict Cathedral School in Evansville, where she taught first- and third-graders. Before joining the staff at St. Benedict, she was a first-grade teacher at Westside Catholic School in Evansville.
Father Ryan said, "We are so happy to have Mrs. Kelsey on the team at St. Philip. Her faith, energy, and creativity will help us build on the excellent success our school has experienced over the last 10 years."
Kellie earned an undergraduate degree in elementary and special education, with a minor in children's literacy, from Indiana State University in Terre Haute. She went on to earn a master's degree in educational leadership and administration from the University of Southern Indiana. 
Kellie also has earned CPR certification from the American Red Cross, suicide-prevention-training certification, and Orton-Gillingham certification for treating those with dyslexia.
Diocese of Evansville Assistant Superintendent of Schools Michelle Priar said, "We are thrilled to welcome Mrs. Kelsey to our team of Catholic school administrators.  Her gifts and talents will be a blessing to the St. Philip Catholic School community."
Kellie said, "I am very excited to begin the new school year as principal at St. Philip. I look forward to working with Father Ryan, our faculty and staff, and our students and their families to create a positive school culture that enables students to thrive academically, spiritually and socially."
Kellie and her husband, Jon, have a newborn baby named Jackson. They attend Evansville's Resurrection Parish.