By Tim  Lilley
The Message editor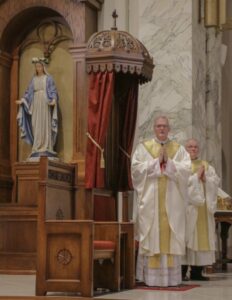 Evansville Bishop Joseph M. Siegel opened the Diocese of Evansville's celebration of Eucharistic Renewal during the 10:30 a.m. Mass at St. Benedict Cathedral in Evansville on Corpus Christi Sunday, June 19.
All of the parishes and Catholic schools across our 12 counties—together with all  the dioceses in the U.S.— are participating in this extraordinary initiative, which is intended to foster renewed devotion to the Real Presence of Jesus in the Eucharist and greater appreciation for the awesome gift of the Mass. The Eucharistic Renewal continues for the next year. 
Bishop Siegel concelebrated Mass with St. Benedict Cathedral Rector Benedictine Father Godfrey Mullen. This was Father Godfrey's last Sunday Mass at the cathedral. He begins service later this summer as rector of the Diocese of Belleville, Illinois' cathedral, the Cathedral of St. Peter. Bishop Siegel's acknowledgment of Father Godfrey's service to the cathedral and the Diocese of Evansville elicited a standing ovation from those in attendance.
During his homily, after noting that food is essential to sustain life and health, Bishop Siegel talked about how the concept of sharing a meal with others is completely human – a reflection of our need and desire for companionship and fellowship. He noted that, throughout the bible, salvation is depicted as a wonderful banquet – foreshadowing the very paschal feast of salvation that Jesus gave humanity through the Eucharist. 
He closed he asked that we all become the very presence of the risen Lord in our world today through the example of our lives.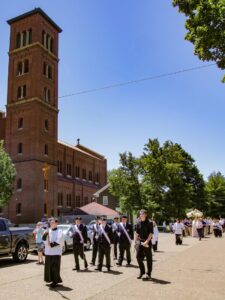 Immediately following the prayer after Communion, Bishop Siegel led a public Eucharistic procession through the neighborhood surrounding St. Benedict Cathedral and nearby Reitz Memorial High School. Escorted by members of the Rt. Rev. A.J. Sprigler Assembly #253, Fourth of Degree Knights of Columbus escorted Bishop Siegel, Father Godfrey and the faithful who joined the procession and prayed the rosary along the away. The Knights also served as the honor guard for the Mass. 
The procession moved north on North Harlan Ave. to Walnut St., east on Walnut to Runnymede Ave., south on Runnymede to Lincoln Ave., on the east side of Reitz Memorial, then west on Lincoln to the cathedral. The procession stopped multiple times for prayer and veneration of the Blessed Sacrament. Evansville police provided traffic control.
Bishop Siegel is shown censing the Blessed Sacrament during this stop, which was located at the intersection of Lincoln Ave. and Lodge Ave.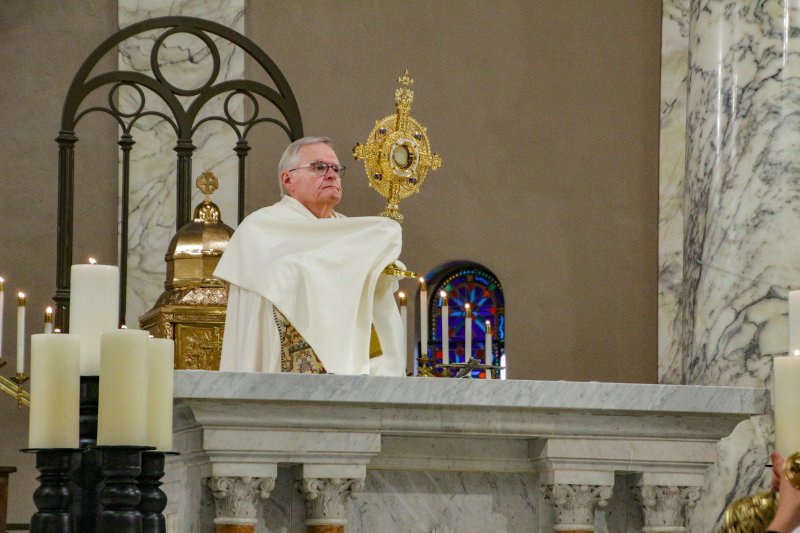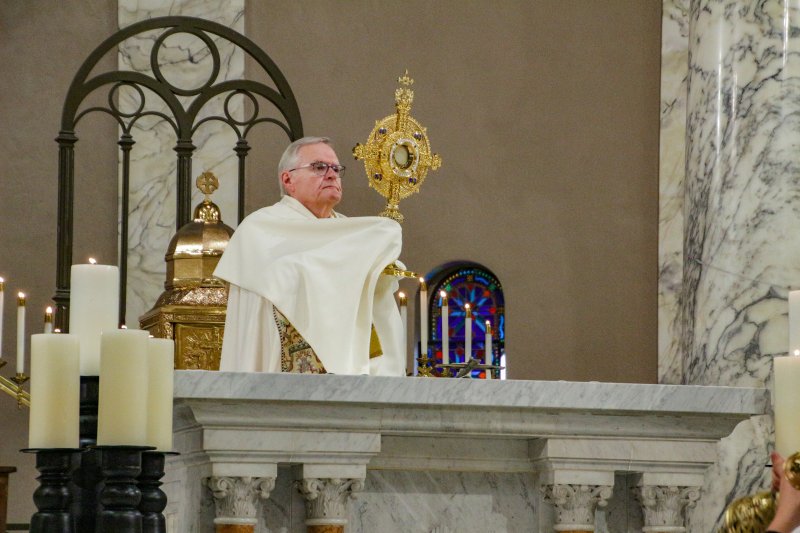 Bishop Siegel concluded with Benediction and reposition of the Blessed Sacrament.
To learn more about the Eucharistic Renewal and to see your parish's or school's plans for the Renewal, please visit: evdio.org/eucharistic-renewal.