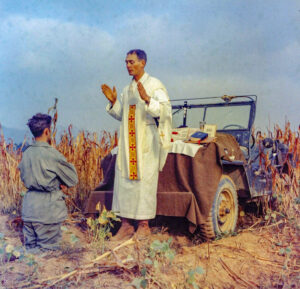 The Knights of Columbus have released "The Magazine and the Miracle: Finding Father Kapaun," a short documentary film highlighting the extraordinary life and legacy of Servant of God, U.S. Army Chaplain and Medal of Honor recipient Father Emil Kapaun. Father Kapaun's heroism, selfless service to his country, and devotion to Jesus Christ and the Catholic faith were daily inspirations to his fellow soldiers during World War II and the Korean War.
The 15-minute film, produced by the Knights of Columbus, also traces the incredible journey of Father Kapaun's mortal remains – from a shallow grave in the prisoner-of-war camp where he died in May 1951; to an unmarked tomb in the National Memorial Cemetery of the Pacific in Honolulu's Punchbowl Crater in 1954; to his final resting place at the Cathedral of the Immaculate Conception in Wichita, Kansas, in 2021. Father Kapaun, a Kansas native, first served in the Diocese of Wichita following his ordination in 1940.
"The Magazine and the Miracle" recounts how, in 2003, Korean war veteran William Hansen visited a VA medical clinic in Naples, Florida, and stumbled upon a copy of a Knights of Columbus magazine — believed to be the March 2003 issue of "Columbia," which featured an article about Father Kapaun. Hansen immediately recognized the beloved chaplain and recalled burying him in the prisoner of war camp. His testimony then became a significant factor that led to the eventual discovery and identification of Father Kapaun's remains in Hawaii.
Father Kapaun was named a Servant of God in 1993, and his cause for canonization opened in 2008. Father Kapaun was posthumously awarded the Medal of Honor in 2013. He is one of only five 20th-century chaplains to receive the military's highest award for valor. Today, there are 23 Knights of Columbus councils and assemblies named in Father Kapaun's honor, beginning with Father Kapaun Council #3423 in his hometown of Pilsen, Kansas, which was chartered shortly after his death in 1951.
"The Magazine and the Miracle" is available for viewing online by visiting https://www.kofc.org/en/documentary/father-kapaun/index.html