Keith Hart (Class of 2025)
School, Class: Formation Year, Holy Redeemer Parish and the House of Discernment
Home Parish: St. Peter Parish, Montgomery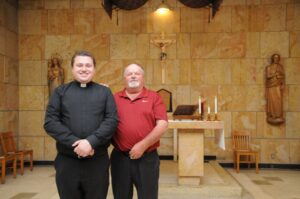 There is a beautiful simplicity to the life of Saint Joseph. He appears very briefly in scripture. He has no lofty speech, such as Our Lady's Magnificat. He was not a scholar, like one of the Wise Men who came to visit his son. He was a hard worker, someone accustomed to using his hands to provide for his family. Saint Joseph displays tender mercy when he decides to divorce Mary quietly and a greater trust in God when he abides by the angel's directions. 
My father has displayed some of these great qualities to me throughout my life - simplicity, hard work, mercy and trust in God.
Simplicity - My father loves the land he farms and hunts on and has no desire to go beyond them. For him, it's not the great cities of the world, far-flung coasts, or top-tier restaurants. A deer stand, old pickup truck, and worn work shirt and jeans are luxury enough for him. The basilicas of Rome would not hold more grandeur for him than a simple Mass at St Martín, Whitfield, or St Peter, Montgomery.
Hard work - It is not unusual during planting or harvest for a farmer to be out of the house before dawn and home after dark. He has a job to finish, and he will work until it's done. He is also good to check on neighbors and brush hog or weed-eat along county roads. He especially does this at intersections, so people traveling the road can see clearly and stay safe. My dad always wants the best for others while not wanting anything for himself. 
Mercy - Though farmers are famous for their tempers, rarely has my dad ever raised his voice. He does not talk bad about people, and I have never heard him use the Lord's name in vain (though, as a farmer, it is possible equipment that isn't working well has heard worse than I have). 
Trust in God - To be a farmer is to trust in God. You don't know if a drought, negative crop conditions or poor crop prices await you year to year. My dad just trusts that God will provide. He also prays daily and raised me to do the same. I hear him nightly saying the rosary with my mother and offering prayers for neighbors in need. He could not quote the scholars that I have heard lectured about in my theology classes, but his living of the faith with a trusting heart and simple devotion has taught me how to be a Catholic man more than anything else.
Assuming I become a priest, I will not have children of my own. But, as a spiritual father of many, I hope to live out these virtues of Saint Joseph as beautifully as Bud Hart has done throughout his life. St Joseph, pray for us.
Parents' Names

George (Bud) and Anita Hart

Siblings Names (and their spouses)

Matthew (Alison) Hart

Nathan (Ashley) Hart

Schools attended

Barr-Reeve Community Schools and Marian University

Snack Food of Choice

Pringles

Favorite Movie

"Alien"

Bible Verse

John 6:53

Favorite Sport to play

Soccer

Preferred Set of Mysteries of the Rosary

Glorious 

Patron or Favorite Saint

St. John of the Cross because his writings are very thoughtful. 

YouTube Channel or Podcast you most frequent

History of Rome podcast

Favorite Part of Being in Seminary

My favorite part of seminary is the community life. It is wonderful to pray and work with other Catholic men striving after holiness.