Special to The Message
George Robinson, a lifelong member of Holy Cross Parish in Fort Branch, was recently named the 2021 Distinguished Alumnus by the Holy Cross Association of Alumni and Friends.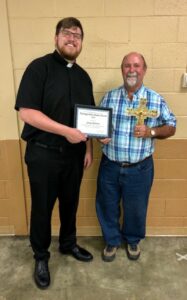 Sue Harrell, president of the association, presented the award at the Sept. 19 Mass during the parish's annual celebration weekend, which occurs near the Sept. 14 Feast of The Exaltation of the Holy Cross. Robinson received a framed certificate and a special crucifix from the association. His name was also engraved on the Holy Cross Distinguished Alumni plaque displayed at the front entrance of Holy Cross School. 
Established in 1997, the honor is awarded to Holy Cross School graduates for living exemplary Catholic lives. To be considered for the award, a person must be a high school graduate for at least 15 years, demonstrate support of Catholic education, live according to the teachings of the Catholic Church, and be a positive Catholic influence in the community.
A nominator said Robinson, "is one of our dependable, behind-the-scenes volunteers who wears many different hats!"
Robinson attended Holy Cross School and graduated from Gibson Southern High School. He was a faithful worker at the parish's Turkey Shoots and Casino Night fundraisers. He is a devoted chicken fryer for Holy Cross's popular chicken dinners, and he helps with the annual candy turtle fundraiser.
Robinson has also served many years on the parish's building and grounds maintenance committee, using his talents to help with repairs and new projects around the church and school. He is an active member of the Knights of Columbus, helping with activities to support local Catholic schools for the betterment of the community. One nomination form said Robinson "will always be there to lend a hand."
Robinson retired after working 40 years for CSX Railroad. He and his wife, Ingrid, have three children - Ravin, Jess and Macray - who also attended Holy Cross School and are parishioners of Holy Cross Church.