Bradley Gehlhausen (Class of 2025)
School, Class: Saint Meinrad Seminary & School of Theology, First Theology
Home Parish: St. Mary Parish, Ireland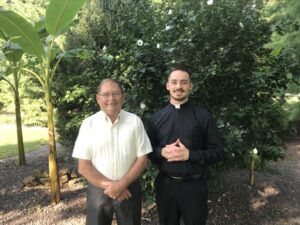 Fatherhood, much like motherhood and priesthood, is about dying. When a man becomes a father, he ought to die. Fruits don't share their seeds (life) inside of them until they are eaten or have decayed. Trees don't fully produce such fruit in the first place until they cease growing. The true father acknowledges he is on his way out and sacrifices what remains of him for those who are not. And if you think this sounds like a depressing resignation, you're not thinking about it the right way.
On April 7, 1995, I was born to Gerald "Jerry" and Lisa Gehlhausen. I was the third child of four. I have an older brother and sister in their early 30s; my younger brother and I are in our mid-twenties. My sister and brother-in-law have a young boy and baby girl. My dad is an honest car salesman and landlord, and my mom was a babysitter for most of my life before passing away in 2017. Though our lives have become more independent with age, we know we mean the most to each other and still gather around our headquarters in Ireland when possible.
As I grew up, I noticed how assiduous my family and my dad were. It might be difficult to compare my family with others, seeing as I wasn't raised in any besides mine, but I think I was still able to observe that we worked harder than most other households. The other day, a friend of mine heard the following and said it reminded him of the Gehlhausens: "If you have all this time that you want to devote to things other than work, then I'll give you more work." My parents could conjure jobs out of thin air. What was interesting was, no matter how hard I thought we were working, never once did we manage to work as hard as our parents apparently did when they were growing up! Other German families of southern Indiana might recognize these sentiments.
No saint reminds me of humility more than St. Joseph. If I may speak as a man, carefully, how impressive it is that Joseph got married and never enjoyed the physical benefits, which is the reason most men seek marriage in the first place. Should I highlight another peculiar thing on that note? Like the selfish eugenicist who thinks the world would be so much better if there were more people like him in it, how many men want to have kids simply because they love themselves? Joseph fathered a son who was not even his own. Humbling, indeed, is the family he lived with. I once heard Archbishop Charles C. Thompson say, "Joseph lived in the same house as the only two people in the history of the world who never sinned. Poor Joseph, that guy probably never won an argument."
My dad and St. Joseph were both hard workers. They show that no matter how hard you work, you can almost always work harder. Furthermore, you can almost always give more of yourself. Feeling the need to give more of myself is in large part why I entered seminary.
The true father acknowledges he is on his way out and sacrifices what remains of him for those who are not. My dad and St. Joseph are true fathers.
Parents' Names

Gerald "Jerry" and Lisa Gehlhausen

Siblings (and their spouses)

Benjamin "BJ" Gehlhausen

Bridget (Nathan) Hanselman

Brayden Gehlhausen

Schools attended

St. Mary's Preschool, Ireland

Ireland Elementary

Jasper Middle School

Jasper High School

Purdue University

Marian University

Snack Food of Choice

PB&J on a tortilla

Favorite Movie

"The Shawshank Redemption"

Bible Verse

Romans 12:2

Favorite Sport to play

Ultimate Disc

Preferred Set of Mysteries of the Rosary

Glorious

Patron or Favorite Saint

Lisa Gehlhausen because she intercedes for me the most.

YouTube Channel or Podcast you most frequent

Agadmator's Chess Channel

Word On Fire (Bishop Barron)

Life is Worth Living (Fulton Sheen)

Favorite Part of Being in Seminary

I'm looking forward most to living at St. Meinrad Archabbey. If you're Catholic, live in southern Indiana and haven't visited St. Meinrad Archabbey; what is wrong with you?