By Megan Erbacher
The Message assistant editor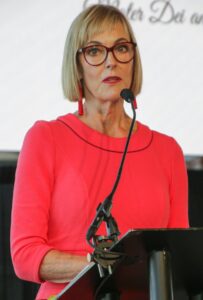 Indiana Lt. Gov. Suzanne Crouch said her Catholic faith and the Catholic education she received drives her passion to serve others.
The "proud Mater Dei graduate" said it was an honor and privilege to deliver the keynote address at the 2021 Tomorrow's Work Force luncheon Sept. 23 at Tropicana Riverfront Event Center in Evansville. Evansville Catholic high schools sponsored the program, which recognizes the 2021 Leadership Award honorees — 15 each from Mater Dei and Reitz Memorial — selected based on their essay, academics and community service.
"When I was a senior at Mater Dei, I never dreamt that my life's journey would bring me to this place because I didn't grow up in a political home," Crouch said. "But my parents raised me to believe in God, to believe it takes hard work to get ahead, to believe in equality and opportunity. … They also raised me with a strong sense of personal responsibility, but to readily accept that I also have the responsibility to help others who are less fortunate. It is those values and those principles that were reinforced by my Catholic faith and 12 years of Catholic education."
Throughout her many years of public service, Crouch said she strives to live by her Catholic faith.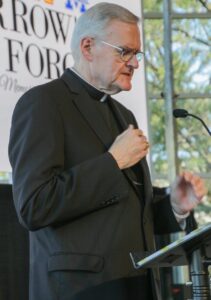 "Because of how I was raised, reinforced by that Catholic education, I have always tried to focus on putting people first and supporting policies that better the people and help them," she said.
Bishop Joseph M. Siegel commended students for their hard work and offered the invocation before lunch.
The program awards a $1,000 college scholarship to one student from each high school. Father Ed Schnur, priest-delegate for Mater Dei, and Benedictine Father Godfrey Mullen, priest-delegate for Reitz Memorial, announced the scholarship recipients. They are Mater Dei senior Calvin Stratman and Reitz Memorial senior Jack Nichols.
Stratman is a member of St. Philip Parish in Posey County. He keeps a 3.96 grade-point average at Mater Dei, serves as the mayor of Mater Dei-ville, member of National Honor Society and varsity team captain for his football and lacrosse teams. He plans to pursue surgery or medicine as a career.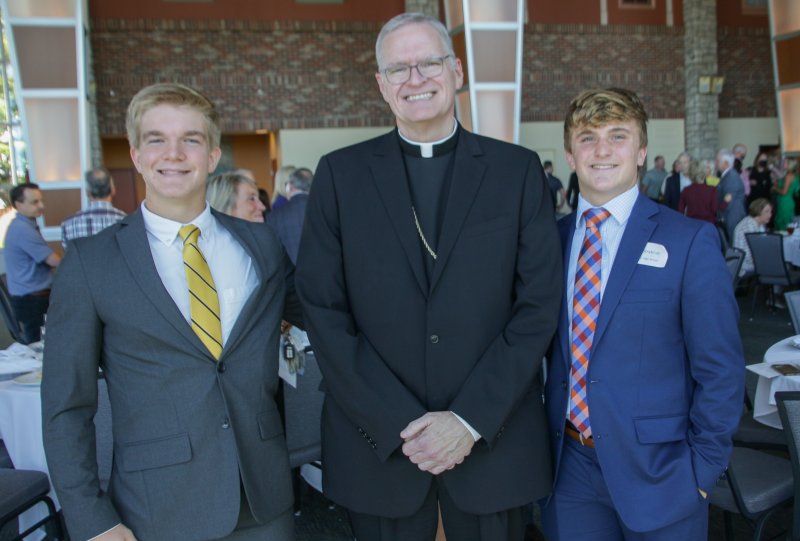 "Mater Dei has so many attributes in preparing each unique student for his or her future," Stratman wrote in his essay. "For me, personally, Mater Dei has definitely played a critical role in developing my God-given talents, in the areas of leadership, service, spirituality and academics. I intend to use these talents to the fullest in serving others in our community now and in the future."
Nichols is a member of Holy Rosary Parish in Evansville. He maintains a 4.0 grade-point average at Reitz Memorial, serves as a class officer, president of Key Club, member of National Honor Society and a varsity football and baseball player. He is interested in studying medicine or engineering.
"Ultimately, a combination of my classes at Memorial and my other activities, which have both taken in the context of my Catholic religion, has forged a process of my formation as a young adult," Nichols wrote in his essay. "They have all engendered indefinite memories and new ideas, which drive my desire to do what is good, right and responsible in my future tomorrow's workforce."
The 2021 Leadership Award honorees are:
Mater Dei – Lauren Ahola, Brody Baumann, Kate Breeden, Allison Griese, Julie Heldman, Kate Herrmann, Alyssa Kempf, Sophia Kleiman, Isabelle Koch, Madeline Rentchler, Nathan Schneider, Calvin Stratman, Ryan Van Bibber, Kennedy Wenger and Morgan Wilmes.
Reitz Memorial – Andrew Alvey, Averi Anslinger, Jacqueline Brasseale, Ainsley Buck, Mia Carter, Macy Decker, Drew Early, Isabelle Frazier, Paige Kneubuhler, Jack Nichols, Emily Roe, Kate Schadler, Gus Spradlin, Alejandro Velasco and Kendrick Wittmer.
Since Tomorrow's Work Force started in 2001, sponsors have gifted more than $1.5 million to support Evansville Catholic high schools.