By Tim Lilley
The Message editor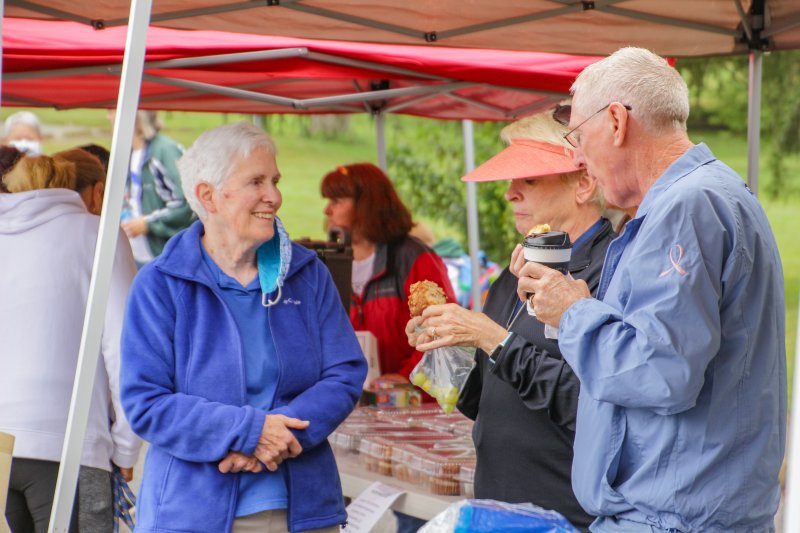 After going virtual in 2020 due to COVID-19, the Evansville District of the St. Vincent de Paul Society held its 14th Annual Friends of the Poor Walk in-person Sept. 25 on the grounds of the Evansville State Hospital on the city's east side. The event drew scores of walkers, who completed a one-mile circuit around the hospital grounds as a symbolic way of walking a mile in the shoes of the poor.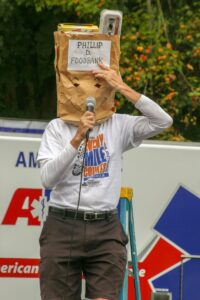 "This event takes a lot of work, and we are grateful to all of the volunteers who make it happen – especially Bill Hussmann, our walk chairman," said Joe Cook executive director of the Evansville district of St. Vincent de Paul.
Hussmann, a longtime Walk volunteer, assumed his traditional role of Phillip D. Foodbank, welcoming walkers and talking about how the event benefits the poor across the Evansville area. As he and Cook explained, funds raised through sponsorship – there were 62 sponsors this year – benefit the district, especially the St. Vincent de Paul Food Pantry.
During his opening comments, Cook announced that sponsors enabled SVdP to exceed its fundraising goal for the year. He said, "We set a goal of $25,000, and we have reached $27,000. We are truly grateful to all of our sponsors."
Cook also announced that, for the first time in its 14 years, the walk attracted three title sponsors – Tri-State Bearing, Ashley Furniture Homestore, and the Harmon family. Walkers began the event by moving through a lane with signs recognizing all sponsors.
Walkers also make donations at the annual event, and they stipulate which parish council receives their donations. St. Vincent de Paul parish councils form the foundation of the organization's efforts to help the needy across our 12 counties.
Tim Gehlhausen returned again this year dressed at St. Vincent de Paul to lead the walkers as they began the circuit around the hospital grounds. Gehlhausen carries on the tradition of the late Vince Brenner, who dressed as St. Vincent and attended the walk for many years. 
For more information on St. Vincent de Paul and ways you can help, visit https://www.svdpevansville.org/.