Nathan Folz (Class of 2027)
School, Class: Saint Meinrad Seminary & School of Theology, First Philosophy
Home Parish: Good Shepherd Parish, Evansville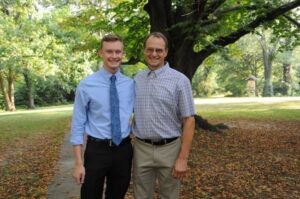 Dads are often seen as goofy or corny; they love to mow lawns, watch football and put on a new pair of white sneakers. Undoubtedly, there's some truth to these generalizations (just think of all the "dad jokes" you've heard throughout your life), but true fatherhood is about so much more. Fathers serve and protect. They lead their families, help them grow in holiness and demonstrate to their children what being a man truly means in many of the seemingly little things they do. Fathers are crucial to the family.
I saw how important the role of a father was in my own family. I'm the second of four kids with one older sister and two younger brothers. Both of my parents served as amazing witnesses to self-giving love, and they instilled in us the importance of family, faith, loyalty and respect. Whether they knew it or not, it was often the little things they did that had the biggest impact.
Little things like waking up early every morning to pray before heading to work, always being willing to help out with a problem, being at every one of our extracurricular events (even if it was as unexciting as a fifth grade Spell Bowl meet) and making sure we got to Mass as a family every Sunday are just a few examples of a million "little things" my dad did.
St. Joseph was surely a master of the "little things," too. Whether it was making sure his family got to Jerusalem to fulfill their religious duties, protecting them as they journeyed to a foreign land or providing for them as a carpenter in Nazareth, St. Joseph ungrudgingly took on these humble tasks. He serves as an unparalleled model for men and fathers in particular.
Having such great models of fatherhood as St. Joseph and my dad has been invaluable in my vocational discernment. Without a doubt, many of the seemingly little things my dad did while I was growing up have had an outsized impact on my journey to discerning to enter the seminary. And while I'll never forget some of my dad's corny jokes or his love of lawn care, it's clearly the little things he did that have had the greatest impact.
| | |
| --- | --- |
| Parents' Names | Donald and Mary Folz |
| Siblings | Lacie, Nicholas and Paul Folz |
| Schools attended | Good Shepherd, Memorial High School, Murray State University |
| Snack Food of Choice | White Cheddar Cheez-It |
| Favorite Movie | "The Emperor's New Groove" or "War Horse" |
| Bible Verse | Luke 12:32-34 |
| Favorite Sport to play | Volleyball |
| Preferred Set of Mysteries of the Rosary | Joyful |
| Patron or Favorite Saint | St. John Neumann – He courageously followed wherever the Lord was leading him and had a tremendous trust in God. |
| YouTube Channel or Podcast you most frequent | Godsplaining |
| Favorite Part of Being in Seminary | I'm most looking forward to being a part of a group of faith-filled men who are also discerning their vocation and to seeing what God has in store for me this year. |