By Megan Erbacher
The Message assistant editor
Healthcare professionals and caregivers gathered Oct. 25 in Memorial Hospital and Healthcare Center's chapel in Jasper for the 2021 Diocese of Evansville White Mass.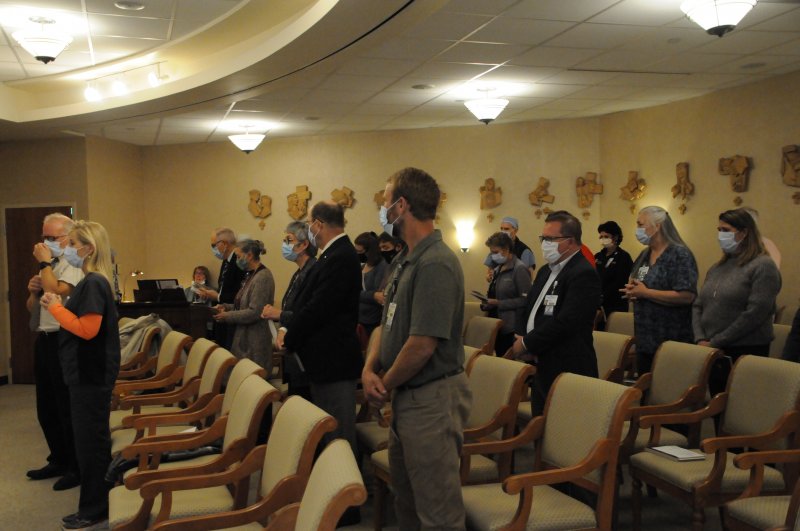 The White Mass is celebrated annually on or near the Oct. 18 Feast of St. Luke, patron of healthcare professionals, and it dates back to the development of the national Catholic Medical Association in the 1930s. St. Luke was originally a physician from Syria but became a companion of St. Paul. The White Mass is named for the white lab coats often worn by people in the healing profession of medicine, and it honors all people working in a healthcare-related field, volunteers, patients and families.
Bishop Joseph M. Siegel celebrated this year's White Mass. Deacon James King, Memorial Hospital chaplain, assisted; and Diocesan Director of Worship Matt Miller served as Master of Ceremonies.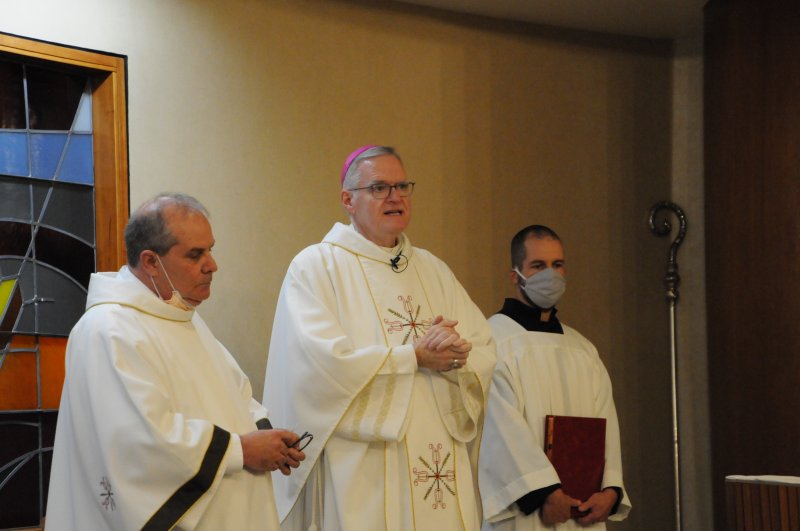 Bishop Siegel said it was great to be together again after the Diocesan White Mass was postponed in 2020 because of ongoing challenges created by COVID-19. The bishop said it was a wonderful opportunity to recognize, honor, thank and pray for healthcare professionals. Bishop Siegel also expressed his gratitude for their heroic efforts over these past 20 months of the COVID-19 pandemic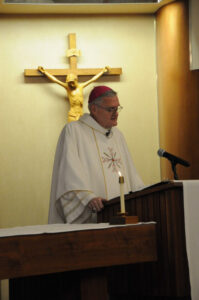 During his homily, Bishop Siegel talked about how St. Luke is credited with writing the Third Gospel and the Acts of the Apostles. The bishop said scripture scholars have described the Gospel of Luke as the gospel of mercy, of the poor, of prayer and joy; all of which, according to Bishop Siegel, reflect the tapestry of healthcare.
The first reading for the Mass, 2 Timothy 4:10-17b, raised the importance of working with others, Bishop Siegel said, which is perhaps a reminder that alone we can do very little. In so many areas of life, he said, we must work together as a team, as many health professionals do, including doctors, nurses, physician assistants, chaplains, technicians, scientists, administrators, office staff, maintenance and many volunteers.
Bishop Siegel also recognized the families of health professionals who often share the burden of their loved ones' service by their sacrifice of the time they're able to spend together. Without the dedication of all these persons, the bishop said, outstanding healthcare would not be possible.
Bishop Siegel talked about the challenges of the medical profession when treatments don't work, but the professionals meet patients with compassion and patience. And thanks be to God, he said, that there are beautiful moments of healing, hope and joy.
Physical healing is important, the bishop said, but so is the kind of healing that comes when a suffering person feels understood and loved, because it requires the medicine of patience, listening and respect.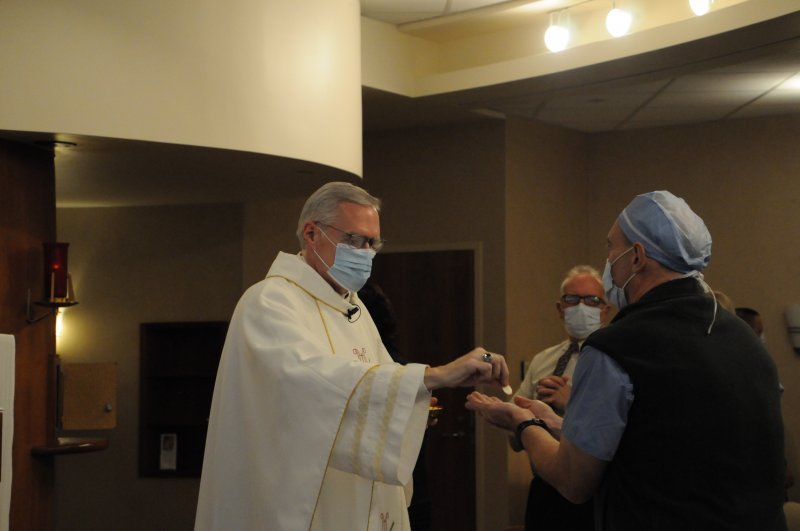 Pope Francis has said time spent with the sick is holy time, the bishop recalled. In the Gospel of Matthew, Bishop Siegel said we are told that those who care for the sick and suffering care for Jesus himself. 
Bishop Siegel thanked healthcare professionals for answering the call to a sacred vocation to serve their brothers and sisters in Christ to relieve their suffering, ease their pain and help bring them, if possible, back to full health. As believers in Christ, he said, we believe that your vocation of healing comes from our Lord.
In conclusion, Bishop Siegel asked St. Luke to pray for healthcare providers, he asked the Holy Spirit to guide them, and he asked the Holy Mother of God, Mary Most Holy, to always watch over them.