By The Message staff
Editor's note: A feature on the process of Canonization appears on page 5 of this issue.
As we approach the annual observances of All Saints Day and All Souls Day, it seems most appropriate to feature two Servants of God who impacted the Diocese of Evansville: Bishop Simon William Gabriel Bruté de Rémur and Poor Clare Sister Mother Mary Magdalen Bentivoglio.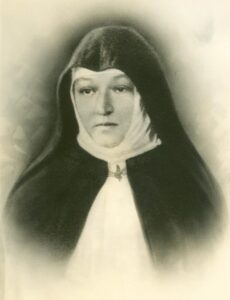 Bishop Bruté, the first bishop of Vincennes, is buried under the sanctuary of the Minor Basilica of St. Francis Xavier in Vincennes. Mother Mary Magdalen, who founded the Poor Clares in the United States, is buried in St. Joseph Cemetery in Evansville. 
Causes for Canonization continue for them. Both have been declared Servants of God – the first step in the Cause for Canonization – and their causes are awaiting a verified miracle attributed to their intercession before they can be beatified. Mother Mary Magdalen has further been declared as Venerable. Please report any favors granted through the intercession of Bishop Brute to Fr. Joseph Newton c/o the Archdiocese of Indianapolis and through Mother Mary Magdalen to the Poor Clare Sisters in Evansville.  
Servant of God Bishop Simon Bruté
Editor's note: The following biography includes information from Diocese of Evansville records, the Archdiocese of Indianapolis and a 2017 feature published by the website Aleteia.
Born in 1779 at Rennes, France, Simon Bruté lived during the tumultuous French Revolution and witnessed the open persecution of Catholic priests. He frequently visited the prisons where these men were held and often brought with him the Blessed Sacrament, hidden in his clothes.
He studied medicine but never became a doctor. He then pursued a vocation with the Society of Saint-Sulpice and was ordained a priest on June 11, 1808. Two years later, he set sail for the United States as a missionary.
Upon arrival, he taught philosophy at St. Mary's College in Baltimore and did pastoral work in Maryland. He was eventually transferred to Mt. St. Mary's in Emmitsburg, Maryland, and became known as the "Angel of the Mount." During this time he became the spiritual director and friend of St. Elizabeth Ann Seton.
After a few years, he was appointed bishop to the newly created Diocese of Vincennes, which at the time consisted of the entire state of Indiana and the eastern portion of Illinois, including the city of Chicago. 
Bishop Bruté made trips back to France to solicit priests and funds for new churches. Near the end of his life, Bishop Bruté sent his Vicar-General to France and eventually convinced St. Mother Theodore Guérin to bring her new community (now known as the Sisters of Providence of St. Mary-of-the-Woods) to Indiana.
Bishop Bruté was known during his life for his holiness and intellect. President John Quincy Adams wrote about him, saying he was "the most learned man of his day in America."
Bishop Bruté possessed a deep humility, as can be seen from these lines from his first pastoral letter, "unworthy as I am of so great an honor, and of myself unequal of the charge, my only trust is in God; and, therefore, earnestly calling for your prayers, that I may obtain His Divine assistance, I come to be your chief pastor."
Bishop Bruté died in 1839 at the age of 60.
Venerable Mother Mary Magdalen Bentivoglio, O.S.C.
Editor's note: The following biography includes information from the Archdiocese of Indianapolis and the website poorclaresofevansville.org.
Venerable Mother Mary Magdalen Bentivoglio spent her last years, and died, in Evansville. Her life was one of perseverance in a land where the vocation of contemplative nuns wasn't appreciated.
Mother Magdalen Bentivoglio and her natural sister, Sister Mary Constanza Bentivoglio, came to the U.S. in 1875 – sent by Pope Pius IX and the Minister General of the Franciscan Order to bring the Order of Poor Clares to America. After many hardships, original plans did not work out. 
They did not know the language, and they were not accepted in many places they tried. Finally, they were accepted in Omaha, Nebraska, and John Creighton from Creighton University befriended them, funding the building of the first Poor Clare Monastery in the USA.
In the latter part of the 1880s, Mother Magdalen left the Omaha Monastery with a few sisters to start another Monastery in New Orleans, Louisiana. Omaha was going well with several new members. She left her sister, Sister Constanza, at Omaha to take care of that Monastery. After getting the Monastery established in New Orleans, Mother Magdalen went back to Omaha.
In 1897, one of the sisters in Omaha had a relative in Evansville who, in their will, left some land on South Kentucky Avenue to the sisters, which became the place of the Monastery in Evansville, Indiana. This is how the Monastery got its beginnings in Evansville. 
The address of the property donated was 509 S. Kentucky Ave. At that time, it was in the country surrounded by cornfields. From the beginning, the sisters raised cows and chickens for their own milk and eggs. Each day, they led the cows out into the fields to pasture. In the beginning, they had no electricity or plumbing.
​The records show that the original building, which still exists and serves at the Evansville Christian Life Center, cost $38,000. Even though they had part of the money from bequests, they were left with a large debt. Often, beginnings are difficult, and they had their share of hardships. They did not even have furniture, but managed with boxes for tables and chairs. In 1984, the Poor Clares moved to a new monastery on Evansville's west side, where they reside today.
Sister Constanza died in 1902, and Mother Magdalen died in 1905 at age 71. 
Servant of God Bishop Simon Bruté and Venerable Mother Mary Magdalen, pray for us!