By Tyler Underhill (Class of 2024)
School, Class: Pontifical North American College in Rome, Italy, Second Theology
Home Parish: Our Lady of Hope Parish, Washington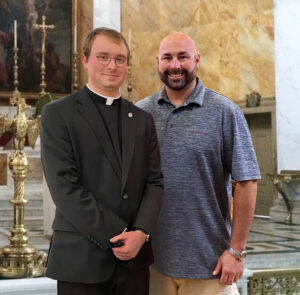 St. Joseph is the model for all fathers. I found this to be true at my home parish of Our Lady of Hope in Washington with my pastor, the late Father Gordon Mann.
As I began serving Mass at a young age, I took notice of how Father Gordon acted with kindness and joyfulness in his ministry. At the same time, there was a strong sense of spirituality that he embodied, especially during the celebration of the sacraments.
As time went on, I began to help Father Gordon with many other activities around the parish, and he showed me how to do a number of things, all of which would become valuable later in my own life and vocation. We would often talk about liturgies and other church-related topics, but we also had many good conversations about other interests such as traveling and sightseeing. He would also speak often of his father, who was a veteran of World War II. It was inspiring to me because he showed the love that he had for his father and the sacrifices he had to make all those many years ago fighting under General Patton, liberating a concentration camp, and raising a family later in life.
As someone discerning the priesthood, it was also special to talk to a "father" who played a role in my own vocation. Much like St. Joseph, a man who loved Mary and dedicated his life to God, Father Gordon also delighted in the company of Our Lady and her son. 
Recall in the second chapter of Matthew's Gospel, St. Joseph was warned in a dream by the Angel of the Lord to flee to Egypt to avoid Herod's persecution of the infants. It was out of obedience to the Lord, love of Mary and Jesus, and the gifts of humility and trust that Joseph was able to carry out this command. Father Gordon, in many ways, followed the example of St. Joseph, especially when confronted with difficult issues.
This model of St. Joseph is a model for all fathers. Seeing that in Father Gordon inspired not only my vocation but my desire to be a good father as a priest one day.
St. Joseph, patron of all fathers, pray for us!
Rev. Gordon Mann passed away Feb. 28, 2019. Eternal rest grant upon him, O Lord, and let perpetual light shine upon him. May his soul and the souls of the faithful departed, through the mercy of God, rest in peace.
| | |
| --- | --- |
| Parents' Names | Clint and Sarah Underhill |
| Siblings | Clayton Underhill, Presley Underhill, Gwendolyn Underhill |
| Schools attended | Washington Catholic, Bishop Brute College Seminary and Marian University, Pontifical North American College and University of St. Thomas (Angelicum) |
| Snack Food of Choice | Cheez-It, Goldfish |
| Favorite Movie | "Lord of the Rings: The Return of the King" |
| Bible Verse | 2 Corinthians 12:10 |
| Favorite Sport to Play | Cycling |
| Preferred Set of Mysteries of the Rosary | Joyful Mysteries |
| Patron or Favorite Saint | St. Joseph is my patron saint because he is a model of what it means to live humbly, honor Mary and give praise to God. |
| YouTube Channel or Podcast you most frequent | Dan Carlin's Hardcore History |
| Favorite Part of Being in Seminary | My favorite part of being in seminary is growing in relationship with the Lord in my prayers and studies. I also am blessed to have so many good priests and spiritual directors, as well as many brother seminarians. |