By Megan Erbacher
The Message assistant editor
Tara G. and her 8-year-old son, Eli, proudly stood on the porch of their new Habitat for Humanity Evansville home, surrounded by loved ones and friends, to celebrate and dedicate the house.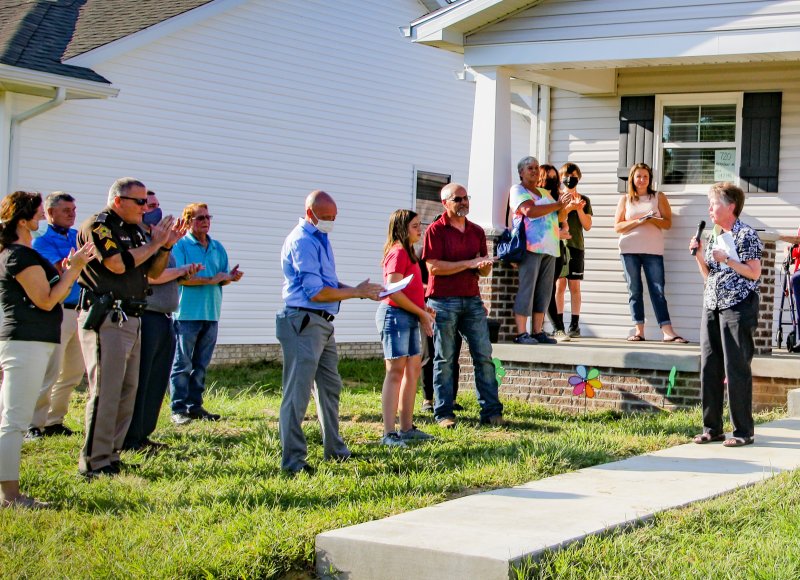 Tara's home was blessed and dedicated Sept. 7 in the 700 block of Herndon Drive in Evansville. It's the sixth completed house in St. Theresa Place, a 14-home Habitat for Humanity subdivision located in the Diamond-Stringtown neighborhood.
Ground was broken for St. Theresa Place in August 2020. The subdivision shares the land formerly occupied by St. Theresa Parish with the new home of Catholic Charities.
Tara and Eli, a second-grader at St. Benedict Cathedral School, are excited to pick paint colors and decorate the house to make it their home. She's excited to have a three-bedroom house, which will provide more space, as well as a brand-new kitchen.
"Eli just got a skateboard, so he is excited to live on a street where he can go out and ride," Tara said. "He is also ready to have a backyard and excited about not having stairs. Honestly, we are both sick of taking the stairs!"
Benedictine Sister Jane Michele McClure, Habitat-Evansville major gifts officer, welcomed everyone gathered in the front yard and said a word that best describes Tara is perseverance. She said Tara put in hard work and overcame many obstacles to be at her home dedication.
Deacon Kevin Bach of Holy Redeemer Parish offered an opening prayer. Deacon Kevin recalled the first time he met Tara. About eight years ago, Deacon Kevin answered the phone at St. Benedict Cathedral on a Saturday. It was Tara, calling to ask if she and her son could be baptized before her upcoming surgery. Tara had been diagnosed with cancer and given 12-18 months to live. To this day, Deacon Kevin said Tara is the only adult he's baptized.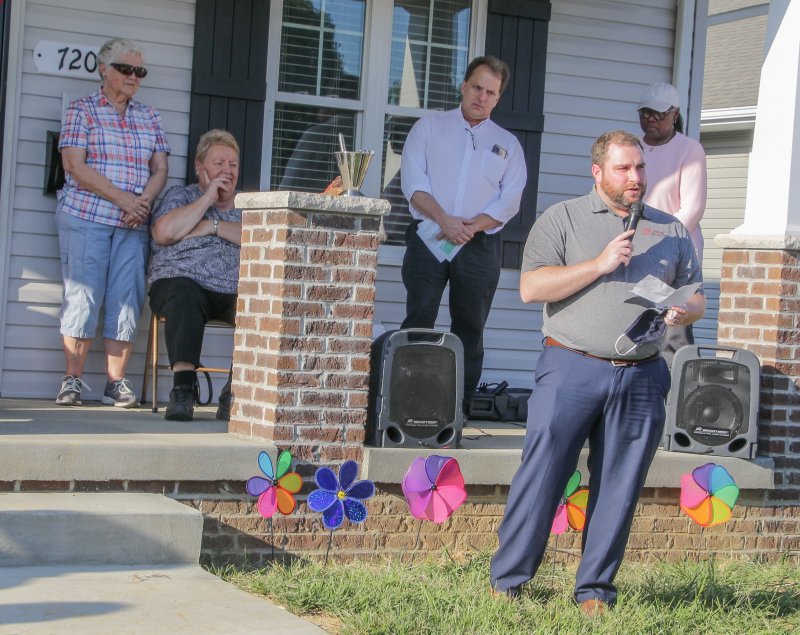 Tara's home is sponsored by Catholics for Habitat, a group founded in 2005. Tara's home is the 16th house the group has built. Luke Nordine, chair of Catholics for Habitat, said the community really came together to help build Tara's home.
At the dedication, Andrew Nalin of Catholics for Habitat presented the inaugural Susan Weis Legacy Award to Father Ted Tempel. Weis was chair of Catholics for Habitat for six years, and she served as Habitat's mortgage specialist at the time of her death from cancer in December 2019 at age 47. Her husband David and daughter Adeline helped present the award.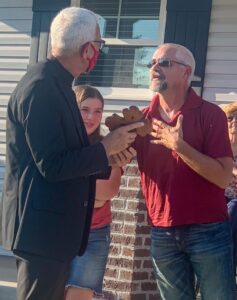 Nalin said Father Ted single-handedly financed several houses in St. Theresa Place. Father Ted was unable to attend, so Father Ed Schnur accepted the award on his behalf.
Linda Schmitt, who represented the St. Theresa Place Advisory Council, said Tara and Eli were beginning a new chapter in their lives on holy ground.
Tara learned about Habitat's homeownership program through a friend who completed it. Since getting accepted into the program, Tara said life has been hectic working toward the required 300 hours of sweat equity at construction sites, at the ReStore and taking homeownership classes. 
"I really like working with the Core Crew on the construction site," Tara said. "They don't complain. They just get their stuff done and are excited to be there to build a house."
Tara's home is the 542nd home built by Habitat for Humanity of Evansville in Vanderburgh and Posey counties.